Our basil pesto recipe is made with simple ingredients of fresh basil, parmesan cheese, garlic, lemon juice, pine nuts, and olive oil.
It's bursting with freshness and a perfect way to use up your garden basil. This pesto recipe is excellent for bread dipping and is so delicious tossed with pasta.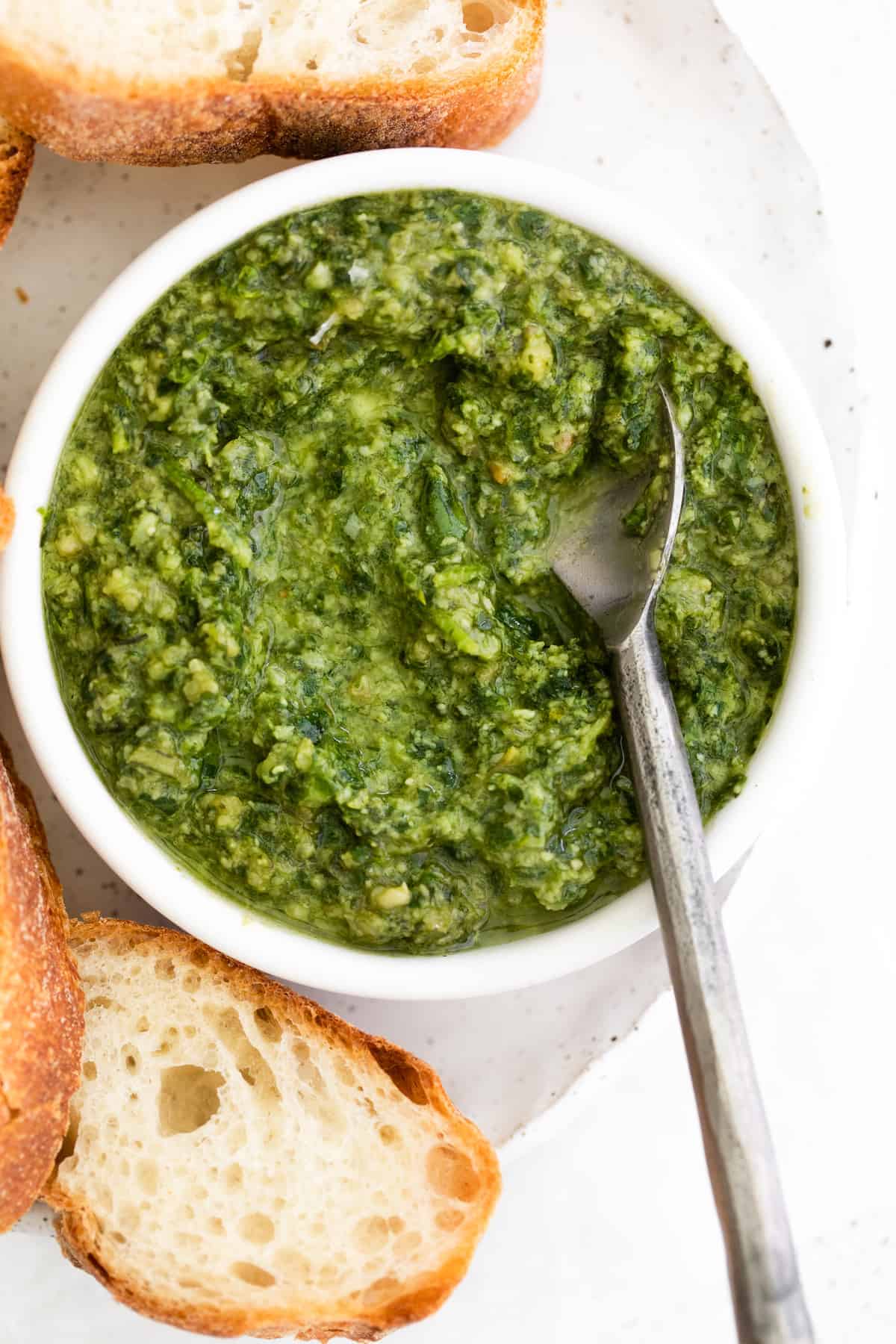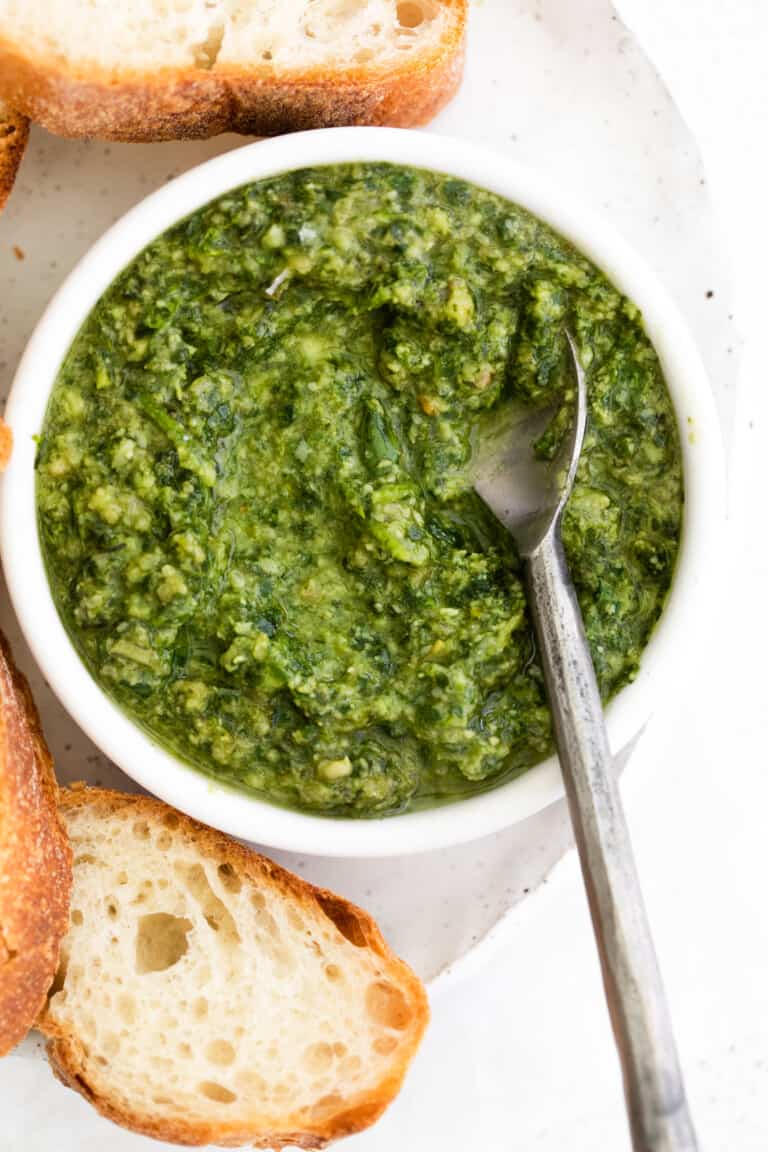 I love making homemade basil pesto because I can use up all of my fresh basil from the garden. Making pesto sauce in your own kitchen makes you feel fancy, without it actually being expensive!
Simply process your pesto sauce ingredients in a food processor until it reaches a gritty puree. Then serve as a dip, sauce, or marinade (like these pesto chicken skewers!). Our #1 tip is to make sure not to over-process it or it might get a slimy consistency.
What You Need for Pesto Sauce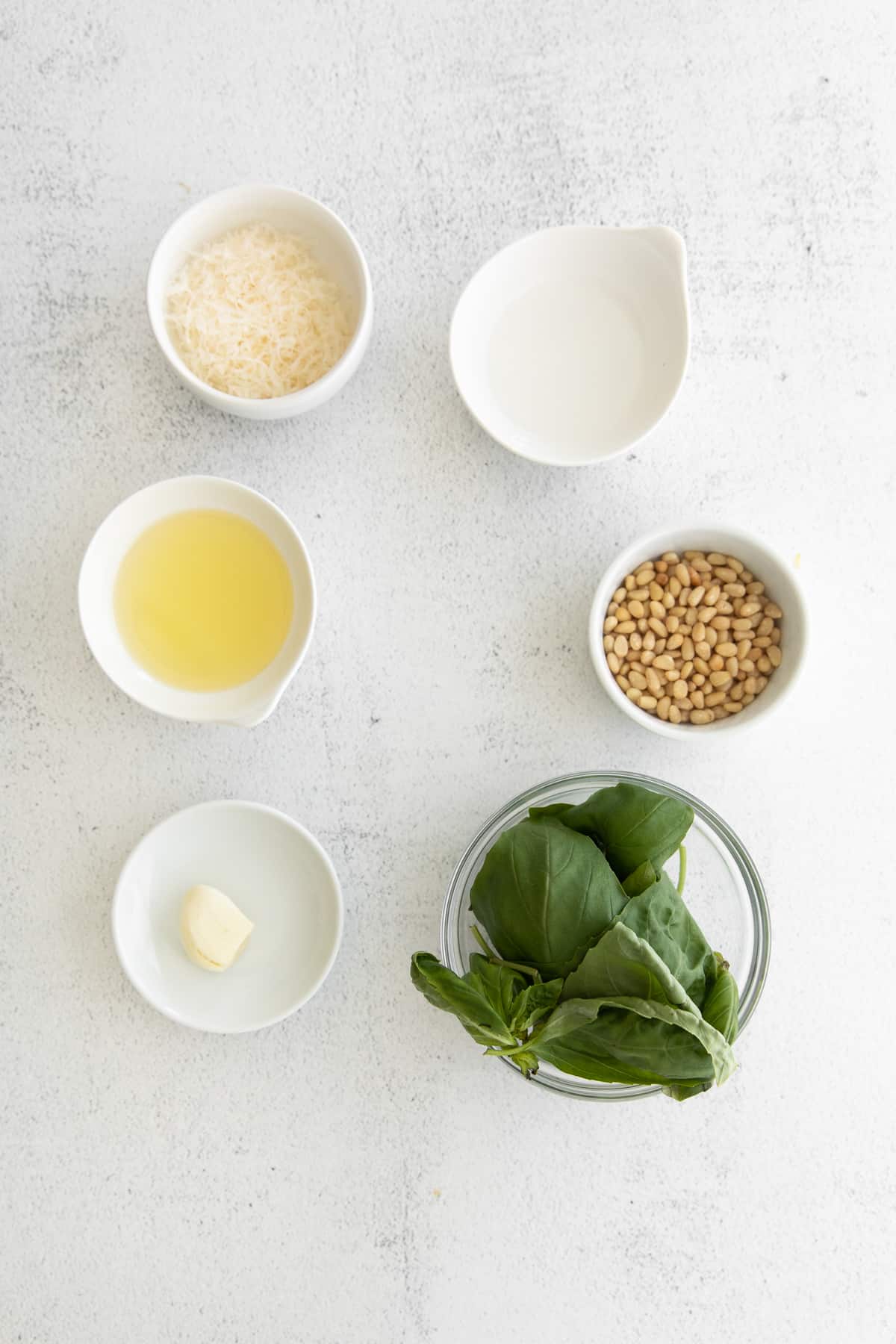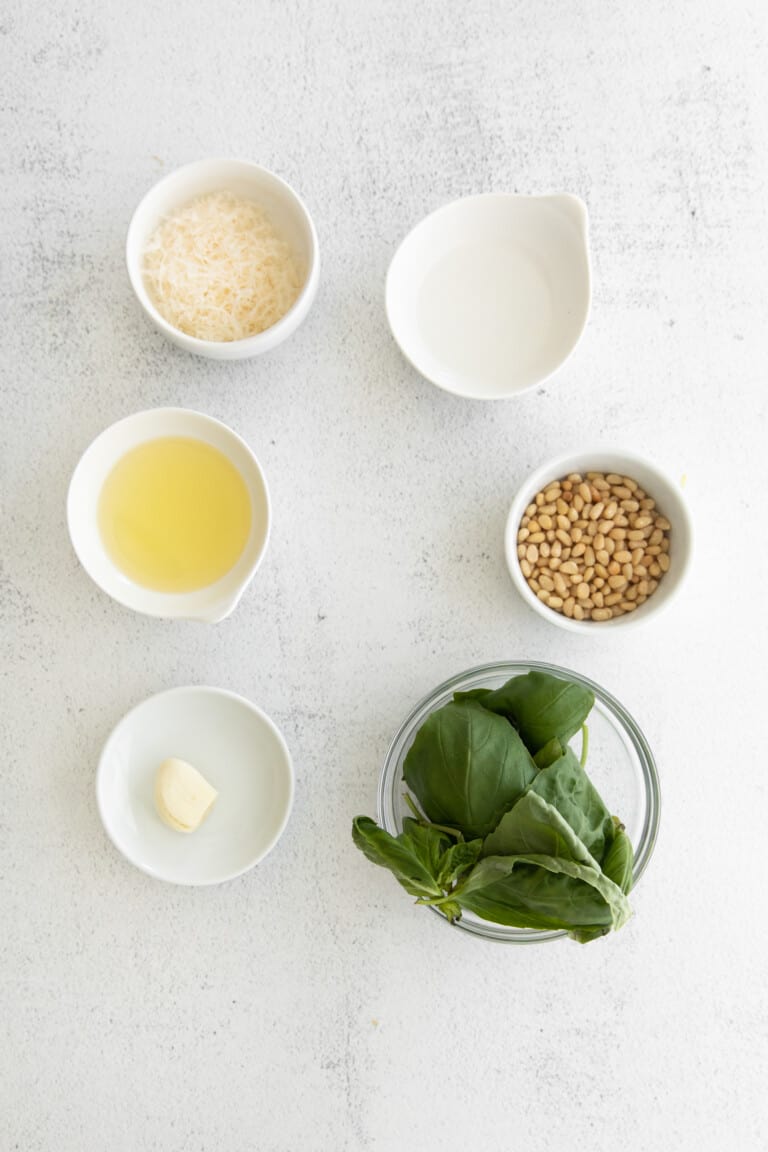 Basil: don't have basil? Use spinach or kale instead. Try our kale pesto recipe.
Pine Nuts: pine nuts too expensive? I get it! Try using cashews, pecans, or almonds instead.
Parmesan Cheese: try another hard cheese such as romano cheese or asiago cheese. Hoping to keep this recipe dairy-free? Nutritional yeast is a great sub for parmesan cheese or you can try our vegan parmesan.
Olive Oil: instead of olive oil use grape-seed oil.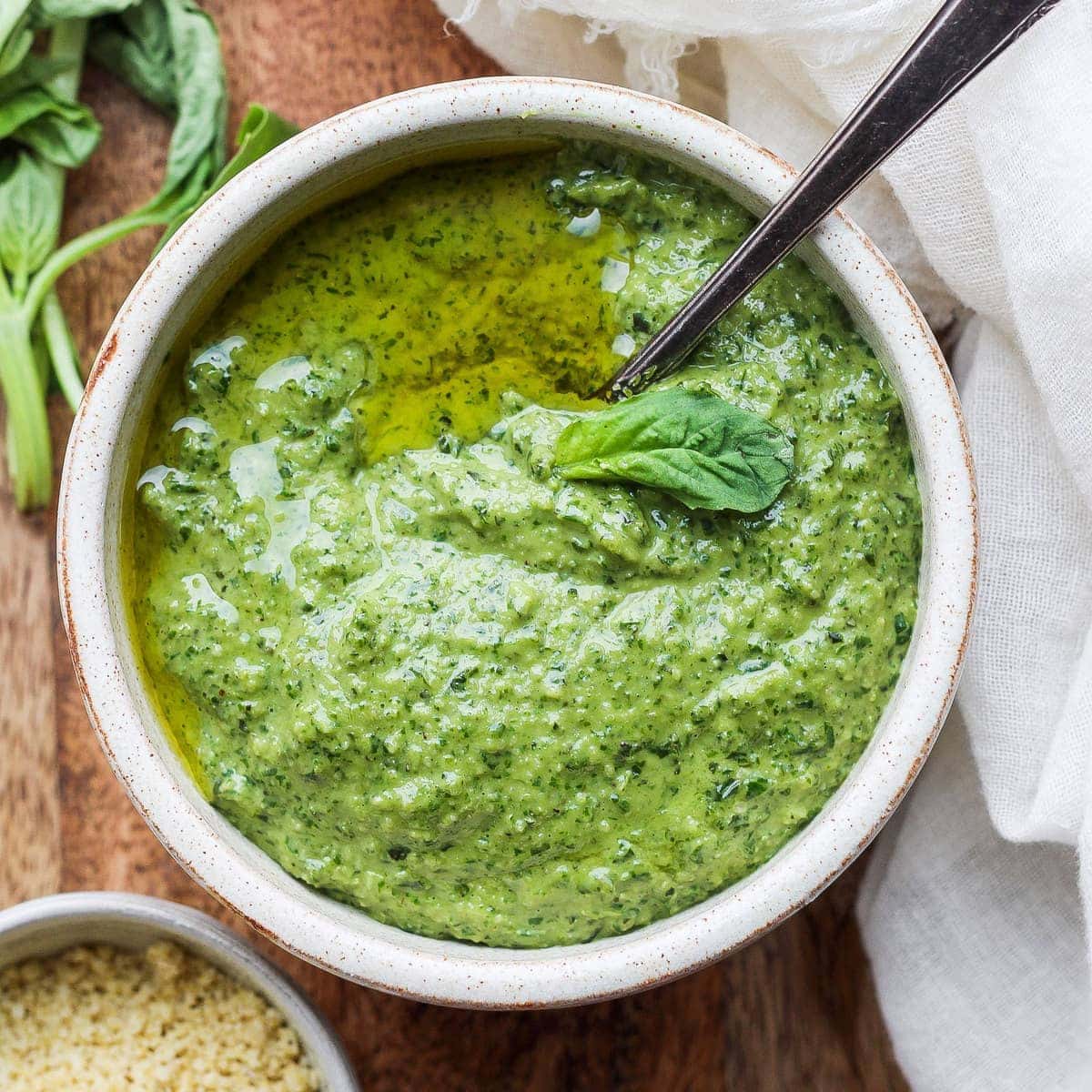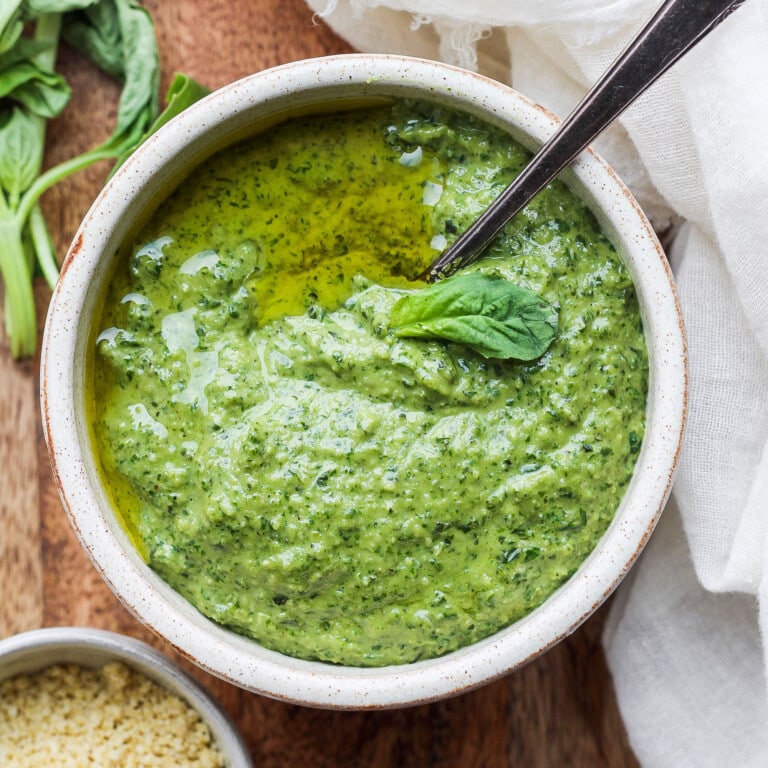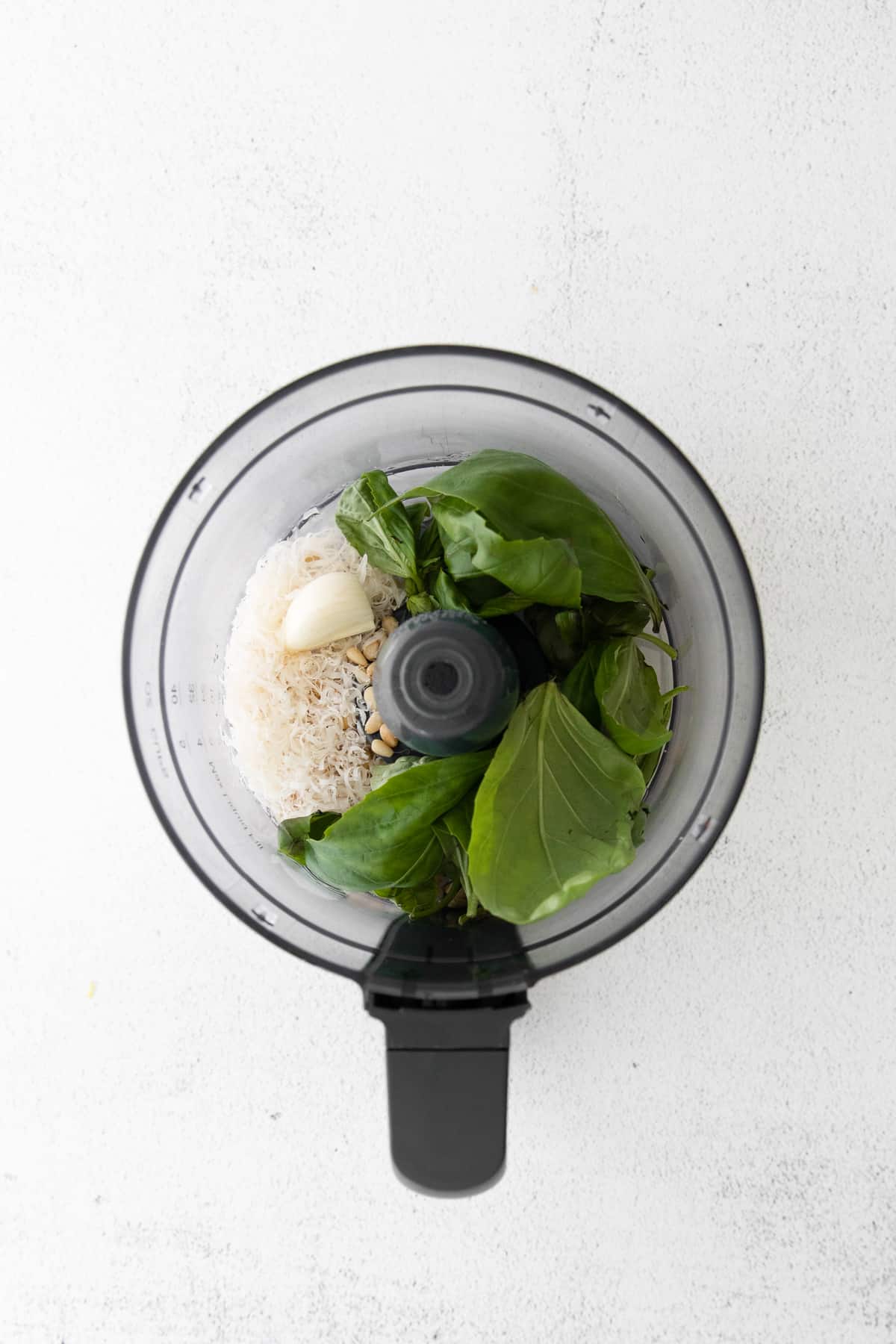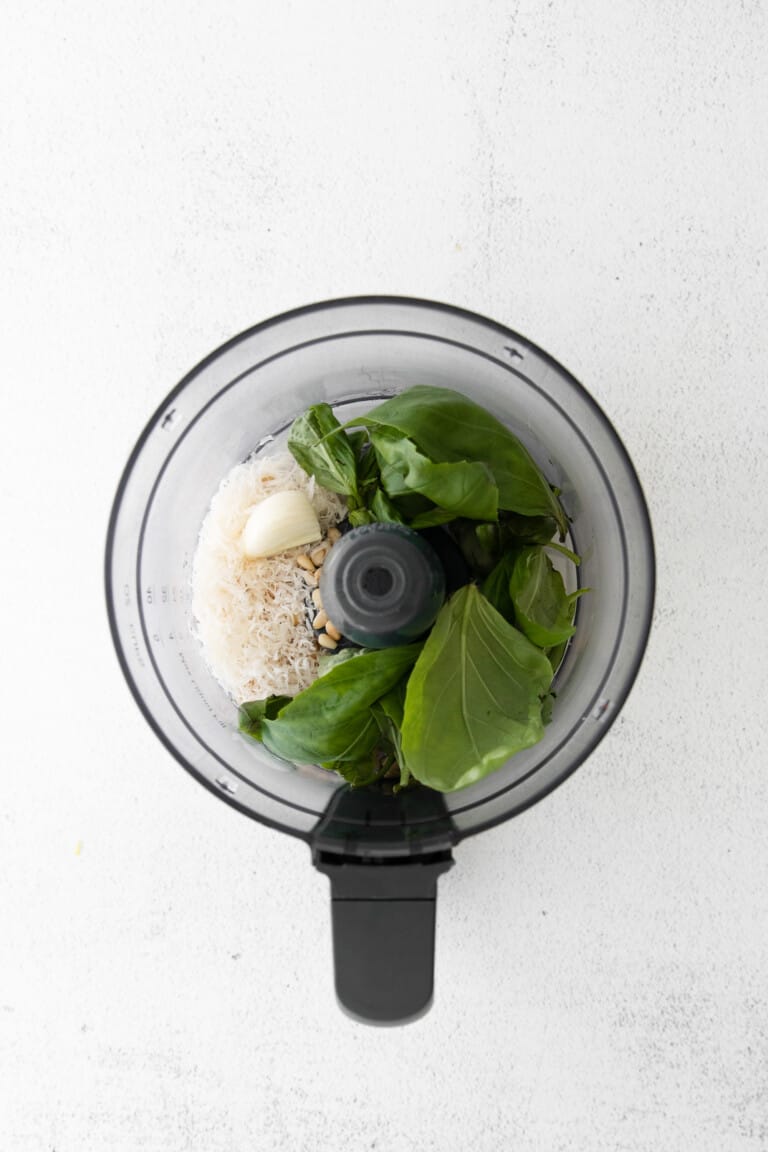 Do I need to toast my pine nuts for pesto?

It is not necessary to toast your pine nuts, but you are more than welcome to do so in order to get a more intense flavor.
Can I use dried basil in pesto sauce?

Unfortunately, we do not recommend using dried basil for homemade pesto.
Can I use a blender instead?

You can absolutely use a blender instead of a food processor.
Is pesto healthy?

Pesto is made with fresh ingredients and olive oil, making it a healthy sauce option.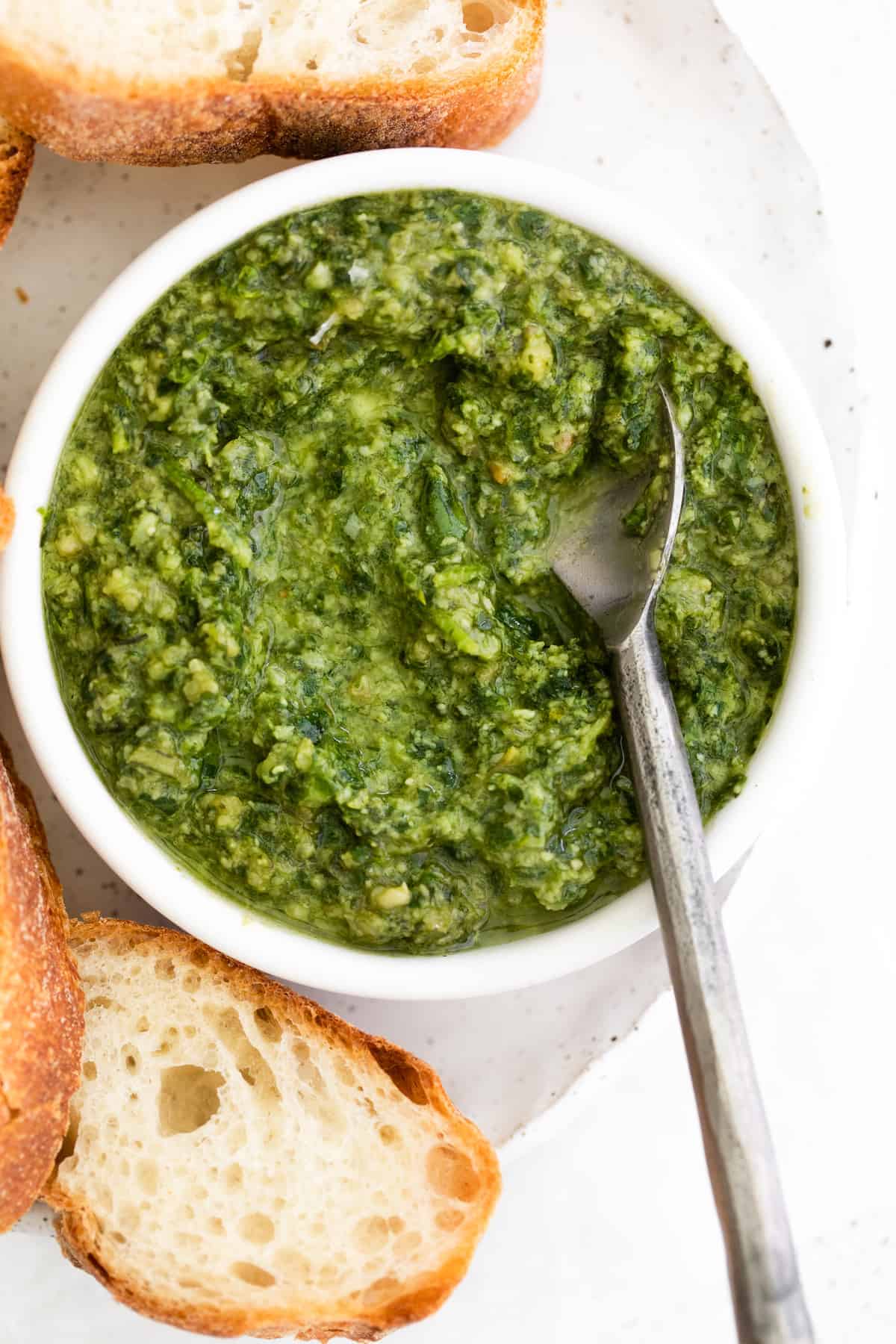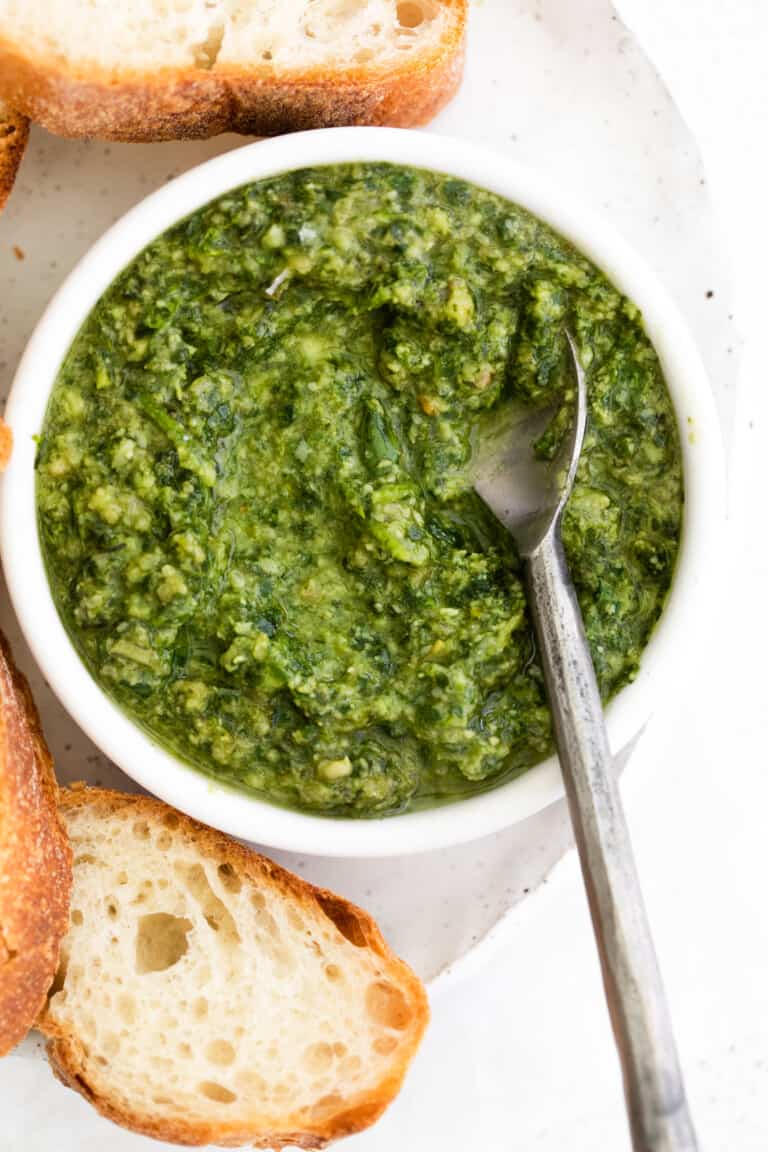 Transfer your pesto into an airtight container and store pesto in the fridge for up to 3-5 days. Because this pesto is freshly made with no additives, it won't last as long as jarred, store-bought pesto.
Freezing pesto is so easy and a great way to use up all your fresh basil! Here's how to do it.
Transfer pesto into an ice cube tray. Add 1 to 2 tablespoons of pesto into each ice cub so that it's filled 3/4 of the way full.
Place in the freezer for at least 2 hours or until fully frozen.
Pop the pesto ice cubes out of the tray and then transfer the frozen cubes into an airtight container or gallon-size bag.
Freeze for up to 3 months.
To thaw: simply let the frozen pesto sit out on the counter for 1 hour or transfer them into a nonstick skillet and defrost on the stovetop over medium heat.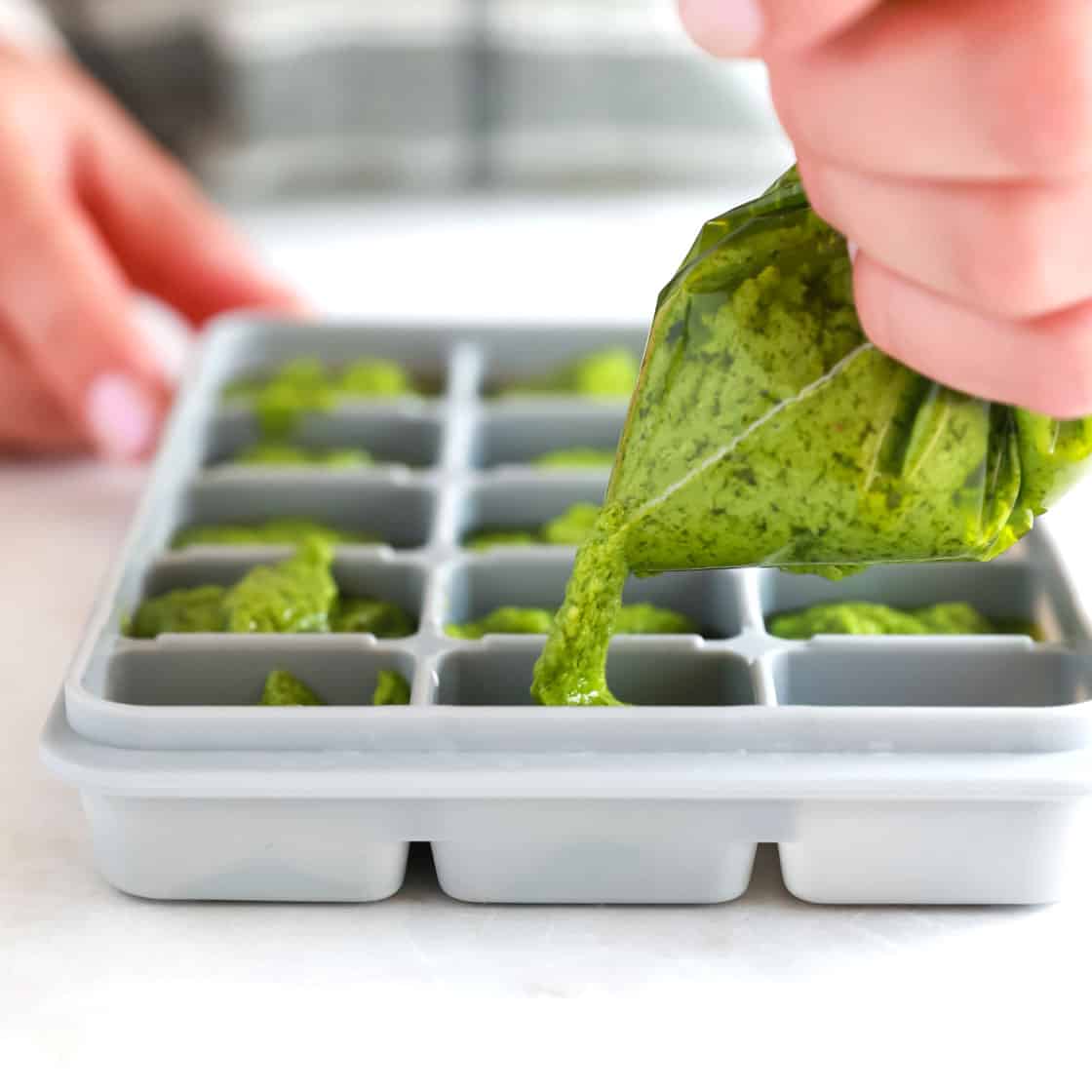 Silicone
Ice Cube Tray
Freeze your pesto cubes in this reusable silicone ice cube tray!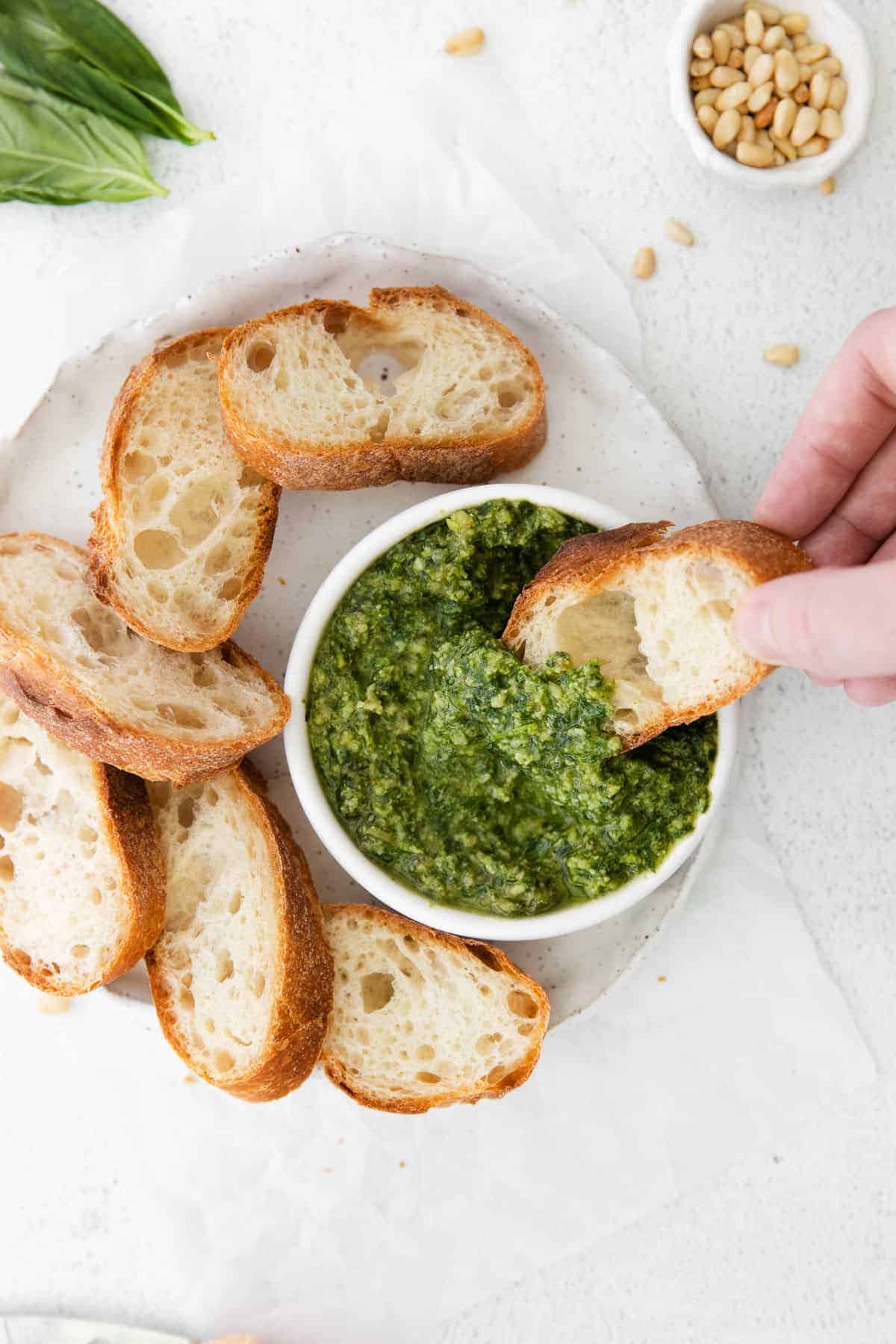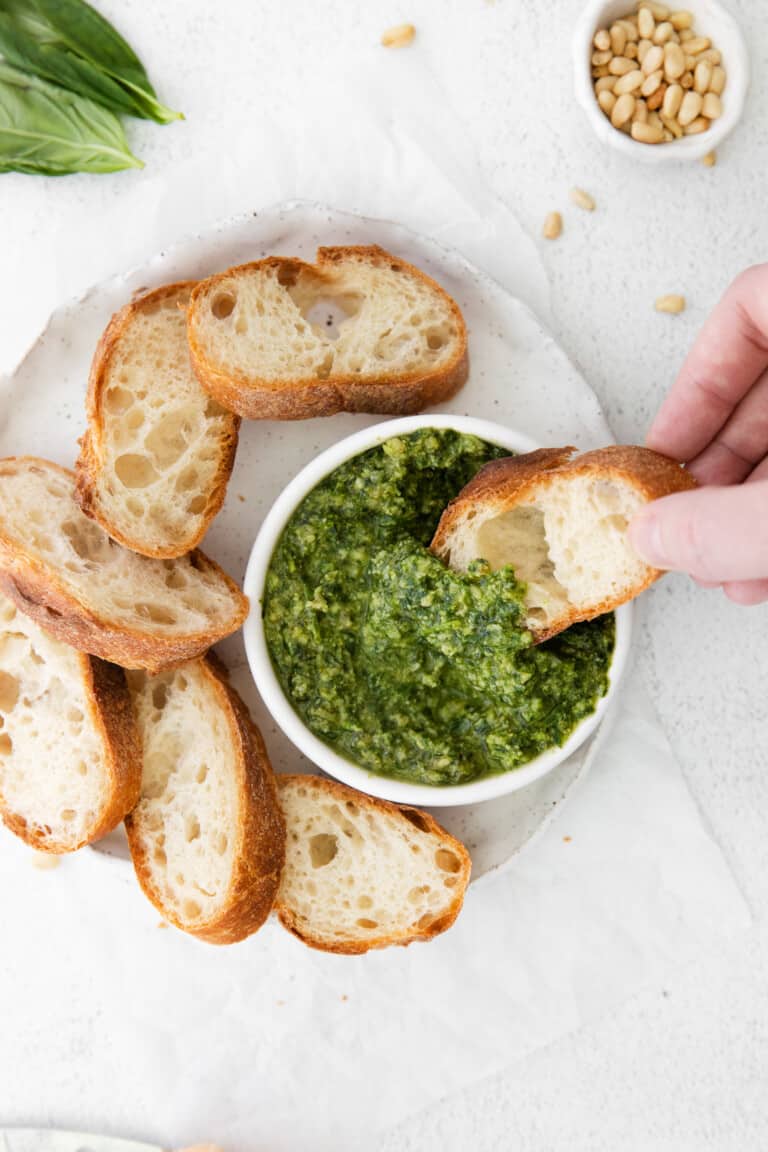 How to Serve Pesto Sauce
There is no one-size-fits-all with our pesto sauce recipe. One of my favorite things about it is that it's so versatile in how you can use it!
1

cup

packed basil leaves

fresh (~20-22 fresh basil leaves)

1/4

cup

grated parmesan

1

tablespoon

fresh lemon juice

1

medium clove garlic

2

tablespoons

pine nuts

3

tablespoons

olive oil
Place all ingredients into a high-speed food processor. 

Process on high for about 1 to 2 minutes. Stop to scrape the sides as needed. Make sure not to over-process as some grittiness is great for the texture of pesto.

If your pesto is too thick, add more olive oil by the teaspoon and pulse until mostly smooth.
Makes about 1/3 cup pesto. Serving size is ~2 tablespoons.
This recipe was updated on June 17th, 2021.
Don't over-process your pesto or it may turn slimy.
Storage: store fresh pesto in an airtight container in the fridge for up to 5 days.
To freeze: transfer 1-2 tablespoons of pesto into a silicone ice cube tray. Freeze for at least 8 hours and then transfer into a gallon-size plastic bag and store in the freezer for up to 3 months.
Calories: 145kcal Carbohydrates: 2g Protein: 3g Fat: 15g Fiber: 0g Sugar: 0g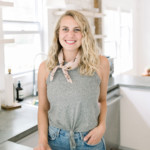 Lee is the founder of Fit Foodie Finds and based in Minneapolis, MN. She started this website in 2010 as a way to share her love for real food and wellness. The internet has changed so much since then and so has Fit Foodie Finds. Today we're a female-run recipe website publishing hundreds of tried and true recipes developed and tested by our team.