Everything Bagel Seasoning is the whole spice seasoning you find on bagels, just without the bagel. Learn how to make it with this super simple recipe!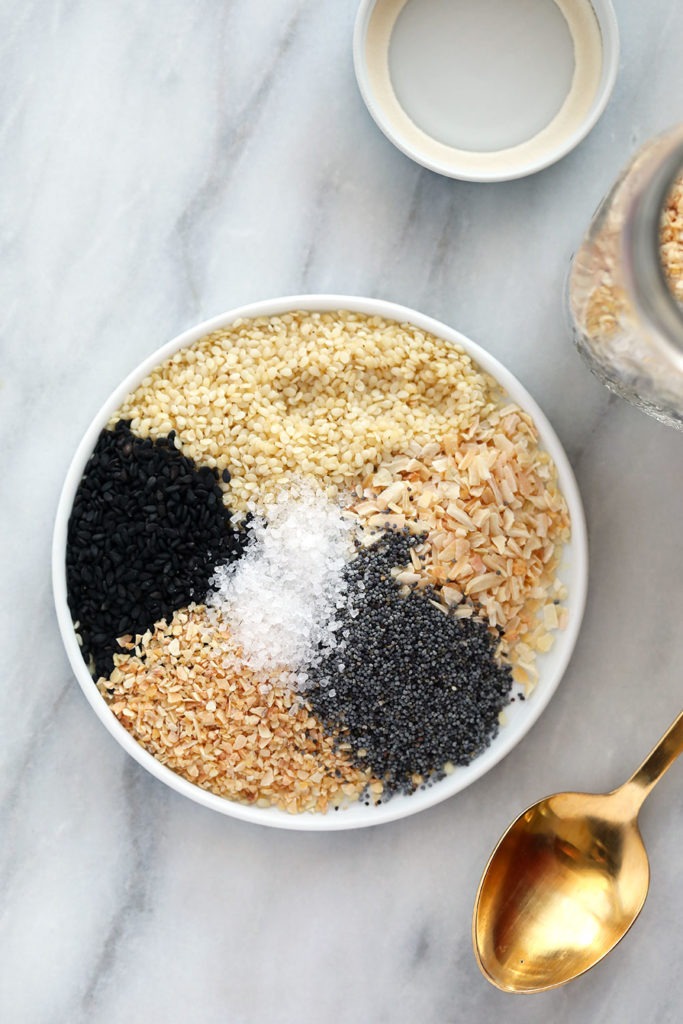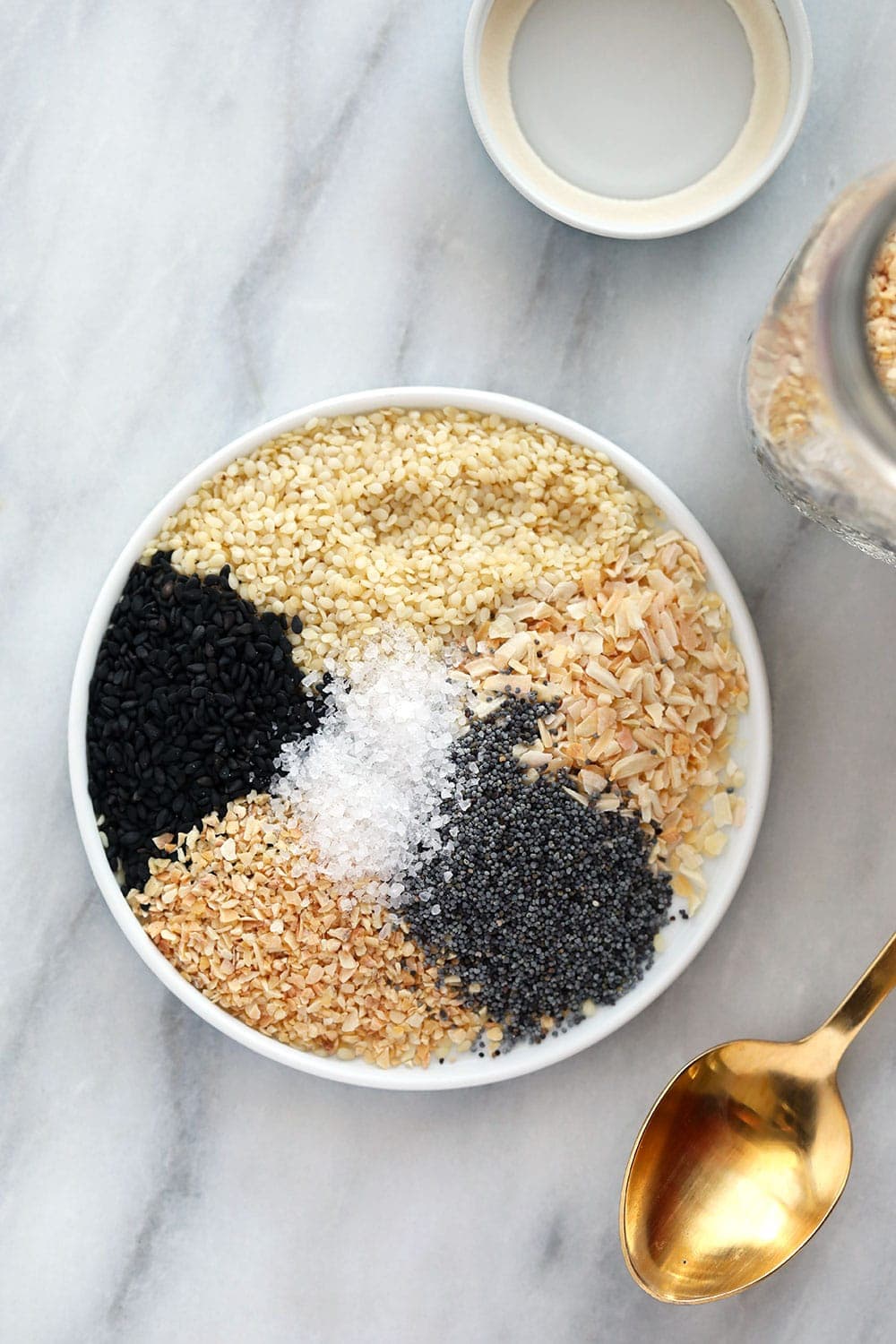 Everything bagel seasoning is a spice mix that needs to be in your kitchen at all times. We love this recipe for seasoning chicken, veggies, and everything in between.
Everything Bagel Seasoning is that delicious, chunky, savory seasoning you find on Everything Bagels, but without the bagel! It was first popularized by Trader Joe's when they came out with an Everything But the Bagel Seasoning to sell in-store.
Today, everything bagel seasoning is used on pretty much everything! Our recipe uses all of the classic whole spice ingredients, but uses far less salt so that you can control your sodium!
You only need 6 whole ingredients for this everything bagel seasoning recipe:
Our seasoning has much less salt than the kind you buy at Trader Joe's. So, just keep that in mind when you're subbing our seasoning. Feel free to add salt as needed!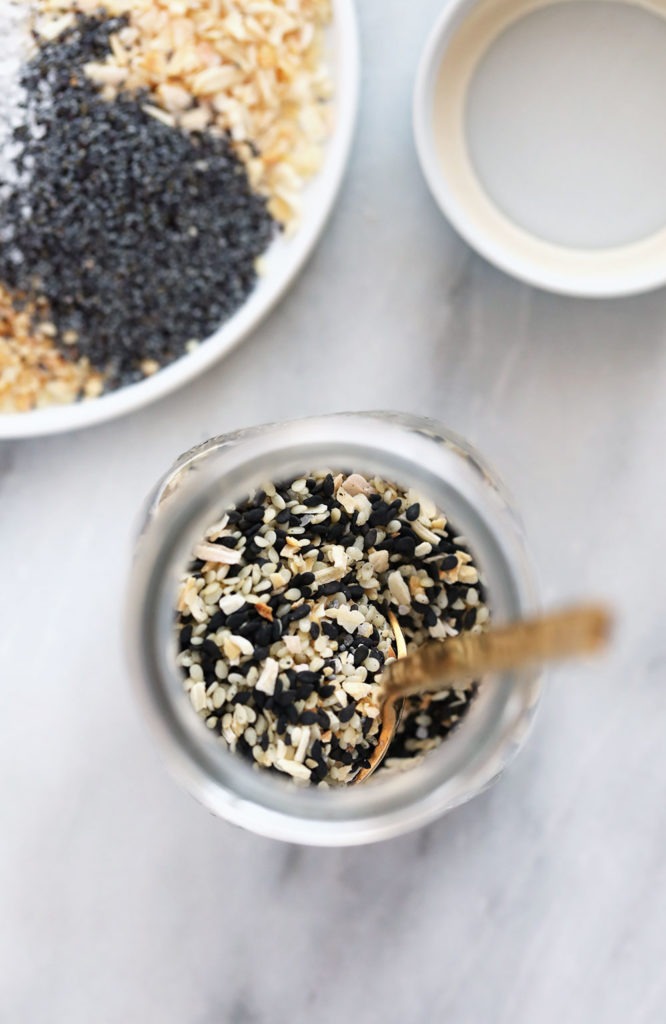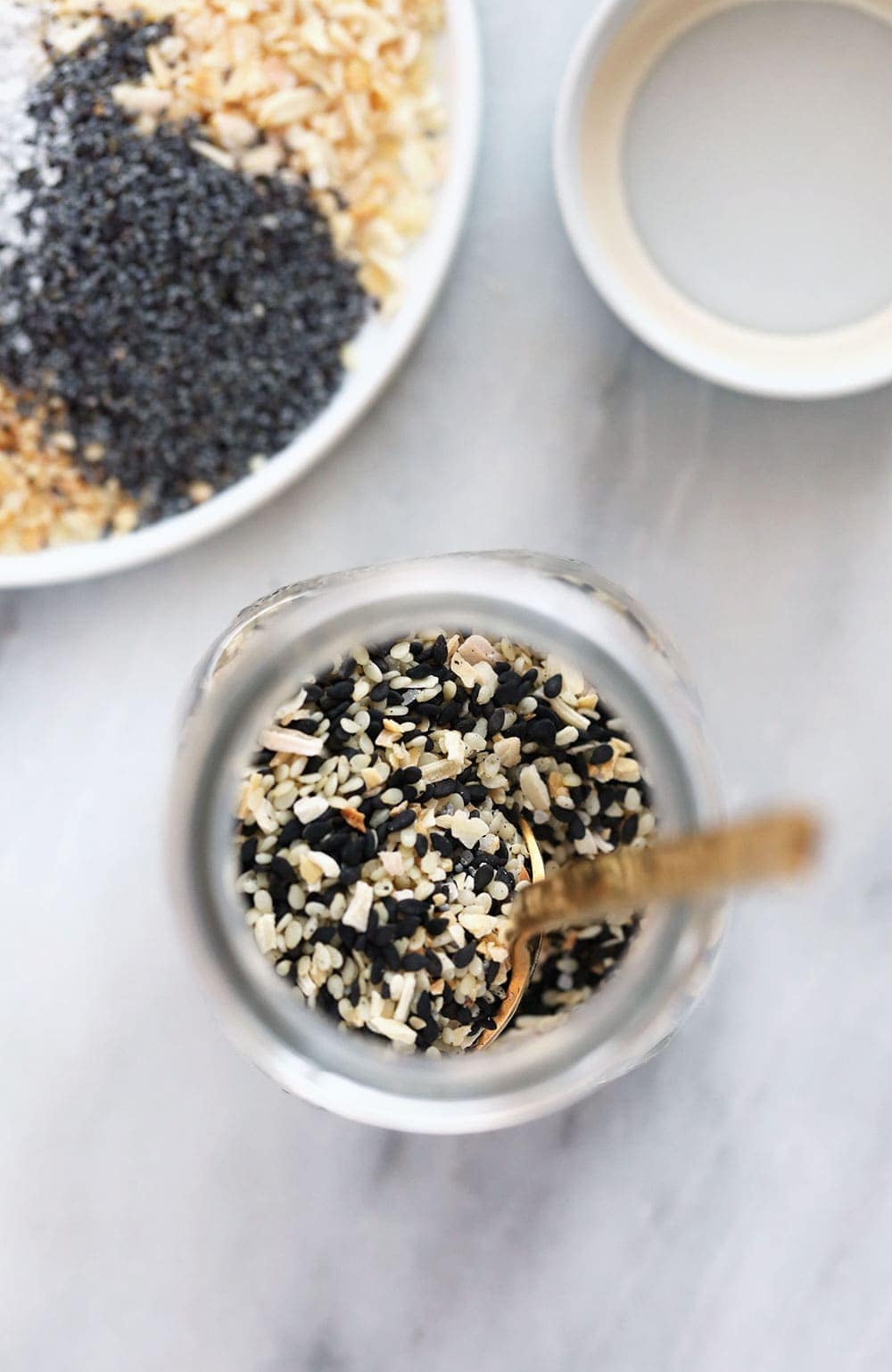 Everything Bagel Recipe Ideas
Looking to use your seasoning NOT on homemade bagels? Here are some recipe ideas!
More Ways to Use Everything Bagel
Wondering how much of this everything seasoning to add to your meat, dips, or roasted veggies? Our recipe calls for much less salt than the everything bagel seasonings you can find at the store, meaning that you can pretty much use as much as you want without it getting too salty!
If you end up wanting more salt, you can add it to taste after you've seasoned your dish.
Store this seasoning in a jar or glass container. Make sure to seal tightly and store in a cool, dark place for optimal shelf life. This will last up to 3 months.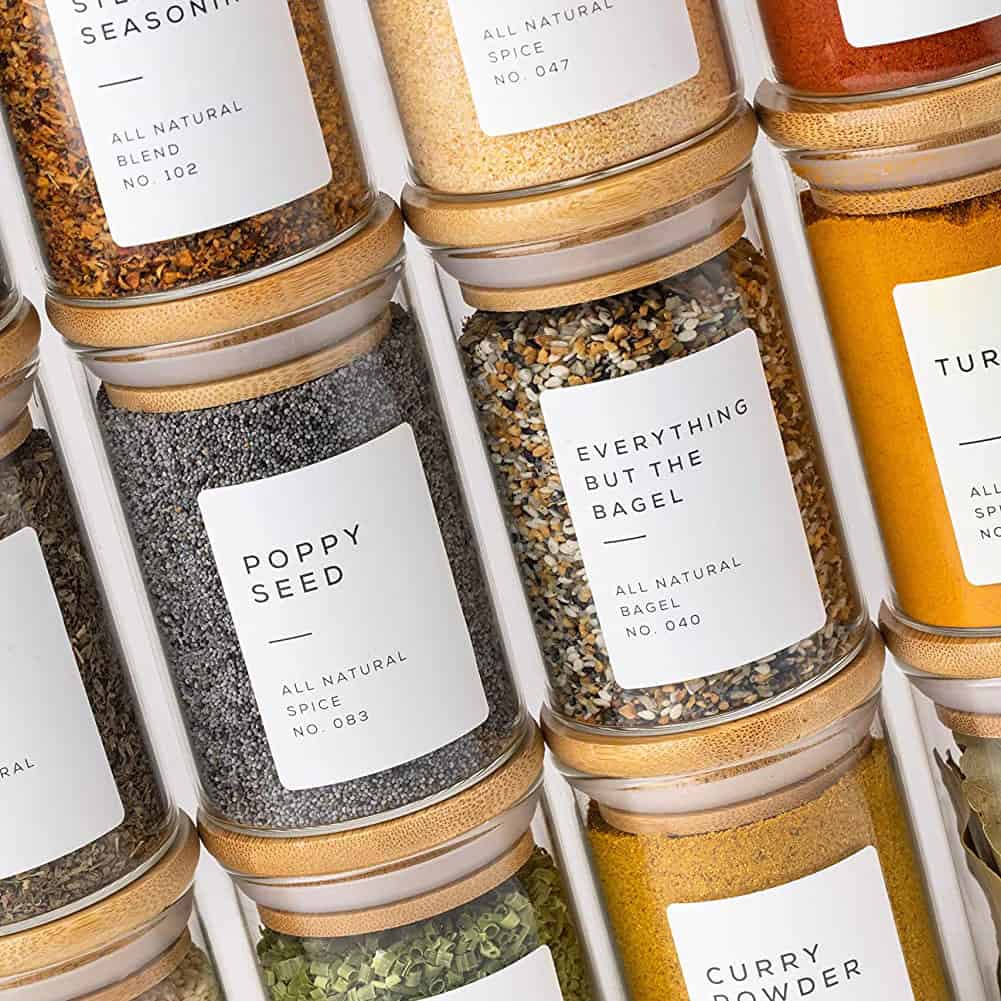 Glass
Spice Jars
Organize your homemade spices with this empty glass spice jar set!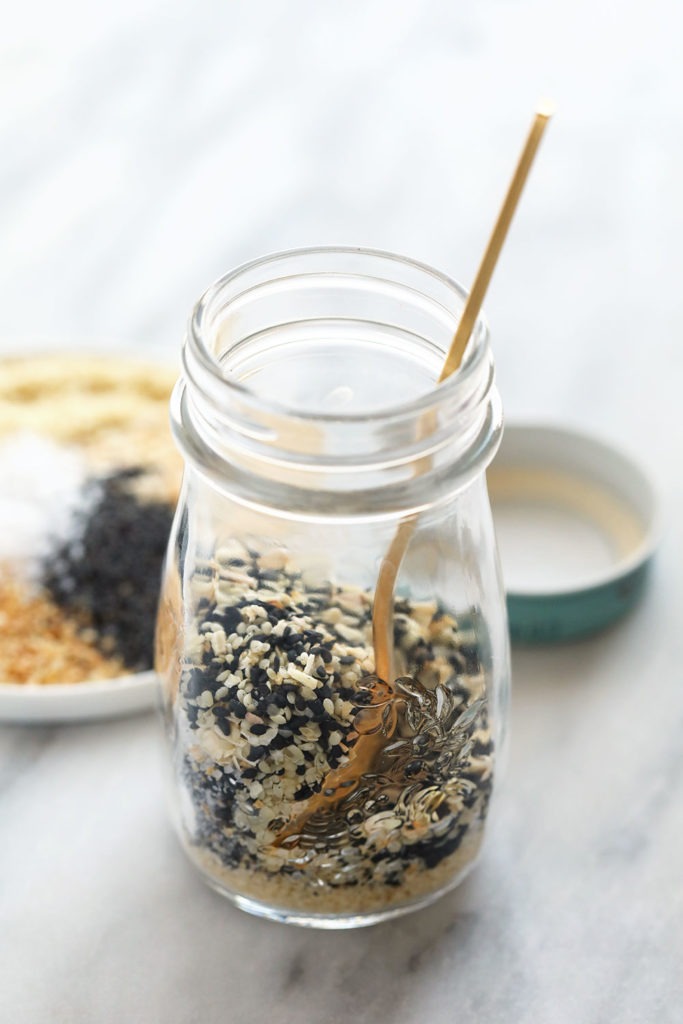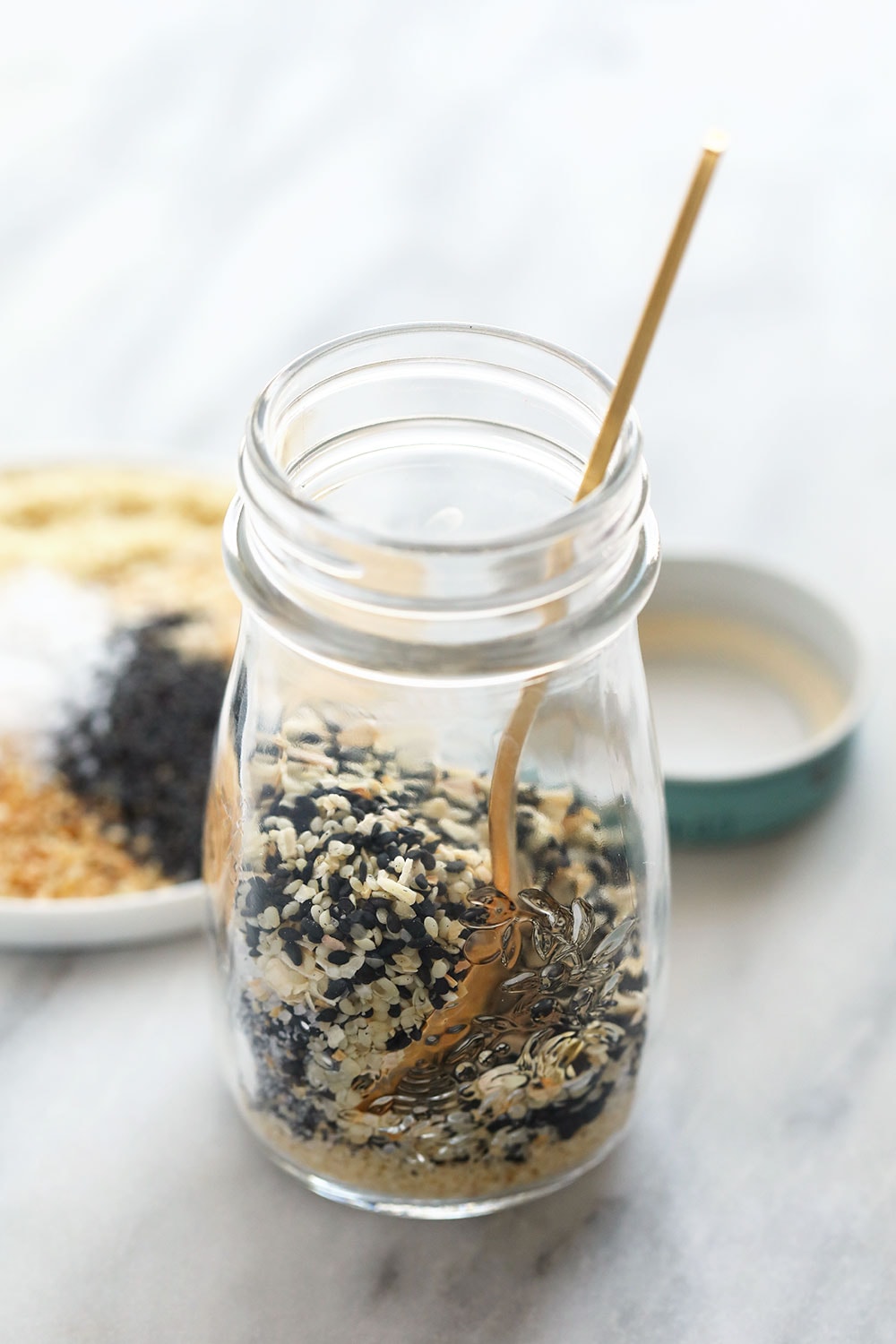 Place all ingredients into a large jar or glass container.

Mix until combined.

Store in a cool, dark place for up to 3 months.
Salt disclaimer: our homemade blend has much less salt than the traditional Everything Bagel Seasoning from Trader Joe's. We've done this on purpose so that we can use this blend in recipes and not add so much salt! Feel free to add salt as needed.
Yields: 1/2 cup. Nutrition information is for 1 tablespoon.
Calories: 43kcal Carbohydrates: 2g Protein: 1g Fat: 3g Fiber: 1g Sugar: 1g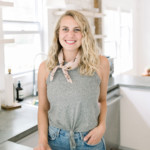 Lee is the founder of Fit Foodie Finds and based in Minneapolis, MN. She started this website in 2010 as a way to share her love for real food and wellness.