This Teriyaki Chicken Stir Fry is easy to throw together and is ready in 30 minutes! Mix up our easy teriyaki sauce, chop up your veggies and you're ready to go.
This stir fry recipe is great for a weeknight meal and an even better meal prep meal for the week! You get all your veggies and your protein, too!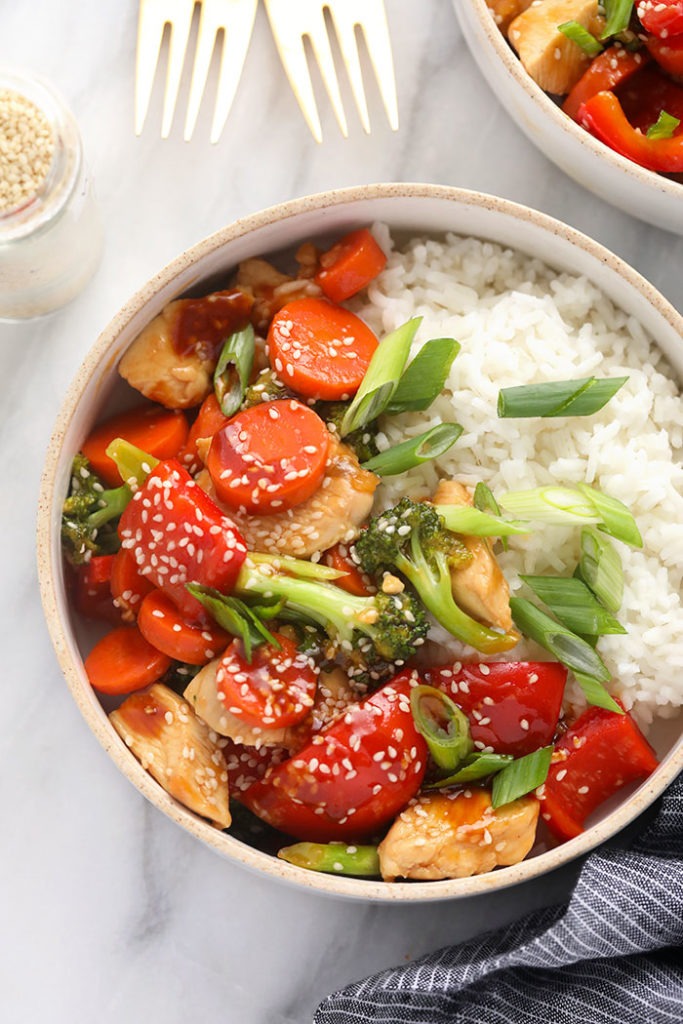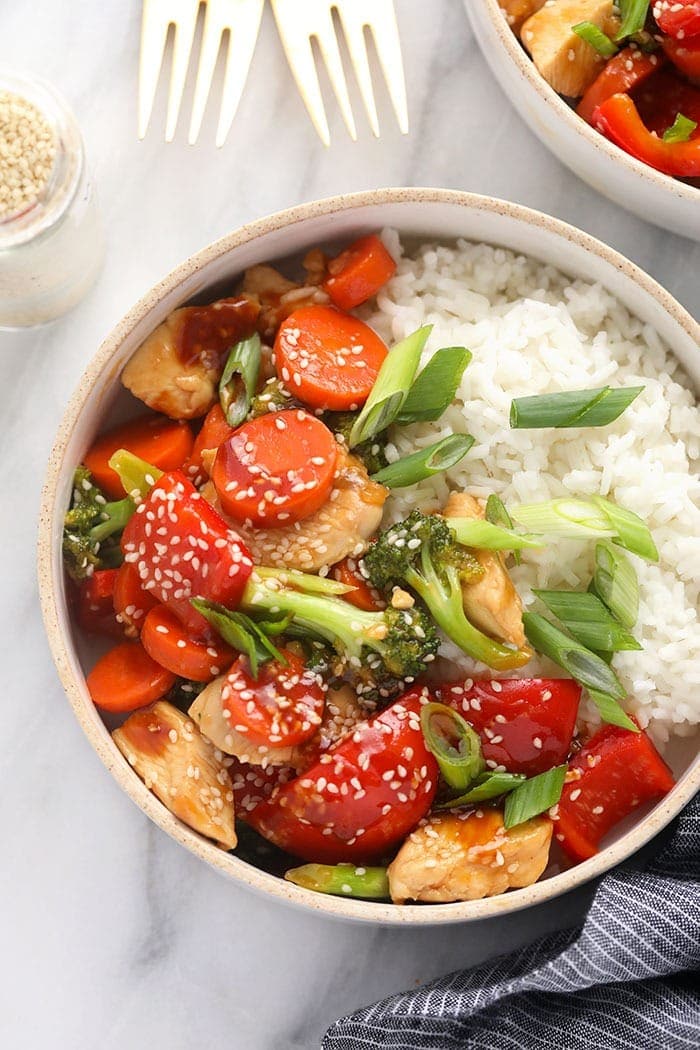 Easy Chicken Teriyaki Stir Fry
Everybody knows what it's like to get home from a long day at work and muster up the energy to make a balanced and healthy meal.
This teriyaki chicken stir fry recipe is a meal you can whip up in a flash, especially if you have a jar of our homemade teriyaki sauce ready in the refrigerator (store bought teriyaki sauce will work, too)!
All you have to do is chop the veggies and chicken, add the teriyaki sauce, and simmer to perfection! We like to serve our teriyaki chicken over rice! I'm sure you're thinking–rice takes longer to make than the stir fry.
Here is our little time saving secret—> We LOVE minute rice. The macros are the same and it takes 10 minutes max to make. Regular white and brown rice to have a nice bite to them, but minute rice (white or brown) works wonders and tastes amazing!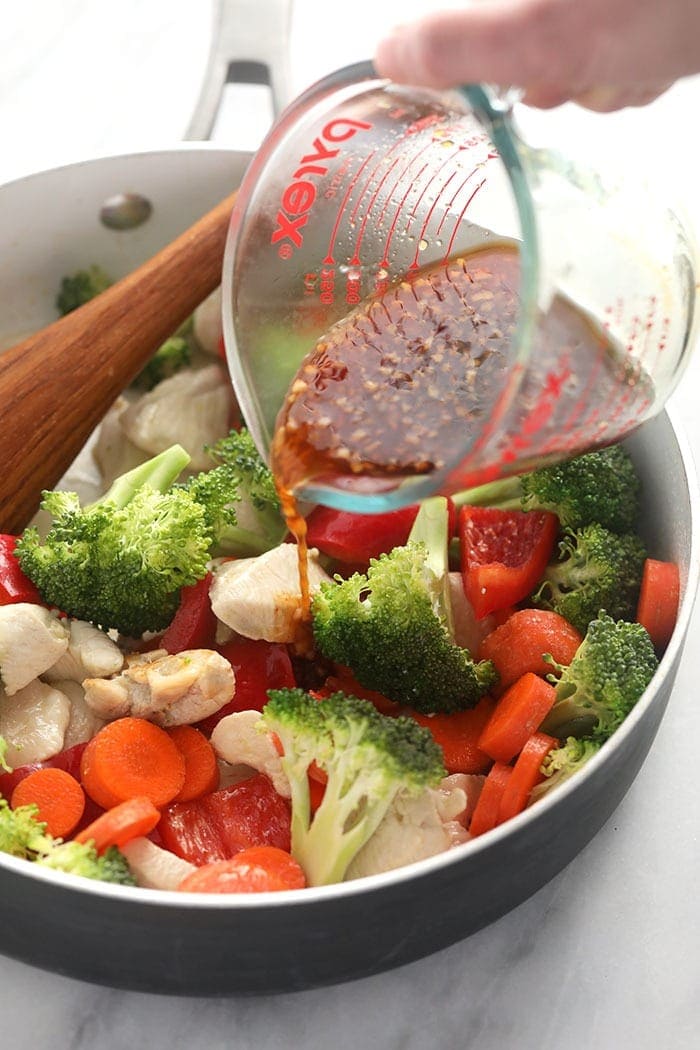 Ingredients You'll Need
Vegetables: We use a mixture of broccoli, red bell peppers, and carrots as the vegetables in this recipe. However, you can use whatever vegetables you have in your fridge, including green bell peppers, snow peas or onions! The key to cooking the vegetables is checking them often to make sure they don't get mushy!
Chicken: We recommend using chicken breasts in this recipe! They are a great lean meat that cooks quickly and absorbs the teriyaki sauce well for a super tender and flavorful texture! Feel free to substitute the chicken breasts with chicken thighs, just be sure to cut your chicken thighs in chunks as well.
Chicken alternatives? We love a good teriyaki stir fry with shrimp, beef, pork or tofu.
Rice: We generally serve teriyaki chicken with white rice (normal or minute rice). There are many different grain options you can use, too! Quinoa, brown rice, cauliflower rice or even even this simple Asian salad or rice noodles would be delicious as a base for this stir fry.
Toppings: If you're good with just stir fry, skip the toppings! We love to give our stir fry a little extra garnish with some green onion or cilantro! You can also add a little extra crunch by topping your stir fry with sesame seeds or chopped cashews!
Sauce! Let's get into that a little more, shall we? ?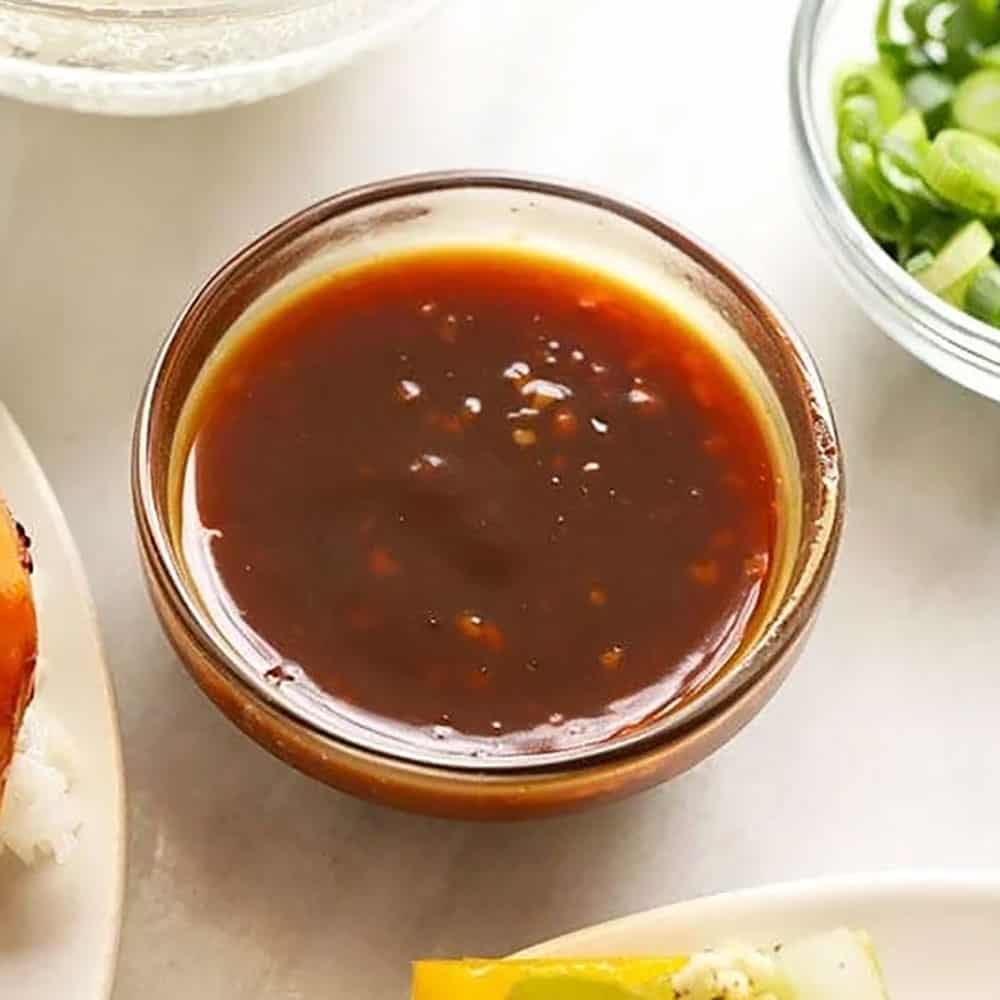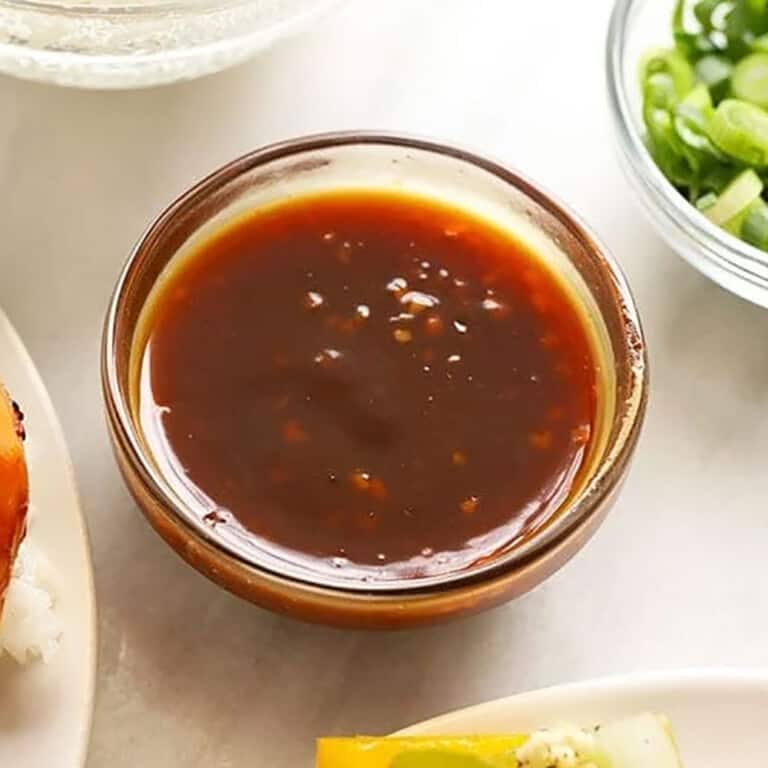 try it!
Homemade Teriyaki Sauce
This chicken stir fry calls for our homemade teriyaki sauce. You'll absolutely love it!
We Love Homemade Teriyaki Sauce
Even if you have store-bought teriyaki sauce on hand, we promise you our homemade teriyaki is SO worth it! This classic teriyaki sauce is lightened up a bit with real ingredients that are better-for-you, but that still give you the classic flavor.
TERIYAKI Sauce INGREDIENTS
This homemade teriyaki sauce recipe calls for 5 basic ingredients and a little bit of cornstarch to thicken things up, so let's get started!
soy sauce or tamari – we suggest using normal soy sauce, but you can also use low-sodium soy sauce if you're hoping to lower the salt content. Additionally, you can use tamari as a gluten-free option.
maple syrup – we love using maple syrup in homemade teriyaki sauce because the warm sweetness plays with soy sauce and it's better for you. Feel free to swap for honey.
minced garlic – you can never use too much garlic! We prefer mincing fresh garlic for the best flavor, but you can feel free to substitute garlic powder or jarred minced garlic.
fresh ginger – fresh ginger is such a bright addition to this recipe because it adds depth and another flavor profile. You can always swap for ground ginger, but you need to use about 1/2 the amount.
sriracha – while sriracha is optional, a little bit of heat rounds out this recipe!
You'll notice one outlier in this recipe compared to most and it's maple syrup. Most teriyaki sauce recipes call for brown sugar, however, we've found that maple syrup is equally as delicious, if not better. Plus, it's an all-natural sugar with an amazing caramel flavor.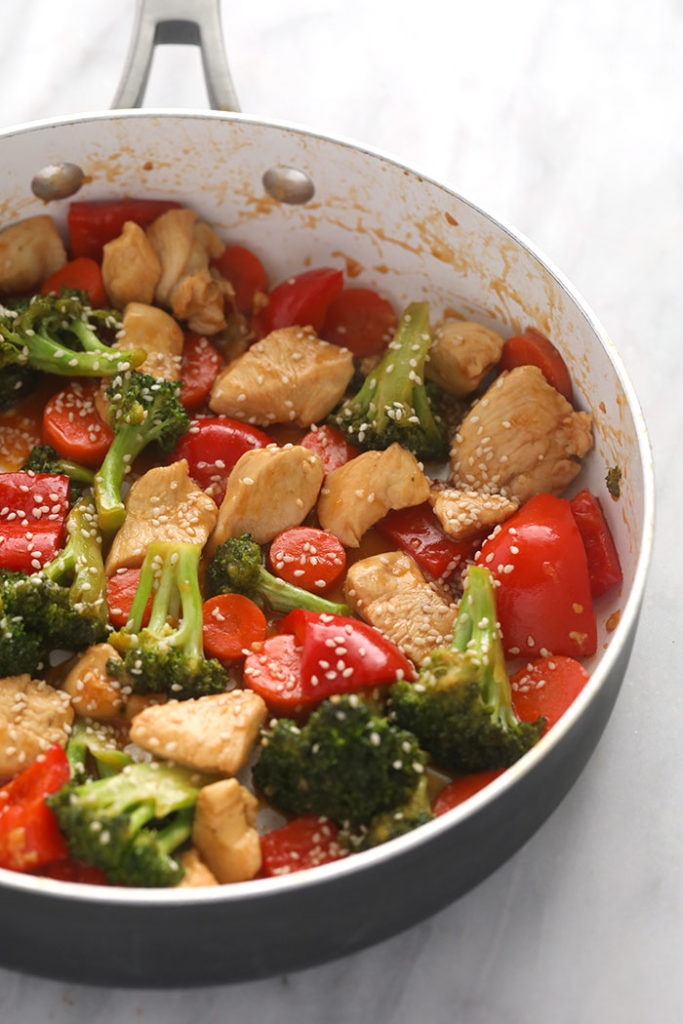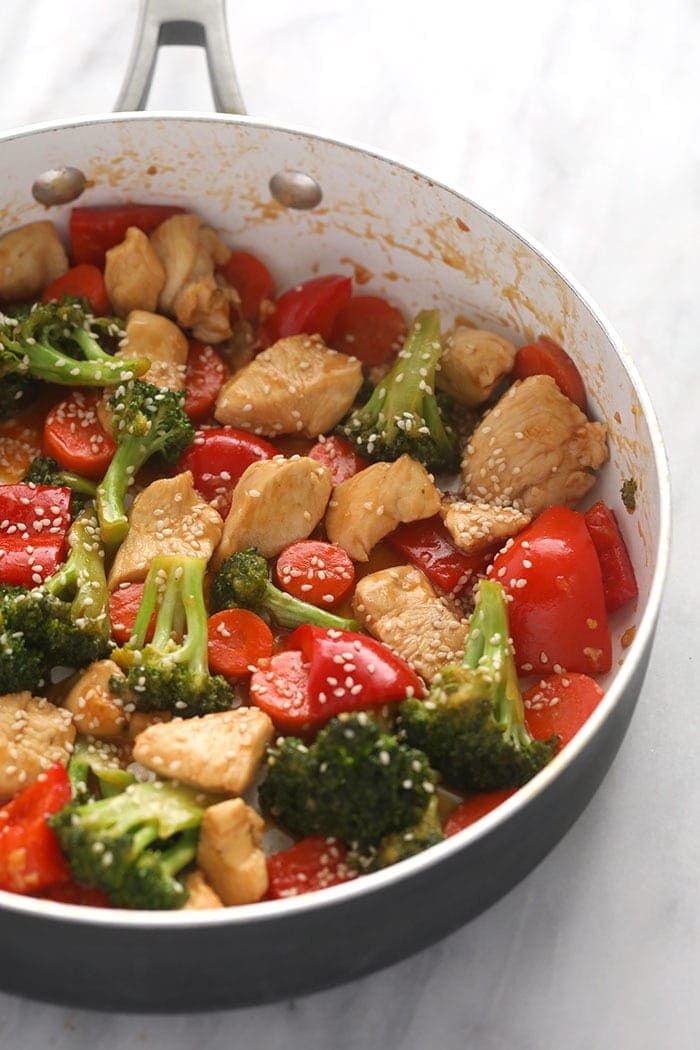 Teriyaki Chicken Stir Fry Q&A
Can I use chicken thighs instead of breasts?
Yes, you can use boneless chicken thighs instead of breasts! Just be sure to cut the thighs in uniform chunks!
How do I make my teriyaki sauce thick?
If your teriyaki sauce isn't thickening as much as you'd like, try adding a teaspoon of cornstarch or tapioca flour at a time. Whisk until it combines into the sauce and then add more until it reaches your desired thickness.
Is teriyaki sauce gluten free?
Our homemade teriyaki sauce is gluten free if you use tamari instead of soy sauce! If you are using store bought teriyaki sauce, be sure to check the label!
Storage
Let the teriyaki stir fry cool completely and then transfer to an airtight container and store in the fridge for up to 3-5 days.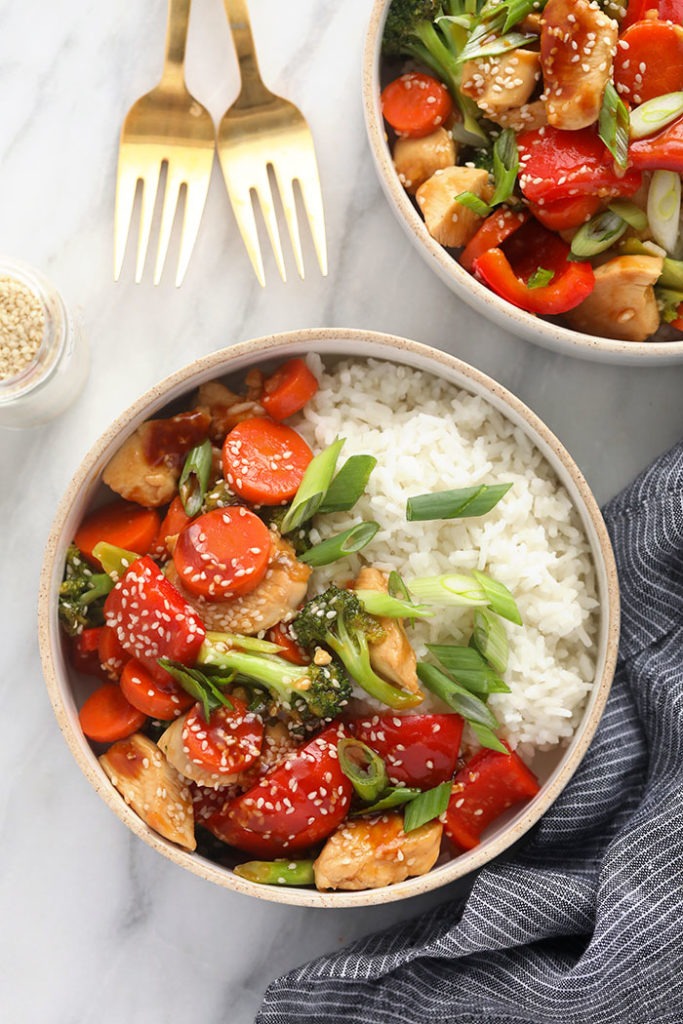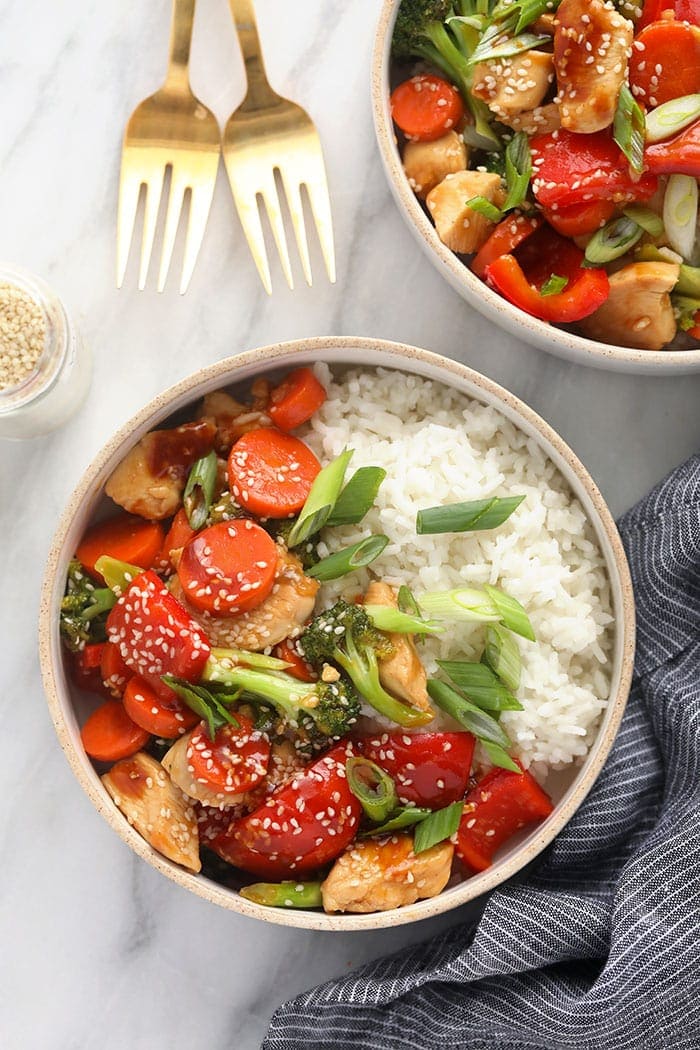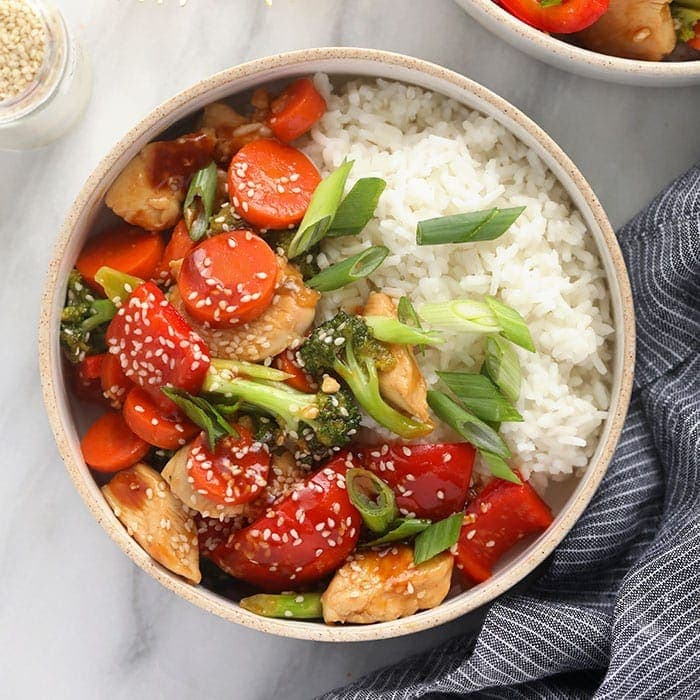 Teriyaki Chicken Stir Fry Recipe
This Teriyaki Chicken Stir Fry is easy to throw together and is ready in 30 minutes! Mix up our easy teriyaki sauce, chop up your veggies and you're ready to go.
Prep: 15 minutesCook: 15 minutesTotal: 30 minutes
Fat 10 Carbs 20 Protein 41
Yield 4 1x
Ingredients
1.5 tablespoons

olive oil

1

lb. boneless skinless chicken breast

4 cups

broccoli florets

1

large red pepper, diced

2

large carrots, diced
optional: 1/2 tablespoon cornstarch
Instructions
First, prepare homemade teriyaki sauce if you already haven't.
Next, prepare chicken by thinly slicing into bite-sized strips.
Then, chop broccoli and red pepper and slice carrots. Set aside.
Next, heat 1.5 tablespoons of olive oil over medium/high heat in a large skillet. When the olive oil is fragrant, add diced chicken.
Saute chicken for 4-5 minutes to partially cook. Then, add in the chopped veggies.
Saute for a few minutes and then add teriyaki sauce.
Continue cooking over medium/high heat for another 5 minutes or until chicken is fully cooked and the veggies are at the desired doneness.
Option to serve as is OR to thicken sauce.
To thicken sauce, sprinkle in around 1/2 tablespoon of cornstarch. Make sure that the burner is still on medium/high as the heat is what will activate the cornstarch. Whisk for a few minutes or until the sauce begins to thicken.
Then, make sure to toss all of the stir fry in the sauce.
Serve teriyaki stir fry over your favorite grain.
Watch It
[adthrive-in-post-video-player video-id="6VOsKs9b" upload-date="2022-06-07T20:00:46.000Z" name="Teriyaki Chicken Stir Fry" description="This Teriyaki Chicken Stir Fry is easy to throw together and is ready in 30 minutes! Mix up our easy teriyaki sauce, chop up your veggies and you're ready to go." player-type="default" override-embed="default"]
Nutrition Facts
Serving Size: 1/4 Calories: 346 Sugar: 14 Sodium: 1009 Fat: 10 Carbohydrates: 20 Fiber: 2 Protein: 41 Cholesterol: 85
Author: Lee FunkeCategory: DinnerMethod: Stove-topCuisine: Asian
Keywords: teriyaki chicken stir fry