This is the most flavorful one pot chicken and rice on the internet. Our easy chicken and rice recipe is made with juicy chicken thighs and a delightful rice medley so you get extra veggies!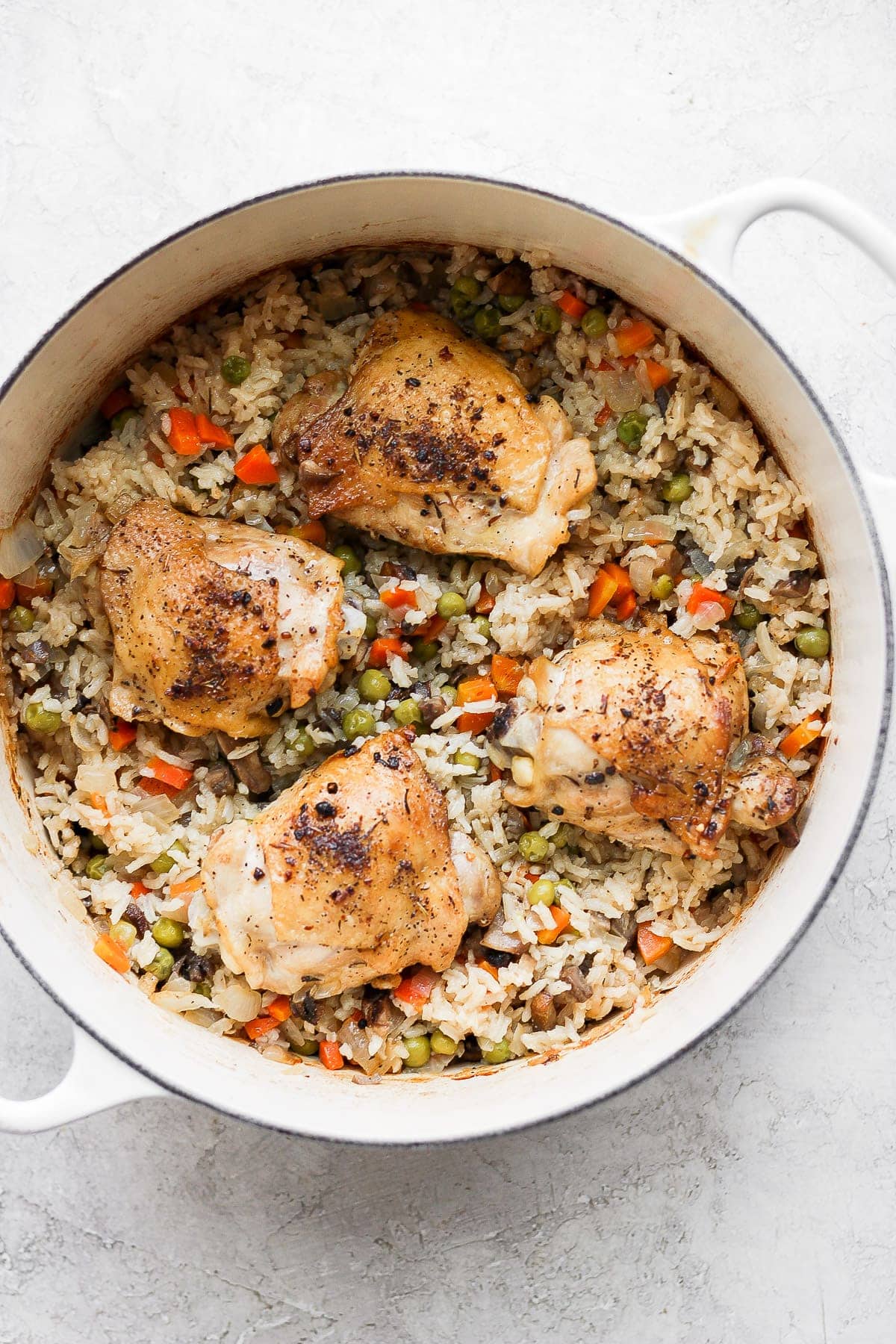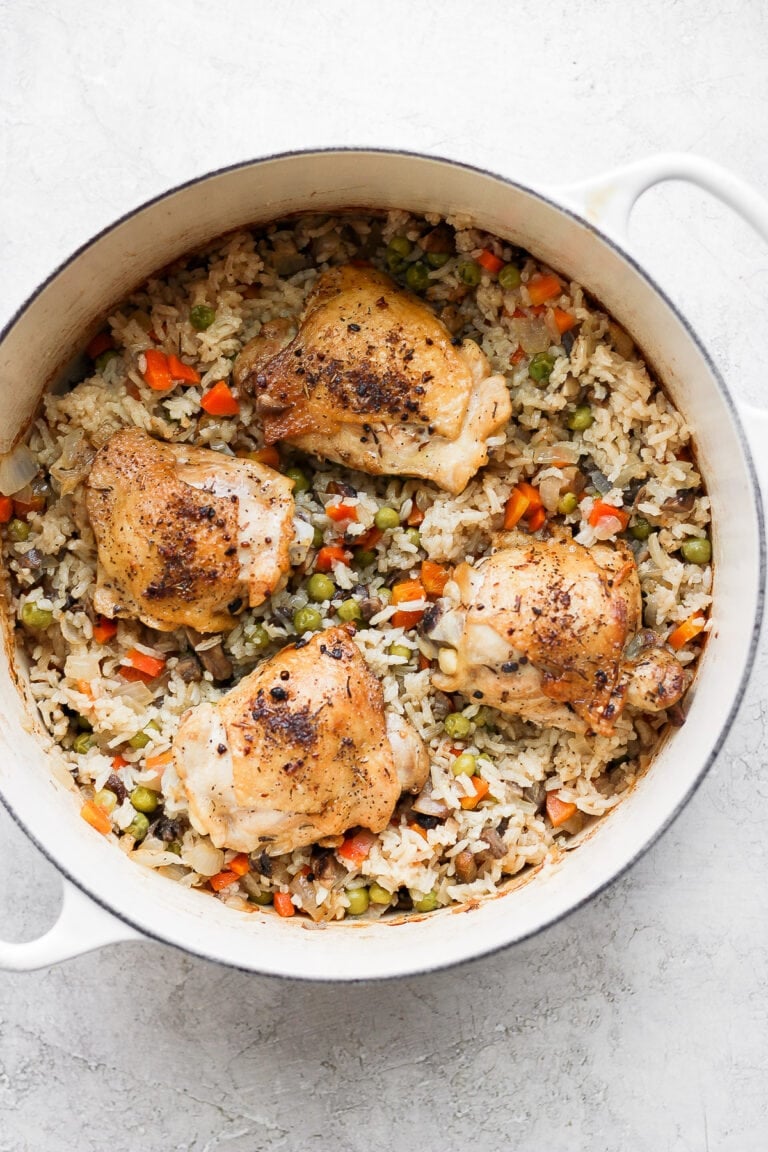 Best One Pot Chicken and Rice Recipe
One-pot meals have been all the rage at our house. When I say one-pot meals…I mean meals where you can get your 1. protein 2. veggies and 3. grains all while using just one pot.
Our Chicken Casserole recipe for example just uses a casserole dish. Our Skillet Chicken and Potatoes uses just a cast-iron skillet. And, our Instant Pot Pork Roast uses just the Instant Pot.
This One Pot Chicken and Rice is no different than our reader-favorite one-pot meals but uses a Dutch oven. If you don't have a Dutch oven yet, we highly recommend it. It makes one-pot cooking so easy!
What is Chicken and Rice?
Chicken and rice is a classic American dish where you cook either chicken breast or chicken thighs and white rice in a dish with broth and seasonings.
Traditionally, people use a cream of mushroom soup but we decided to use whole ingredients and as a bonus it lowers the sodium content as well! 
The best kind of chicken and rice bake is super flavorful and contains veggies to make it a well-rounded dish (hint hint, this recipe!).
Why make this chicken and rice recipe?
There are so many chicken and rice recipes on the internet, but I can promise you one thing…this one is 100x the best! We tested this more times than you can count and the flavor is just out of this world.
Flavor: the flavor of this dish is on point. We used a combination of chicken broth, spices, garlic, butter, and Worcestershire sauce to get that ultra savory flavor.
One-Pot: there truly is nothing better than not having to clean a million pots and pans after you cook dinner. Clean one pot and done!
Leftovers: If you are 1 or 2 people, you're going to get multiple meals out of this chicken and rice.
Balanced Meal: Protein + Veggies + Grain = perfect balanced meal for any night.
Kitchen Tools You Need
You know you need a Dutch oven for this chicken and rice recipe, what else will make your life easier?
What is a Dutch oven?
A dutch oven is a large, heavy pot made out of cast iron. It's great for cooking one-pot meals because it retains heat, which helps cook your food evenly.
What can you use in place of a dutch oven?
Don't have a Dutch oven? No problem! You can do a few things:
Use a deep cast iron pot that is big enough to hold everything.
Do the searing in a frying pan and then transfer everything into a casserole baking dish for baking.
Use a normal stockpot. You may need to slightly increase the baking time.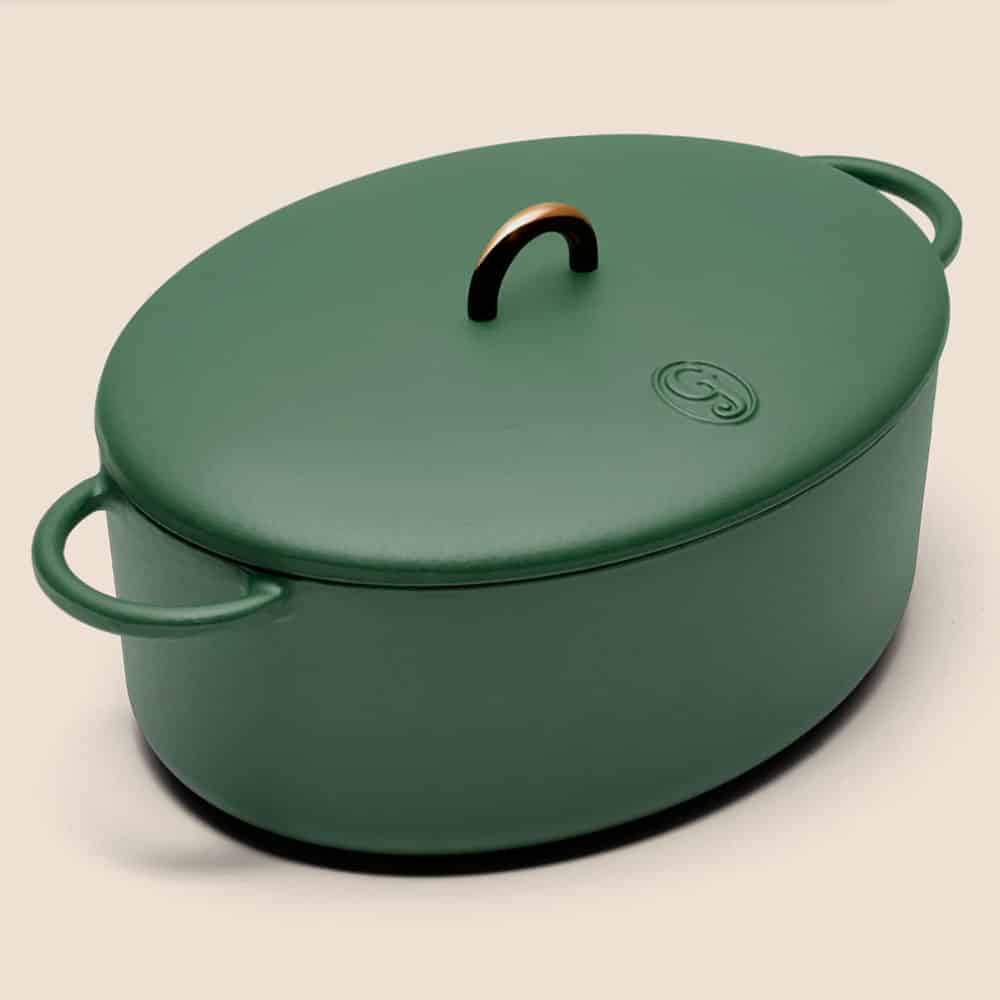 Great Jones
The Dutchess
This is hands-down our favorite Dutch oven. It's a 6.75 quart enameled cast iron Dutch oven that's super high-quality and gorgeous.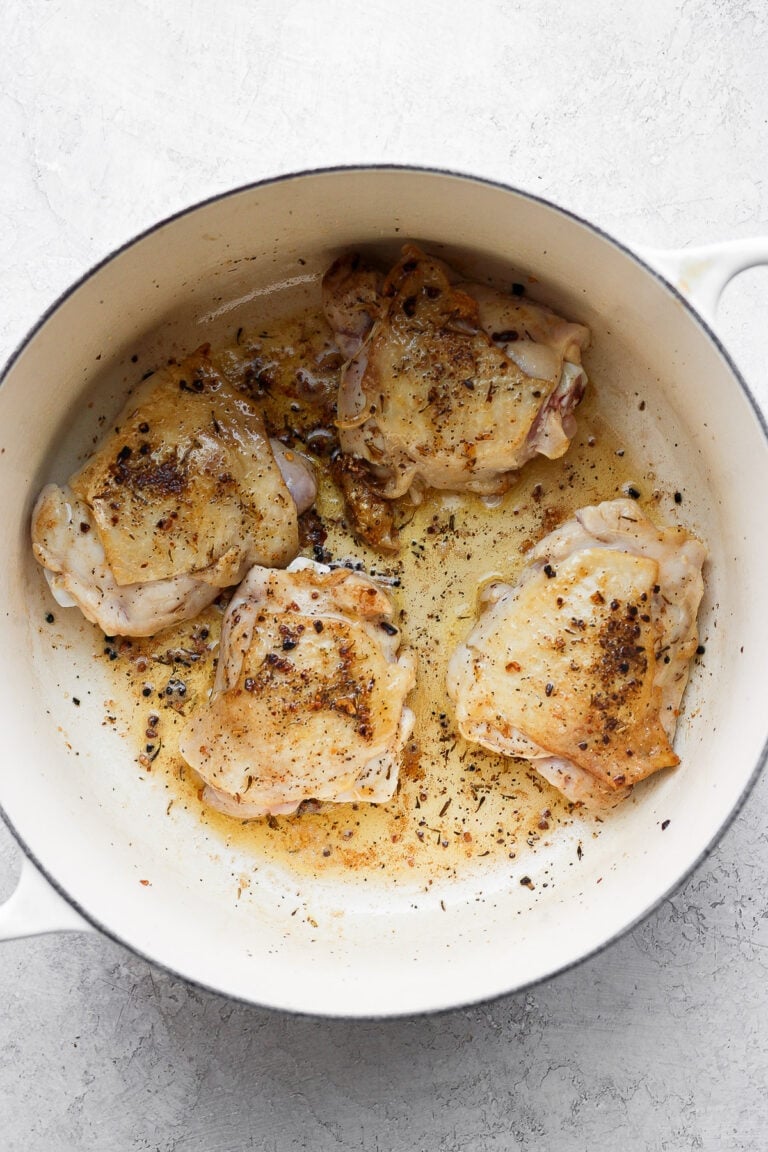 What You Need for Chicken and Rice
Chicken: this recipe calls for 2 lbs. bone-in, skin-on thighs, but you're more than welcome to use boneless skinless. Whatever you prefer.
Rice: make sure to use long-grain white rice such as basmati. We did NOT test this recipe with brown rice and/or instant rice, but the liquid ratio will vary greatly.
Veggies: vegetables you need for this chicken and rice recipe are carrots, onion, mushrooms, and peas.
Seasonings: you'll need to whip up a batch of our famous all-purpose chicken seasoning. Or, you can use a store-bought kind. In addition, you'll need garlic powder, onion powder, salt, and pepper.
Secret Ingredient: our secret ingredient is Worcestershire sauce! It's vinegary and savory and such a great flavor addition. Don't have Worcestershire? Try using balsamic or apple cider vinegar instead.
So, what makes this Dutch Oven Chicken and Rice so flavorful?
Oh the burning question of why is this chicken and rice recipe more flavorful than others? Well, let me spell it out for you:
The chicken seasoning we used for the thighs is on point. Not only does it flavor the chicken, but it adds to the flavor of the rice and it tastes just like super flavorful chicken and rice camp food (if you know you know).
Butter – don't skimp on the butter. It really does add amazing flavor.
Worcestershire – and the secret ingredient is, Worcestershire sauce. We love the vinegar and savoriness of this ingredient.
Is Chicken and Rice Healthy?
Homemade chicken and rice is a healthy, balanced meal that is great for any night of the week! To make this recipe even healthier: 1. omit the butter and use olive oil and 2. use chicken breast instead of thighs.
Swaps
Rice – this recipe calls for basmati white rice, but it will also work with jasmine rice. We did NOT test this recipe with brown rice or any kind of instant rice, so stay away from those.
Chicken – while we 100% prefer chicken thighs for chicken and rice, you are more than welcome to use chicken breast instead.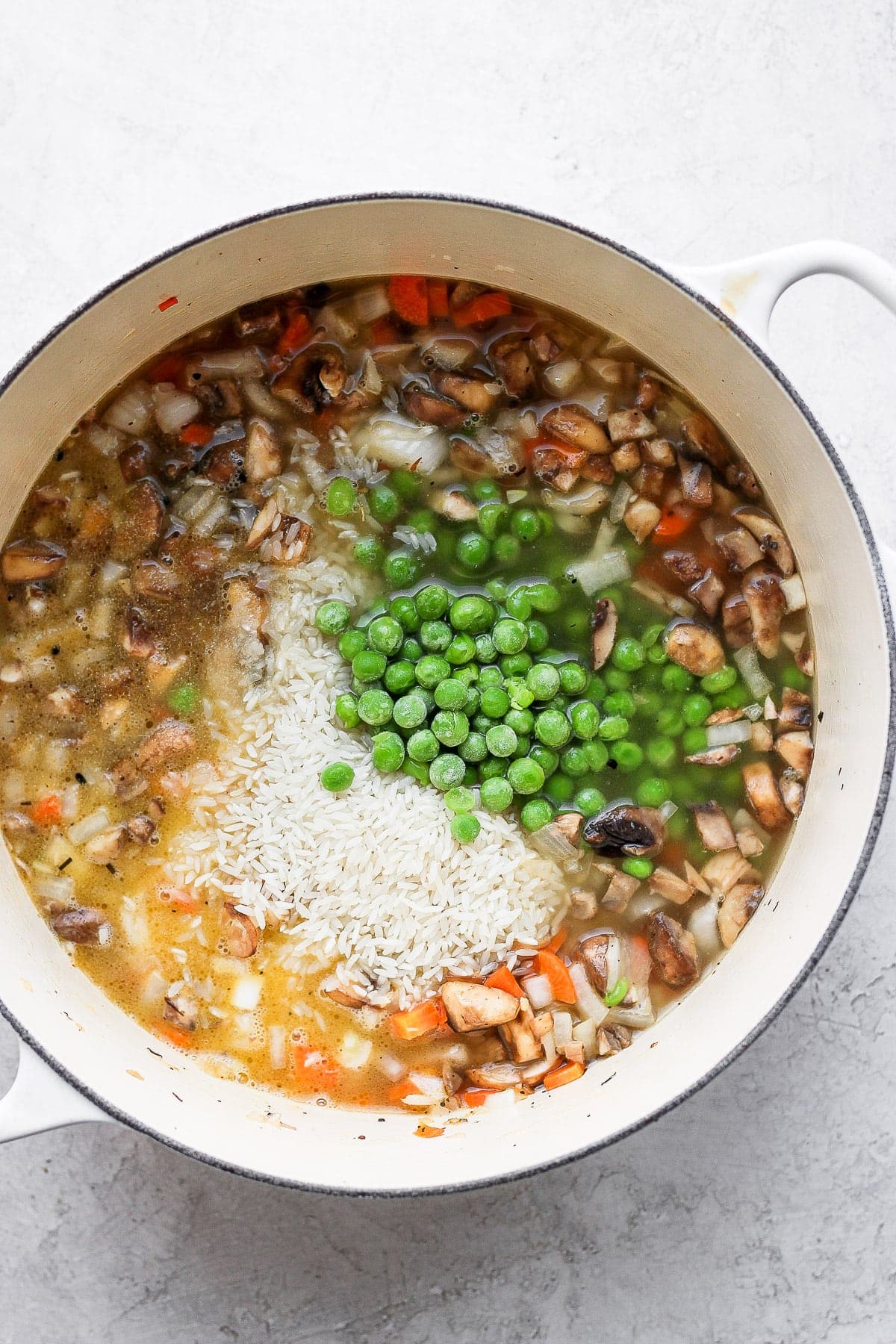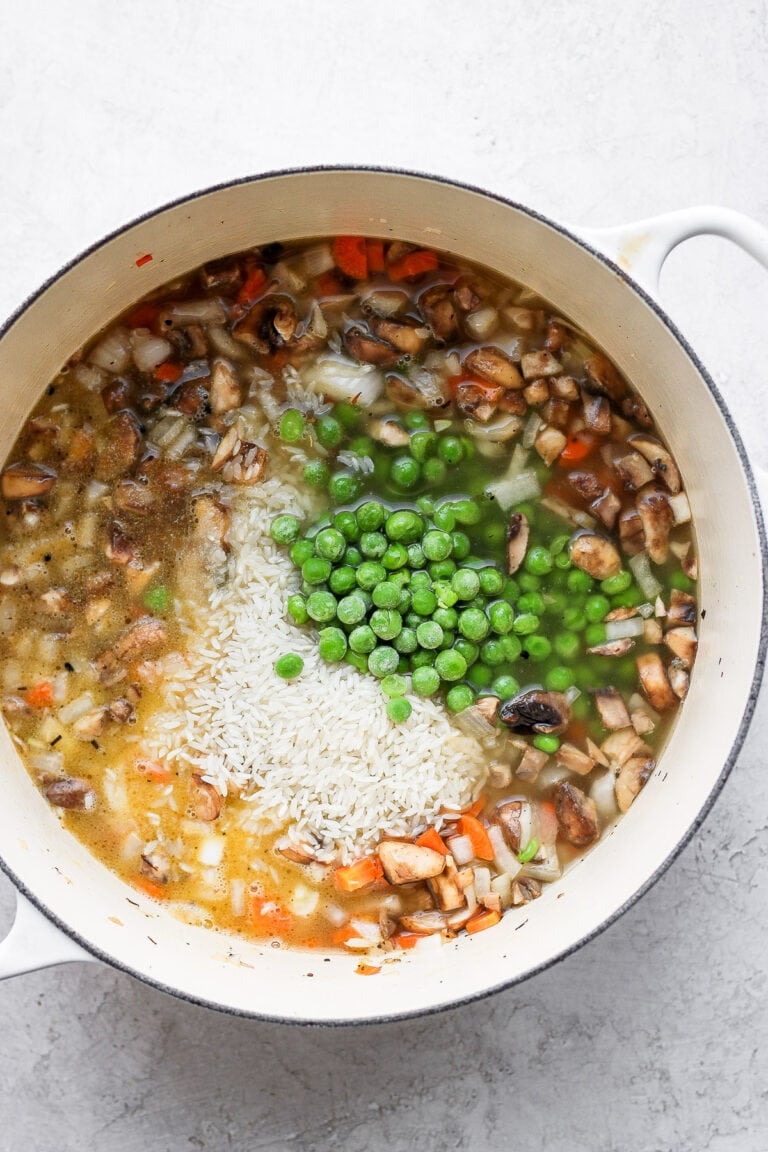 How to Make Chicken and Rice (step-by-step)
So, how do you make chicken and rice from scratch? It's SO easy! Remember, scroll all the way down to our recipe card for the full ingredients + instructions.
Season + Sear Chicken: Generously season chicken thighs with an all-purpose chicken seasoning. Then heat olive oil in your Dutch Oven and sear thighs on both sides. The goal here is to give them some color and brightness and to also create that amazing crust on the skin,
Saute Veggies: Add more butter and olive oil to the pot and then sear garlic, onion, mushroom, and carrots. Don't cook them all the way through, the purpose is to just start the cooking process.
Add All Ingredients: Add in white rice, chicken broth, frozen peas, Worcestershire sauce, and the rest of the spices and mix to combine.
Bake: Cover the Dutch oven with the lid and bake at 375ºF for about 35 minutes. Remove the lid and use a thermometer to make sure the thickest part of the chicken has reached an internal temperature of 165ºF. The rice should be completely cooked and all liquid should be absorbed. If not, continue cooking for 5-10 more minutes.
chicken thigh tip
Remember, chicken thighs come in all shapes and sizes. We used medium-sized thighs and our cook time was right around 35 minutes.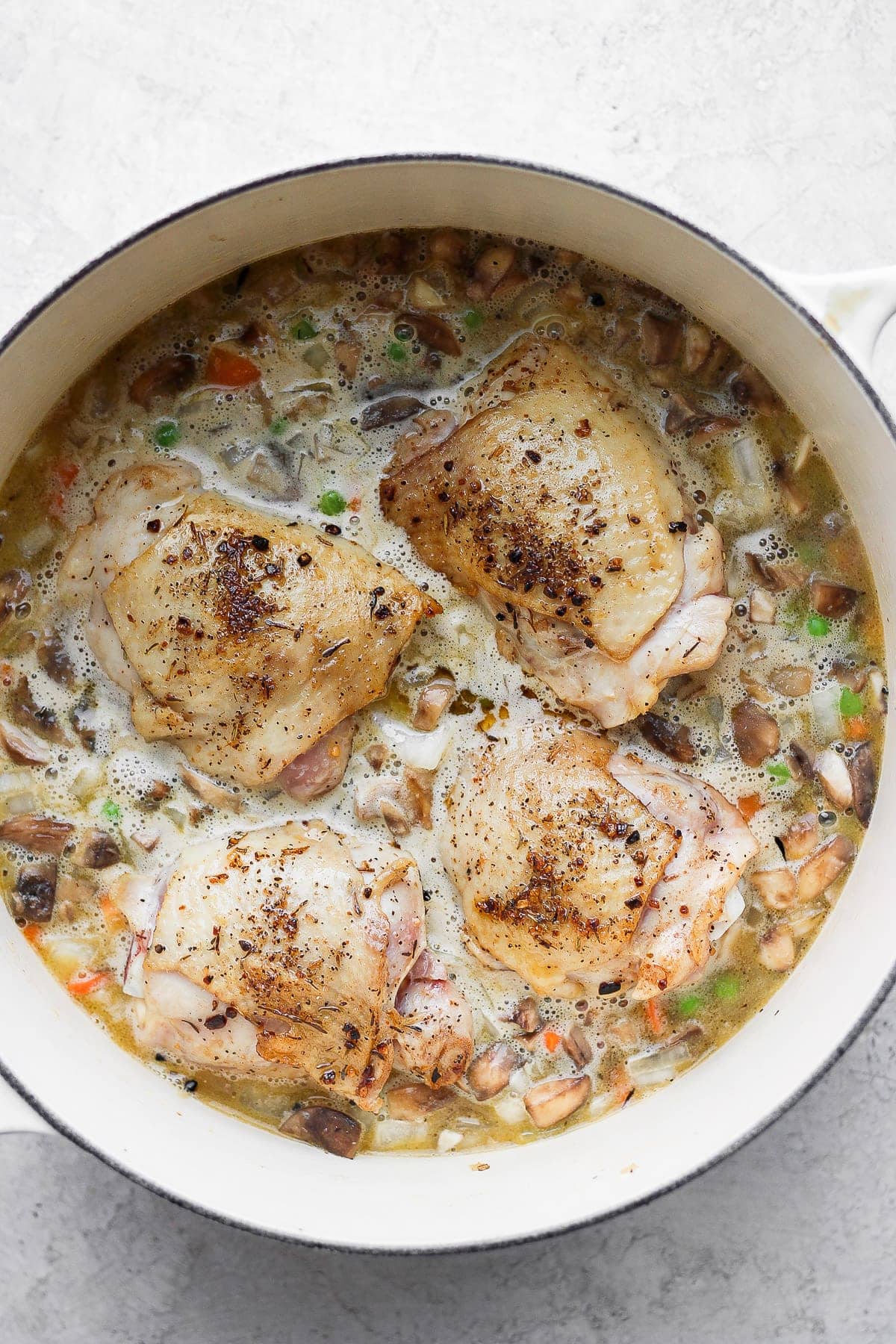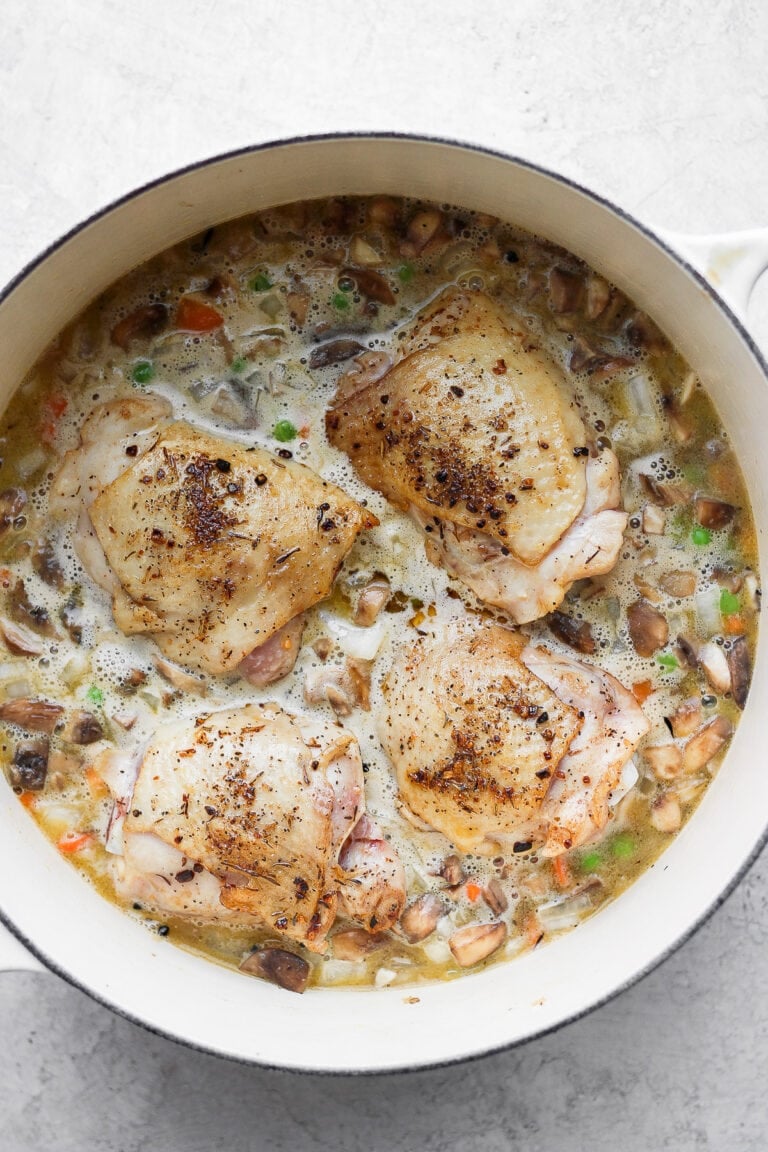 Storage
Let chicken and rice cool completely. Then, transfer it into a large, glass container. Cover and refrigerate for up to 3-5 days in an airtight container.
storage tip!
If you've got the space in your fridge, you can simply store your chicken and rice bake in the Dutch oven. That'll save you a few dishes!
Can you freeze chicken and rice?
If you're planning to freeze chicken and rice, we recommend baking it all the way through, first and then freeze it.
Let your chicken and rice recipe cool completely. Then, transfer into a freezer-safe container and remove as much air as possible. Freeze for up to 3 months.
Alternatively, you can bake your chicken and rice in a disposable tin container and freeze in that.
To thaw & reheat: let casserole thaw in the fridge overnight. Then, bake casserole at 350ºF for 30-45 minutes or until warm in the middle.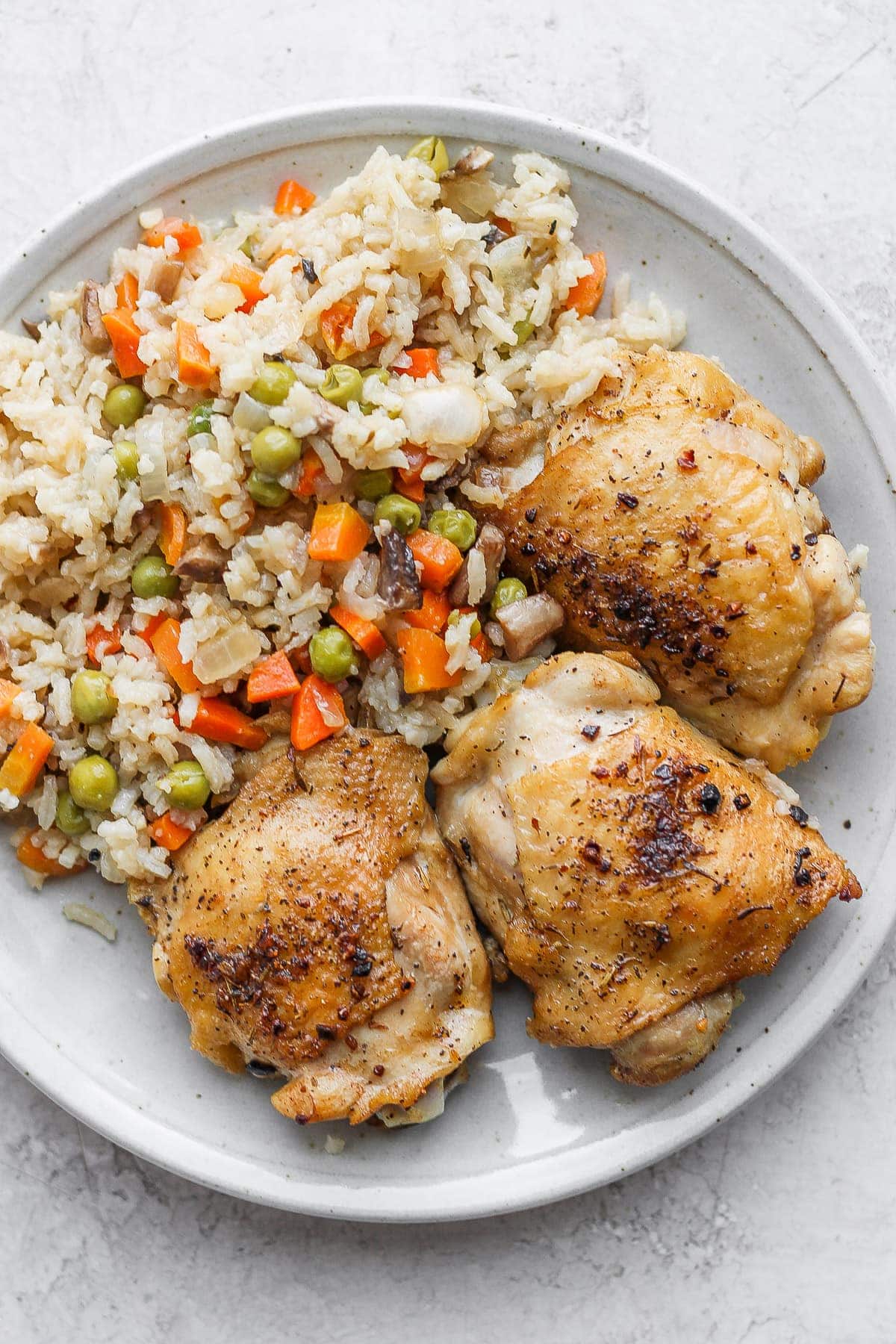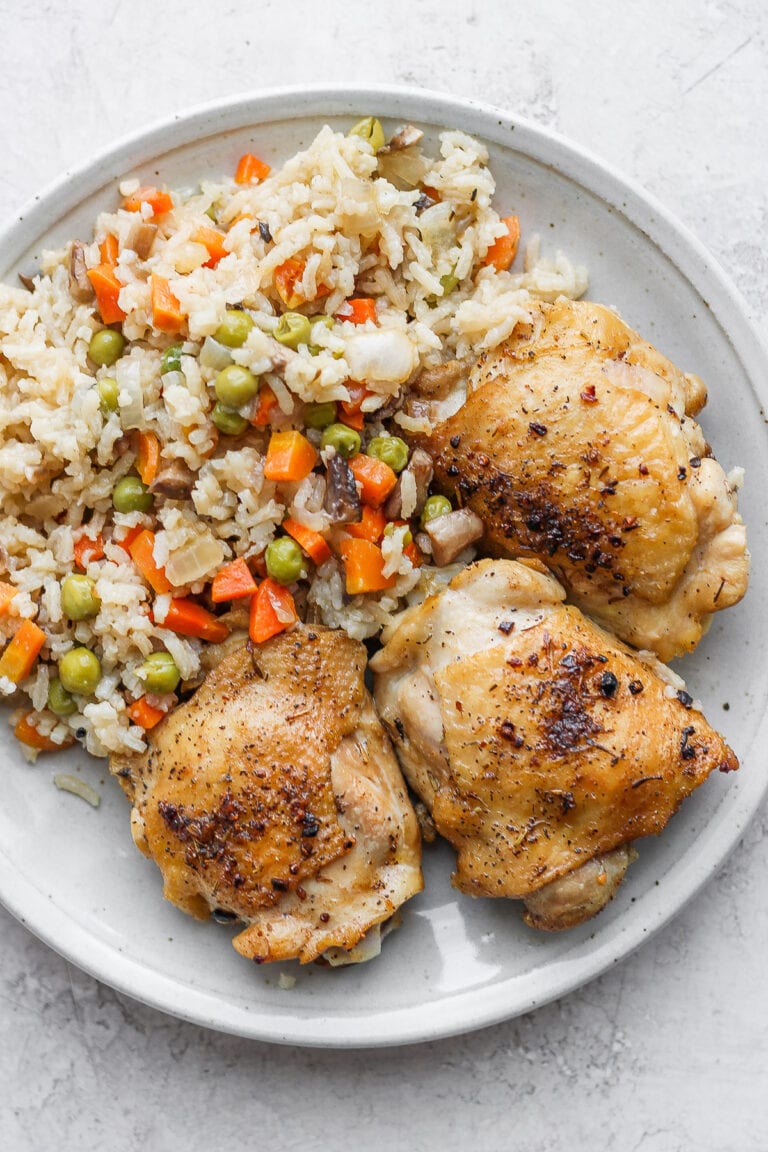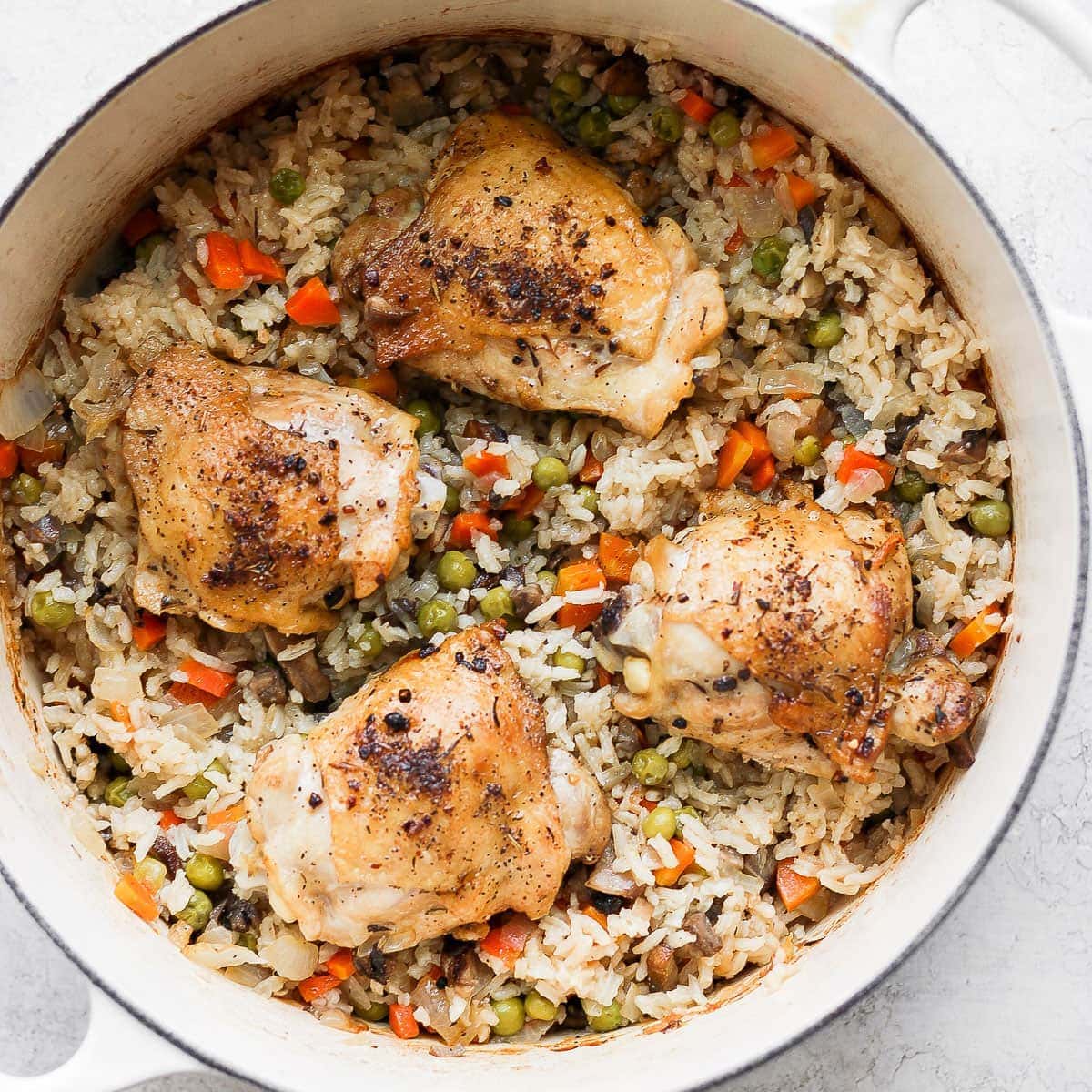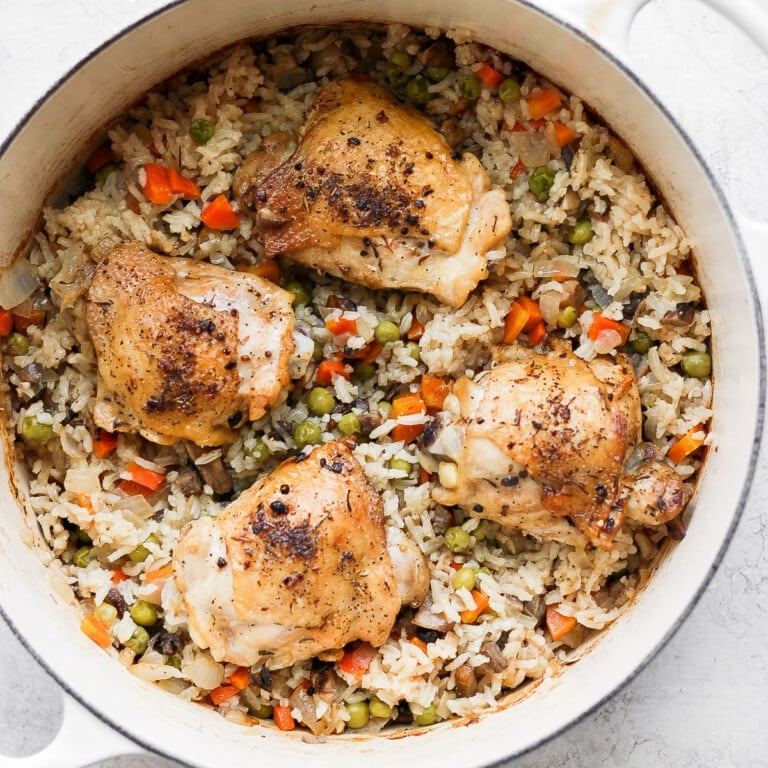 One Pot Chicken and Rice
A flavorful chicken and rice recipe made with juicy chicken thighs and the most delicious rice medley you've ever had! And, yes, it includes tons of veggies!
Prep:15 minutes
Cook:35 minutes
Total:50 minutes
Ingredients
2

lbs.

chicken thighs

bone-in and skin-on

3

tablespoons

homemade chicken seasoning

2.5

tablespoons

olive oil

divided

2

tablespoons

butter

1/2

medium white onion

minced

2

large cloves garlic

minced (or 4 medium)

4

oz.

white mushrooms

diced

2

medium carrots minced

1

cup

white rice

we used white basmati

2

and 1/4 cups chicken broth

1/2

cup

frozen peas

1.5

tablespoon

Worchestershire sauce

1/4

teaspoon

salt

1/8

teaspoon

ground pepper

1

teaspoon

garlic powder

1/2

teaspoon

onion powder

fresh parsley

for topping
Instructions 
First, preheat the oven to 375ºF. Then, prep chicken thighs by patting them dry with a piece of paper towel. Generously sprinkle them with chicken seasoning and set aside.

Heat 1.5 tablespoons olive oil in a large Dutch oven over medium/high heat. When olive oil is fragrant. Sear chicken thighs on both sides for 2 minutes to get them golden brown. Remove from heat.

Add 2 tablespoons of butter and 1 tablespoon of olive oil to the pan and use a wooden utensil to remove the brown bits from the bottom. Then, add onion, garlic, mushrooms, carrots and a pinch of salt and saute for 2-3 minutes.

Add in white rice, chicken broth, frozen peas, Worchestershire sauce, and spices, and mix to combine. Turn the heat to high. Once the liquid begins to bubble, immediately remove it from the heat.

Place the seared chicken thighs on top of the rice and place the top on the Dutch oven.

Bake at 375ºF for 35 minutes. Remove from the oven. At this point, the liquid should be completely absorbed. If it's not, continue baking for 5-10 minutes until it absorbs. Check the internal temperature of the chicken thighs. It should read at least 165ºF.

Option to broil the dish on high for around 1-2 minutes to really get the chicken golden brown.

Top with fresh parsley and then serve immediately.
Nutrition facts
Calories: 536kcal Carbohydrates: 34g Protein: 43g Fat: 24g Fiber: 4g Sugar: 3g
Photography: photos taken in this post are by Erin from The Wooden Skillet.