Our healthy oatmeal cookies have been made by hundreds and are truly one of the best. They are made with rolled oats, flour, maple syrup, and a little brown sugar making them perfectly sweet and slightly chewy.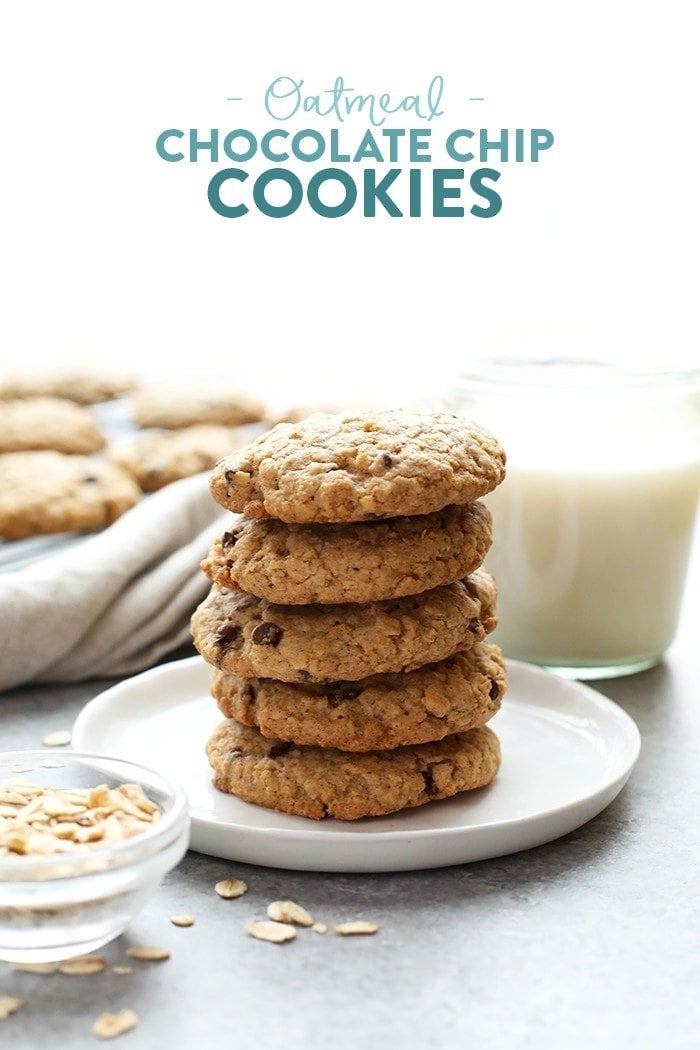 We've been blogging since 2010 and this is one of our very first healthy oatmeal cookies recipes. We've revised and retested it many times to make it perfect for you!
These healthy oatmeal chocolate chip cookies are lower in sugar than most other oatmeal cookies and are the perfect starting point for making them your own!
PS: while this oatmeal cookies recipe calls for butter and a little brown sugar, we're about food freedom and making small, nutritious swaps!
What is in these healthy oatmeal cookies?
Rolled Oats: for these oatmeal cookies you need to pulverize them a bit! Do do this you can use a food processor or coffee grinder.
All Purpose Flour: a little flour helps bind these cookies.
Light Brown Sugar: brown sugar adds a bit of chewiness to these cookies.
Mini Chocolate Chips: mini chocolate chips give you a chocolate chip in every bite.
Eggs: don't skip the eggs and be sure they are large eggs.
Maple Syrup: we use a mixture of brown sugar and a mixture of maple syrup to sweeten these babies up.
Vanilla Extract: love the bit of sweetness and flavor vanilla gives all cookies!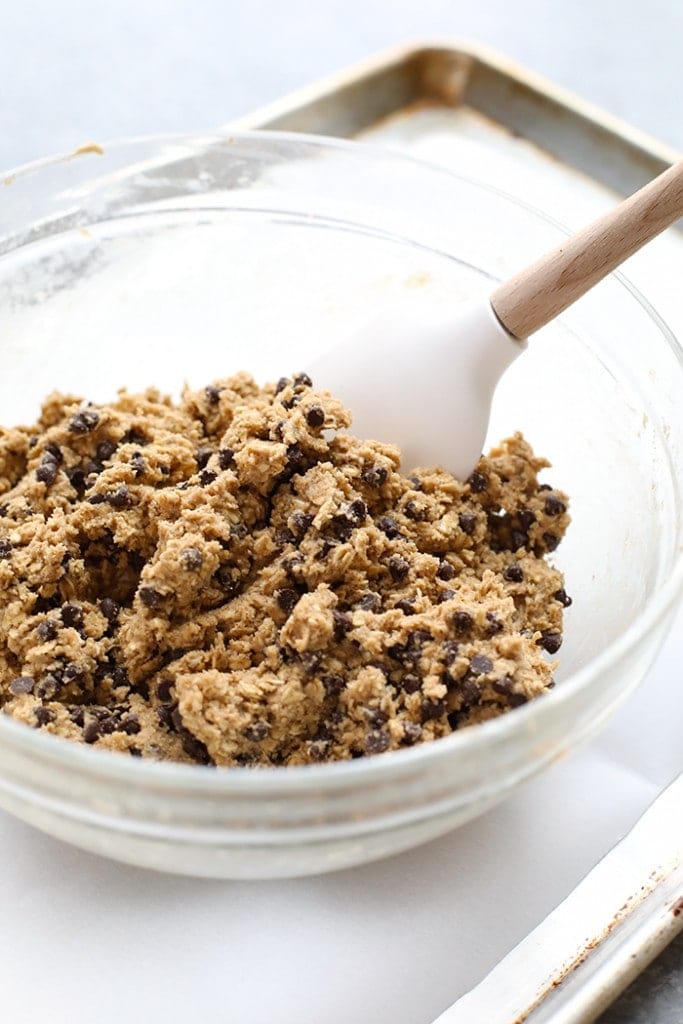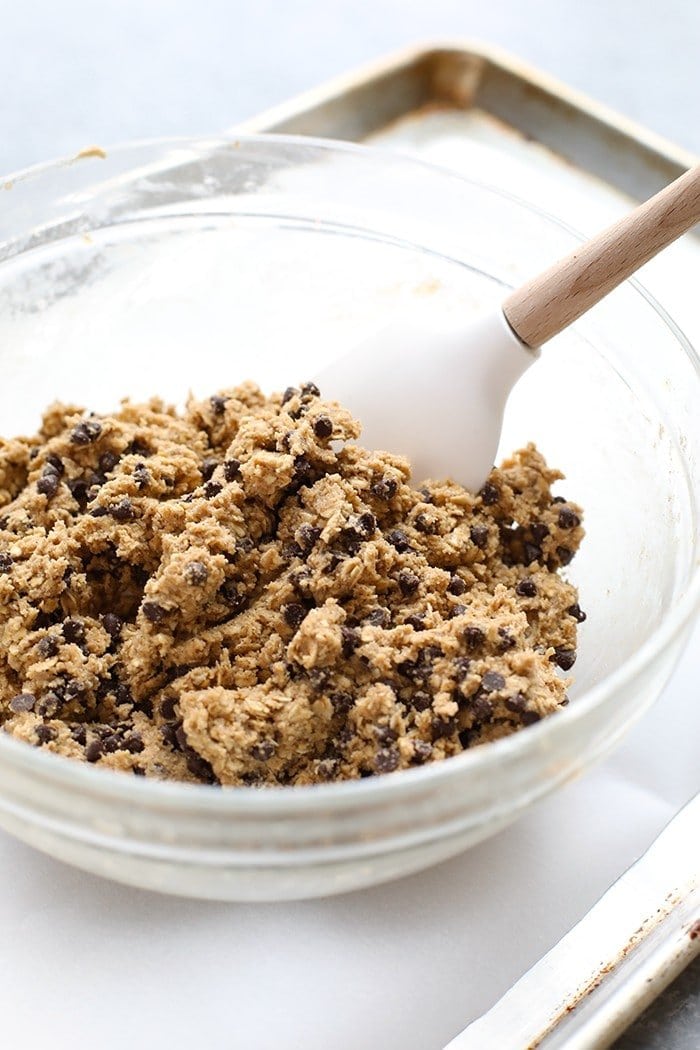 Fun Add-Ins/Variations for Healthy Oatmeal Cookies
The sky is the limit when it comes to ingredient add-ins. You can add any of the ingredients below to these cookies or feel free to get created.
Nuts (walnuts or pecans)
M&Ms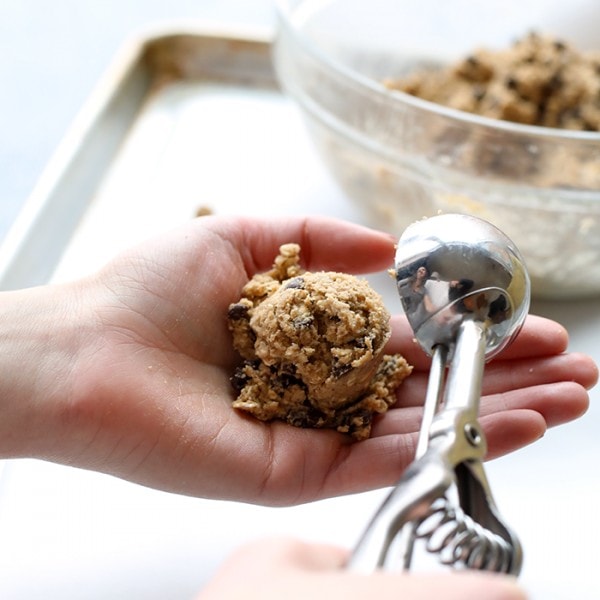 Can I use a flax egg?

Yes, you can substitute a the large egg with a flax egg. Check out how to make a flax egg.
Are these oatmeal cookies gluten free?

No, but you can make them gluten free by buy certified gluten free oats and using 1:1 gluten free flour instead of all purpose flour.
How to Store Oatmeal Cookies

Keep these cookies in an air-tight container at room temperature for up to 5 days, making sure they fully cool before storing.
Can you Freeze Cookies?

Simply store in an air-tight container (large Ziplocs work great for this!), and write the date you made the cookies + the name of the cookies on the bag before placing in the freezer.
Thawing Healthy Oatmeal Cookies

Remove a cookie from the freezer and place in the microwave for 1 minute on defrost, or until it's chewy and delicious.
Can I freeze the cookie dough for oatmeal cookies?

Yes, make the cookie dough as written in the recipe and the place it in a freezer safe container. Freeze for up to 3 months.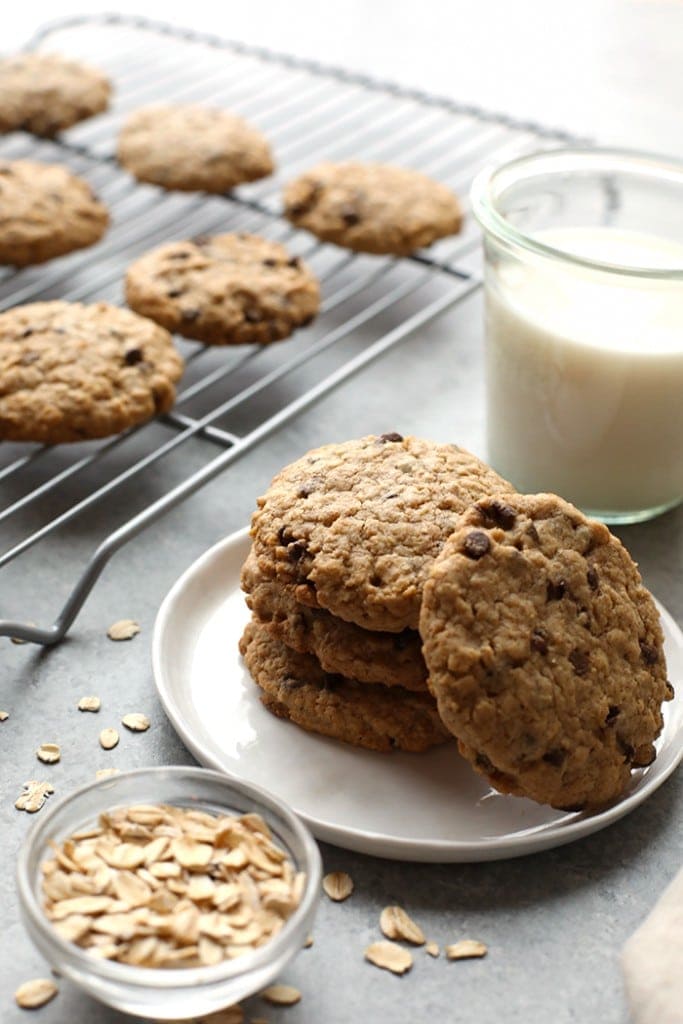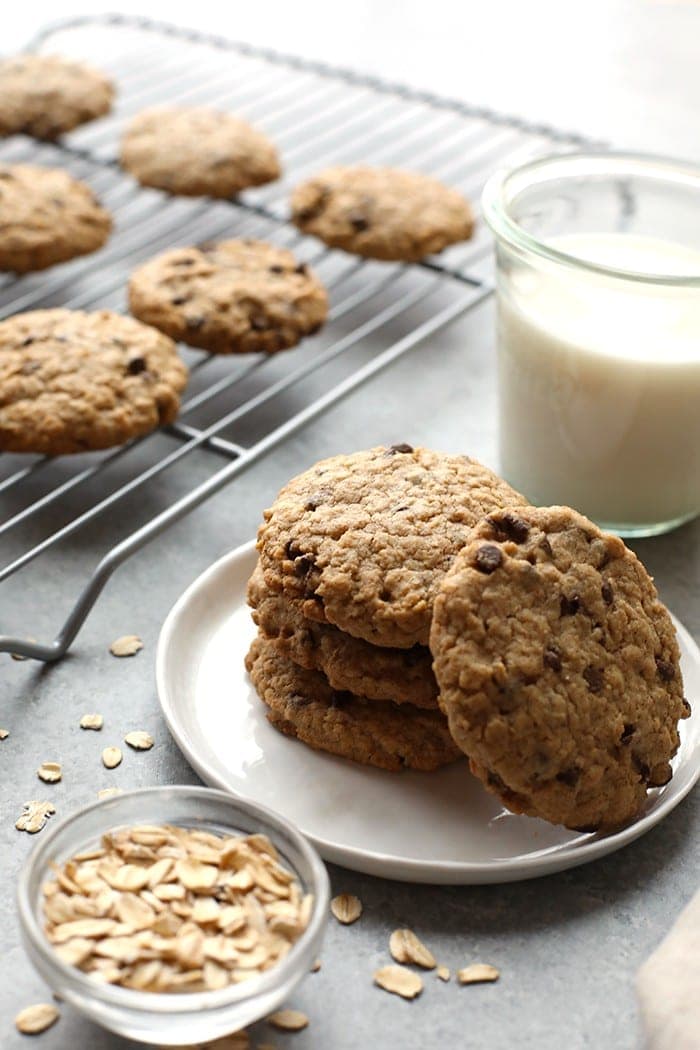 Storage
Let the cookies cool completely. Then, transfer them into an airtight container or gallon-size bag and store them in a cool, dark place for up to 3 days.
Freezer Instructions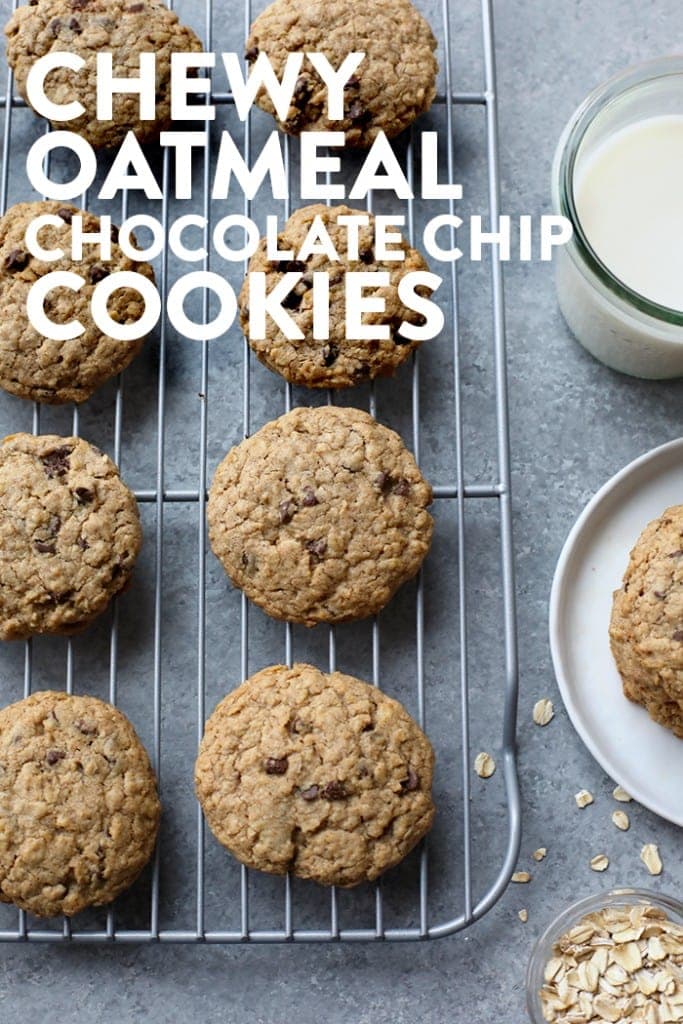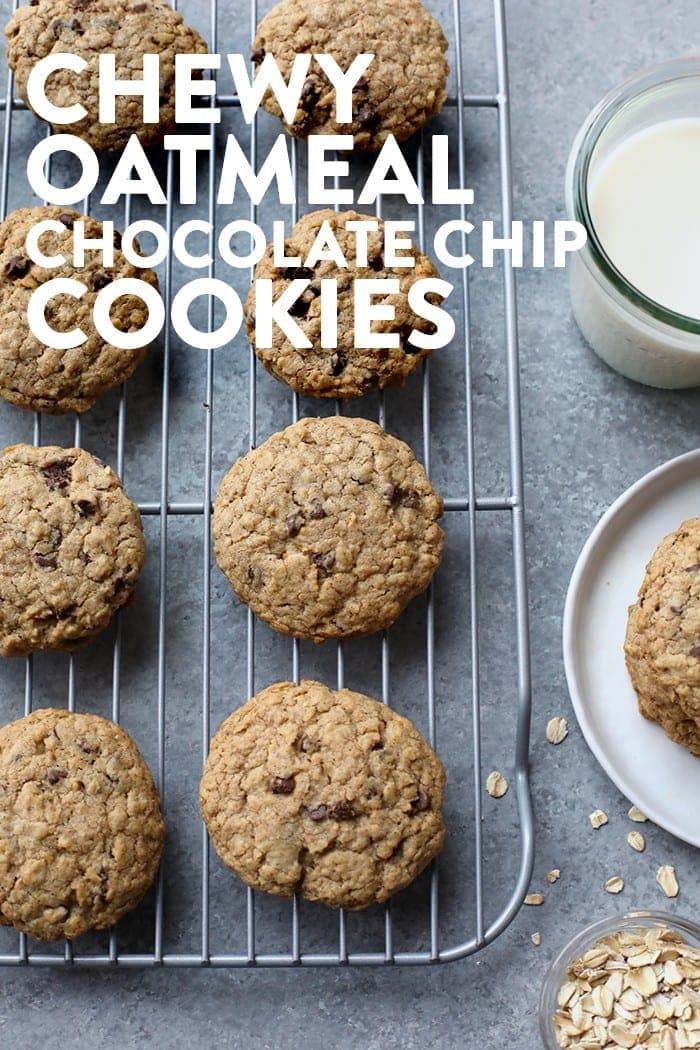 Preheat oven to 350ºF. Line a baking sheet with parchment paper and set aside.

Place oats into a food processor and blend for 15-20 seconds to lightly pulverize, shredding them into smaller pieces. If you're using quick cooking oats, omit this step.

Add oats, flour, baking powder, cinnamon, and salt to a bowl and mix well. Set aside.

Using a standing mixer, cream butter and brown sugar together on medium/high speed until light and fluffy. Scrape the sides of the bowl and then turn the mixer on low speed and slowly add the maple syrup to the butter and sugar. Beat on medium/high until light and fluffy. 

Add egg and continue mixing. Scrape the sides of the bowl, add vanilla, and mix until light and fluffy.

Slowly add dry ingredients (everything but the chocolate chips) to wet ingredients, 1/4 cup at a time, mixing on low. Last, fold in mini chocolate chips.

Place the cookie dough in the refrigerator for 30 minutes to harden and to allow the flour in the cookie dough to hydrate.*

Using a tablespoon cookie scoop, roll dough into ball and slightly flatten between your palms. Place on cookie sheet and bake for 8-10 minutes.

Remove cookies from oven, let cool, and enjoy!
This recipe was updated on January 6th, 2022. Click here for the old recipe. 
Refrigerating the dough: don't skip refrigerating the cookie dough or you will run the risk of the cookie dough being too thin and spreading when baking.
Calories: 122kcal Carbohydrates: 18g Protein: 2g Fat: 5g Fiber: 1g Sugar: 10g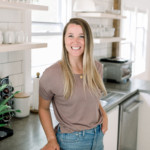 Emily is Fit Foodie Finds' editor-in-chief. She has a masters in business and communication and a passion for food. She is an incredible at-home cook making her writing an important part of the content creation process.