This is truly the ultimate chicken wild rice soup recipe! It's packed with tons of veggies, wild rice, shredded chicken, and a yummy creamy broth.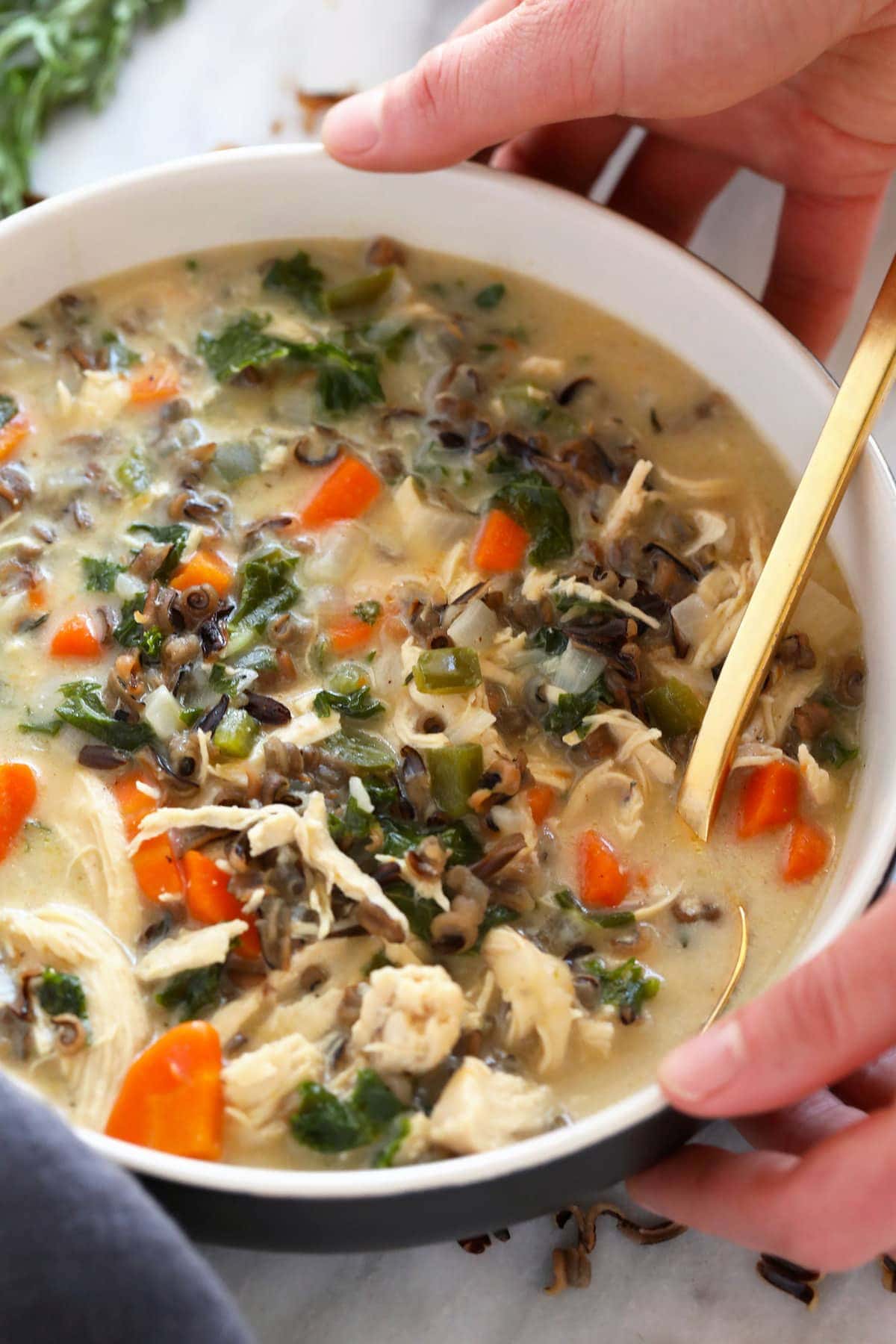 Ultimate Chicken Wild Rice Soup
Soup for days you say? That's right! This classic chicken wild rice soup recipe will give you enough food for days because boy does it make 6 hefty servings. And you bet your bippy you can also easily double or triple this recipe.
This chicken wild rice soup is one of our most popular soup recipes. We love how hearty it is made with cooked wild rice, chicken breast, tons of veggies and the most delicious creamy broth.
Plus, we're big wild rice fans and it truly does make creamy chicken wild rice soup one of our favorite soups!
Why you'll love it!
There are lots of chicken wild rice soup recipes on the internet, but until you've had ours, you're missing out.
Amazing meal prep: Chicken wild rice soup is an excellent meal prep idea because it will literally give you soup for days. This particular recipe serves 6 and you can easily double it and freeze for later!
Healthy: Our chicken wild rice soup recipe is made with lean shredded chicken, wild rice, and tons of veggies making it high in protein and fiber.
Made in no time! In less than 45 minutes you can have dinner on the table!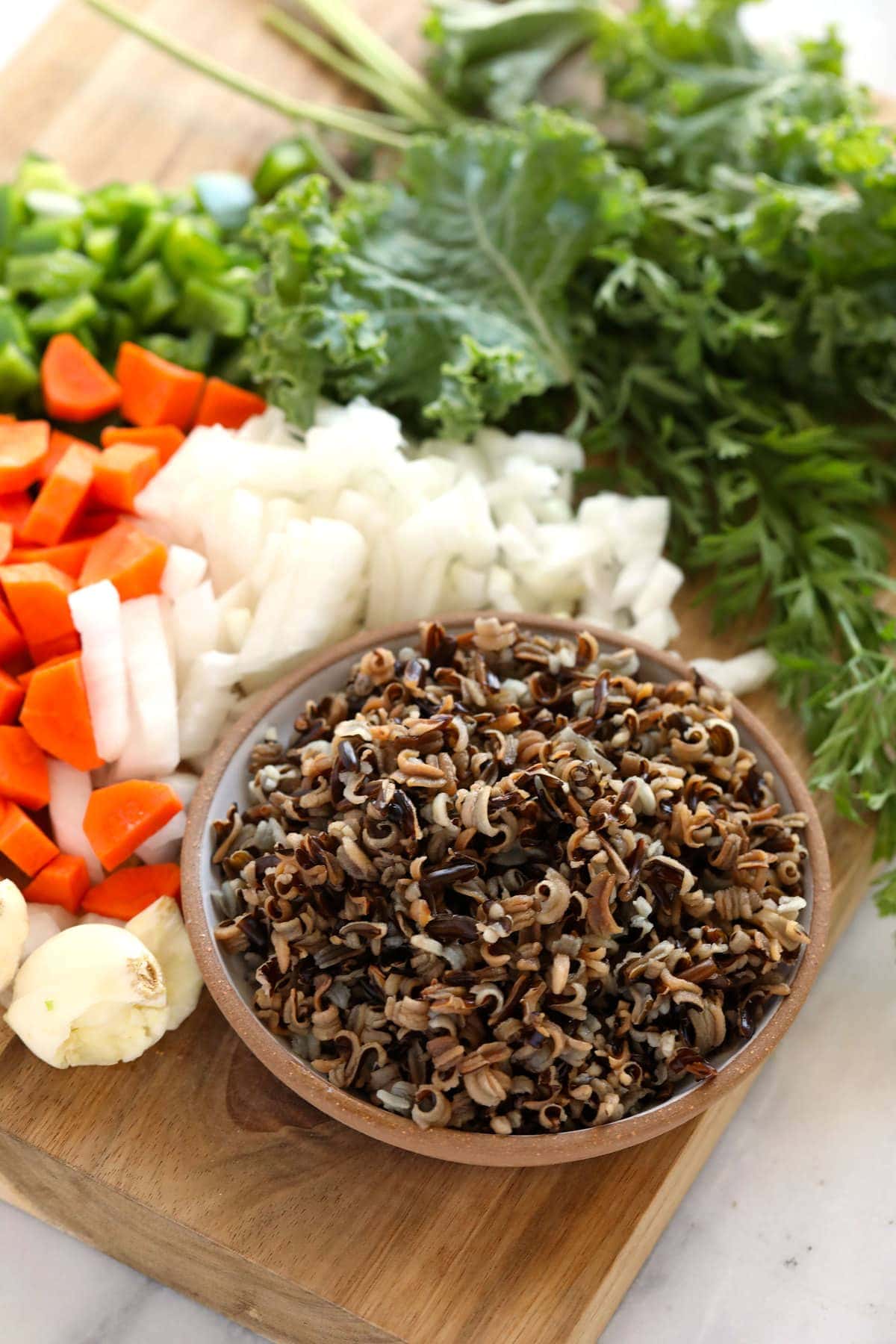 Chicken and Wild Rice Soup Ingredients
This chicken wild rice soup is packed with simple, real ingredients that come together to make the most nourishing soup:
Meat
Boneless, skinless chicken breast: we're us -ing chicken breast in this recipe, but you could always swap for chicken thighs if you like dark meat better.
Chicken broth: chicken broth is a great base for this recipe because it really does enhance the chicken flavor of the soup.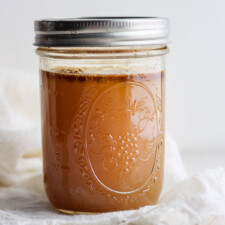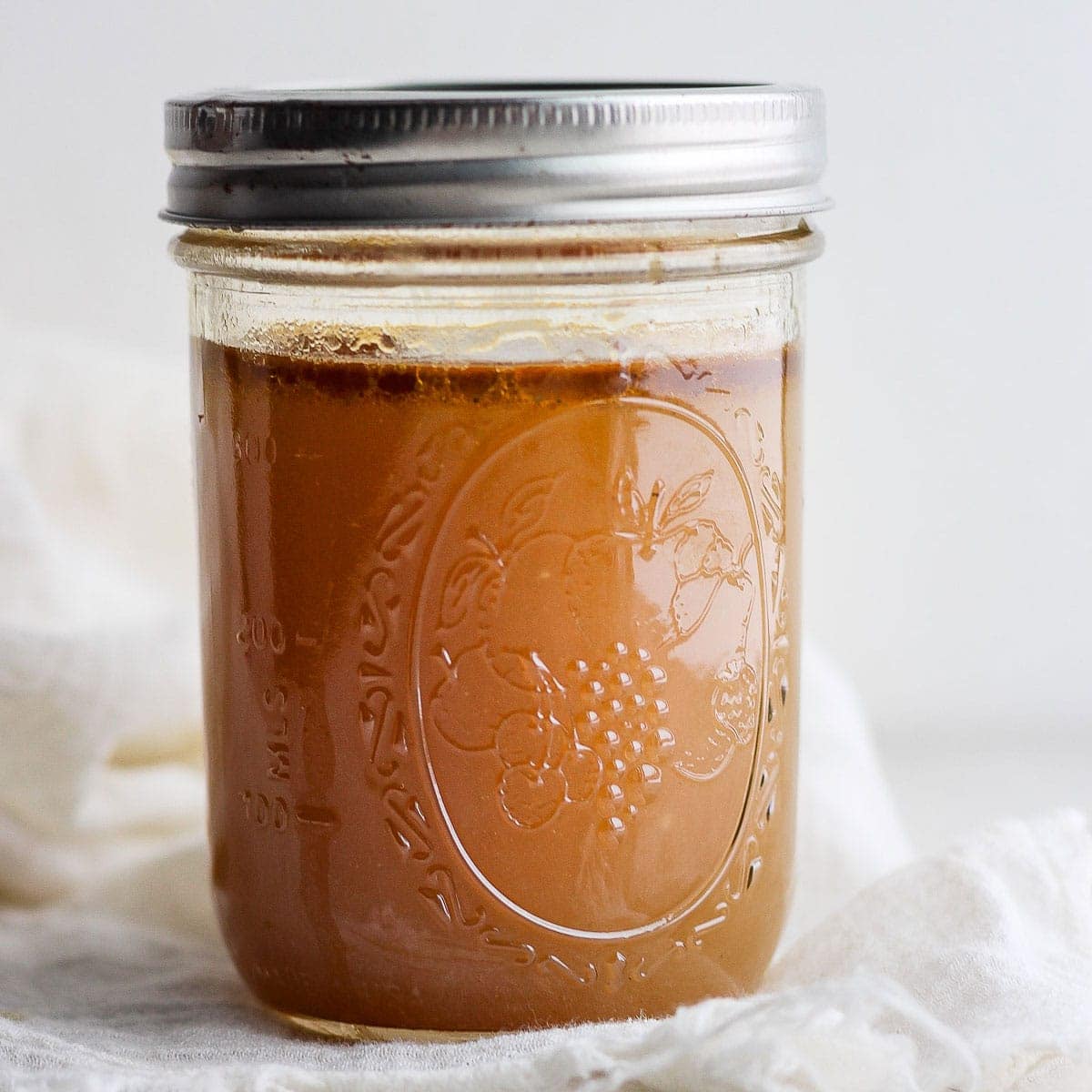 Try it!
Homemade Chicken Broth
Make this homemade chicken broth and use it in your favorite soup recipe! This broth is the most flavorful chicken broth on the internet. You can use it in soups, chilis, sauces, and more!
Grains
Wild rice – we're keeping things simple and using cooked wild rice. So, you can either precook homemade wild rice OR you can buy store-bought cooked wild rice for ease. 
Veggies
One thing we love about this soup is that you can pretty much add any veggie your heart desires. Here's what we're using.
White onion
Carrots
Green pepper
Garlic cloves
Chopped kale
Want to add even more veggies? Try adding: celery, peas, or potatoes.
Spices, Seasonings & Fresh Herbs
We are all about flavorful soup. While typically chicken wild rice soup is pretty "vanilla," ours is truly packed with so much amazing flavor.
Worcestershire sauce: a splash of Worcestershire sauce adds delicious savory flavor and just the right amount of vinegar.
Fresh thyme sprigs: fresh thyme is a classic wild rice soup flavor.
Salt and ground black pepper: always flavor your soup to taste! We recommend taste testing your soup during all stages to make sure it's properly seasoned with salt and black pepper.
Garlic powder: a little bit of garlic does the soul good.
Roux AKA Creamy Broth
There's brothy soup loves out there and creamy soup lovers out there. Chicken wild rice soup is made with an amazing creamy broth and it's actually really basic and simple using the following ingredients:
Olive oil: we're using olive oil as our fat for the roux, but you can always use butter instead.
White whole wheat flour: a little flour is what is going to cream up this soup! We're using white whole wheat, but you can also use all-purpose or gluten-free all-purpose flour, too.
2% milk: milk is used to help create that creamy broth base.
Secret ingredient
Every soup deserves a secret ingredient and ours is Greek yogurt! Instead of using heavy cream, we're using Greek yogurt to really cream things up and add a nice balance to all of the flavors in this soup.
Important tips: make sure that when you add the Greek yogurt to the soup that it is not boiling. Also, make sure to use full-fat Greek yogurt. If you do these 2 things, the yogurt will not curdle.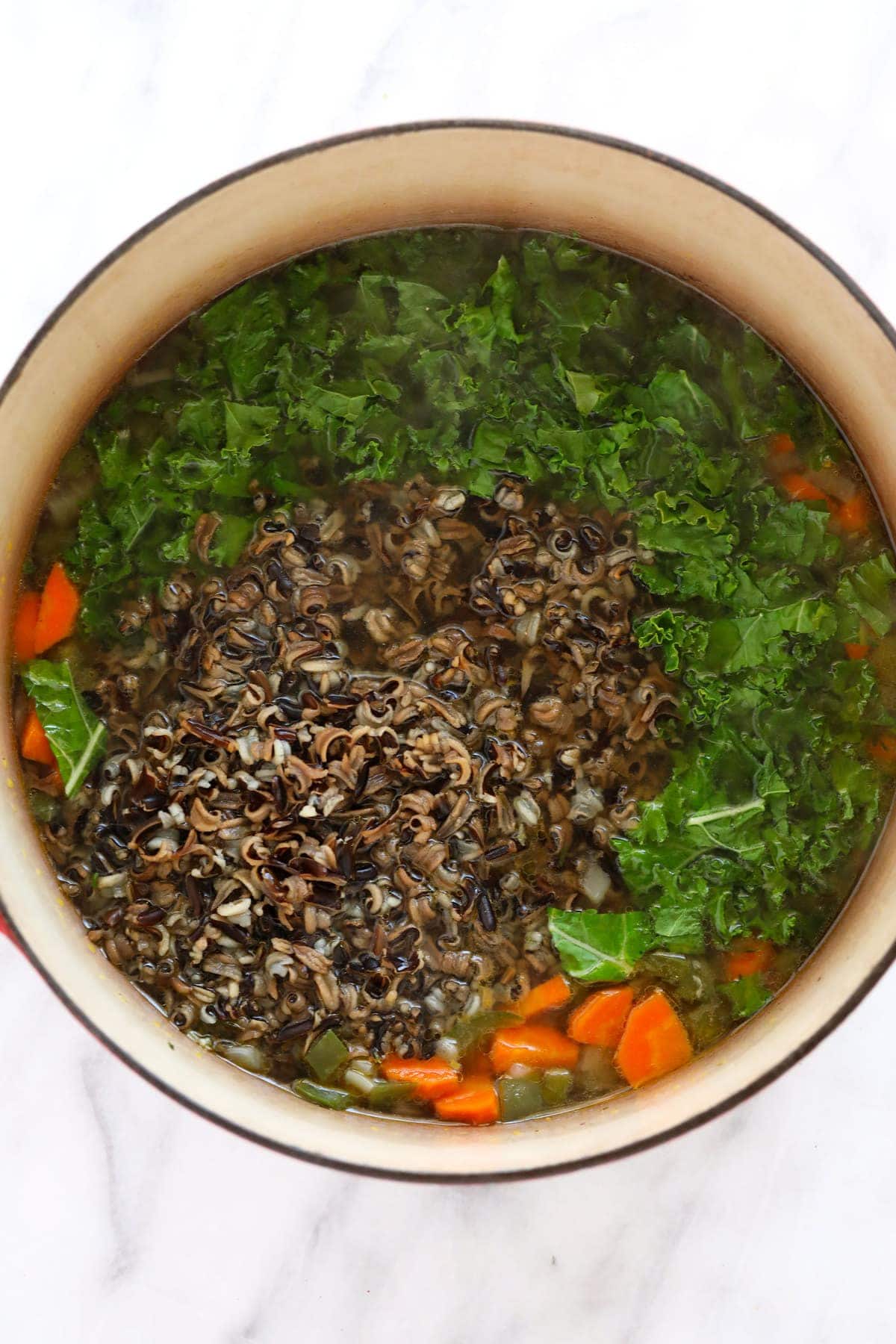 Easy Ingredient Swaps
Don't fret if you don't have everything this recipe calls for! You can make easy substitutions or swaps and still end up with a delicious soup. Some easy swaps you can make:
Greek yogurt –> Feel free to use sour cream instead or even 1/4 cup of heavy cream
Chicken broth –> Vegetable broth or beef broth
Garlic cloves –> Granulated garlic powder will work
White onion –> Yellow onion or red onion
Carrots –> Parsnips or another root vegetable
Green kale –> Another hearty green like purple kale or swiss chard
Any vegetables –> Got extra veg on hand? Feel free to add any of the following: mushrooms, zucchini, broccoli, etc.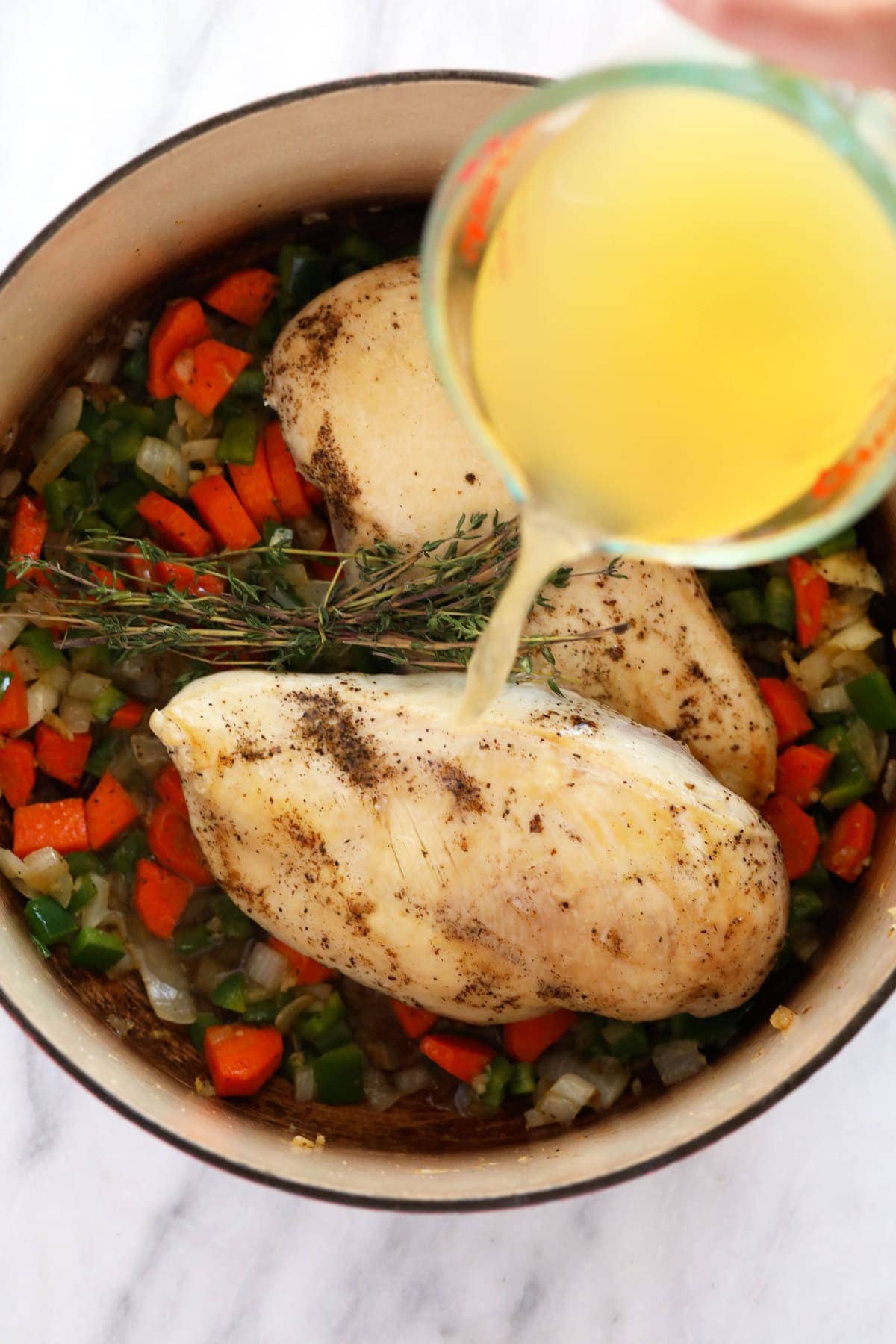 How to Make a Roux
No need to be intimidated by the roux in this soup! You'll whip it up no problem while the rest of your soup cooks to perfection in these 5 easy steps. Plus, there is no cornstarch involved!
In a medium saucepan (separate from the soup), you'll heat 1/4 cup olive oil over medium/high heat.
When the olive oil is fragrant, add flour to the saucepan and whisk the olive oil together with the flour until a paste forms.
Then, slowly whisk the milk into the mixture, stirring consistently until the milk thickens (this usually takes 4-6 minutes).
Remove from heat and whisk the garlic powder, salt and pepper into the roux.
You'll add the roux into the soup at the very end. Voila!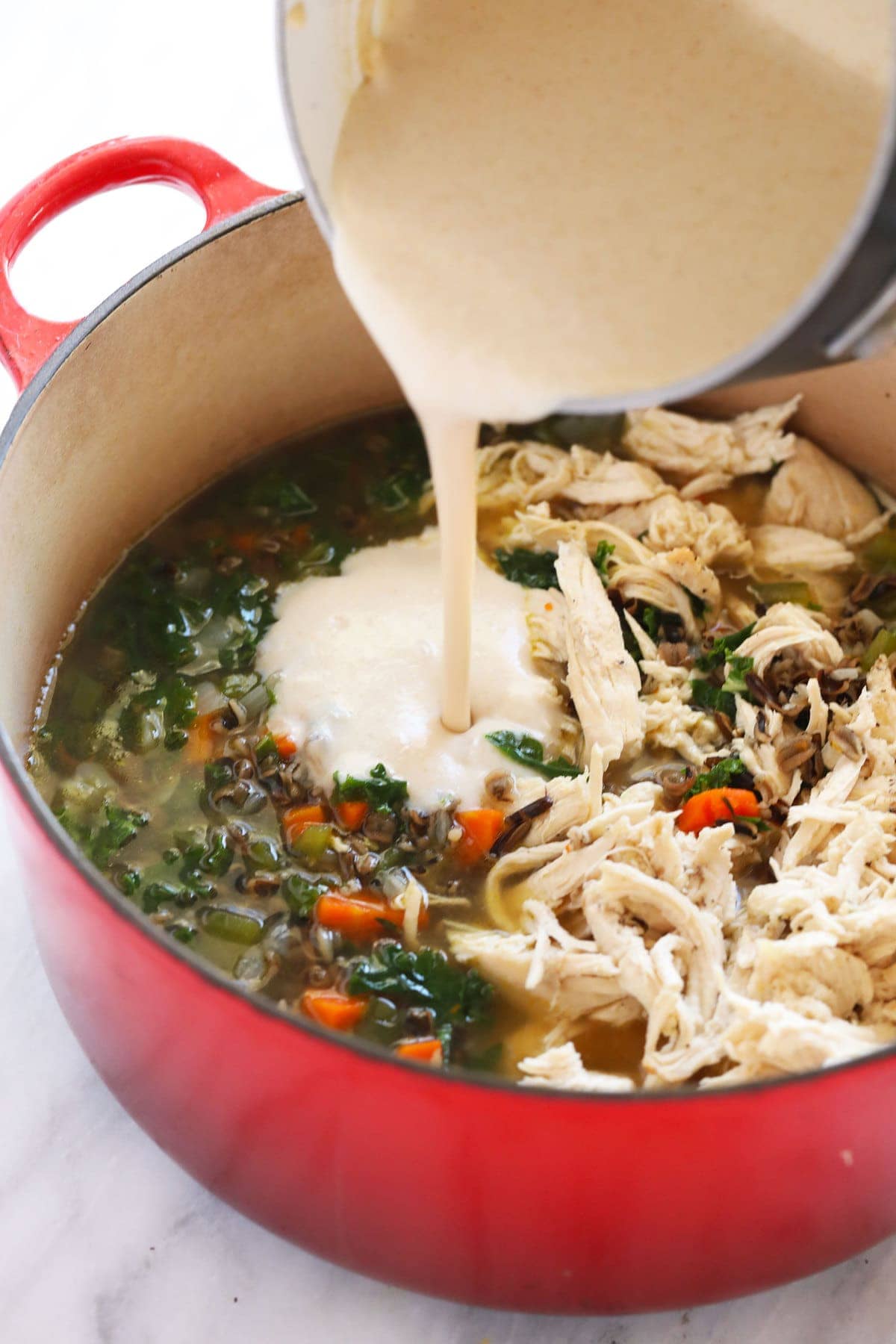 How to Cook Wild Rice – 2 Ways!
We walk you through. the two easiest ways we like to cook wild rice HERE, and you can choose between:
Instant Pot wild rice
Stove top wild rice
Another method if you're looking for quick and easy is to buy a packet of already cooked wild rice. Most major grocers carry it, and it truly does make this portion of the recipe easy peasy.
Make it Gluten-Free
Hoping to make this creamy soup gluten-free? All you have to do is omit the Worcestershire sauce (we suggest replacing it with a splash of vinegar) and swap the white whole wheat flour for a gluten-free all-purpose flour.
If you do those two things, you should be good to go!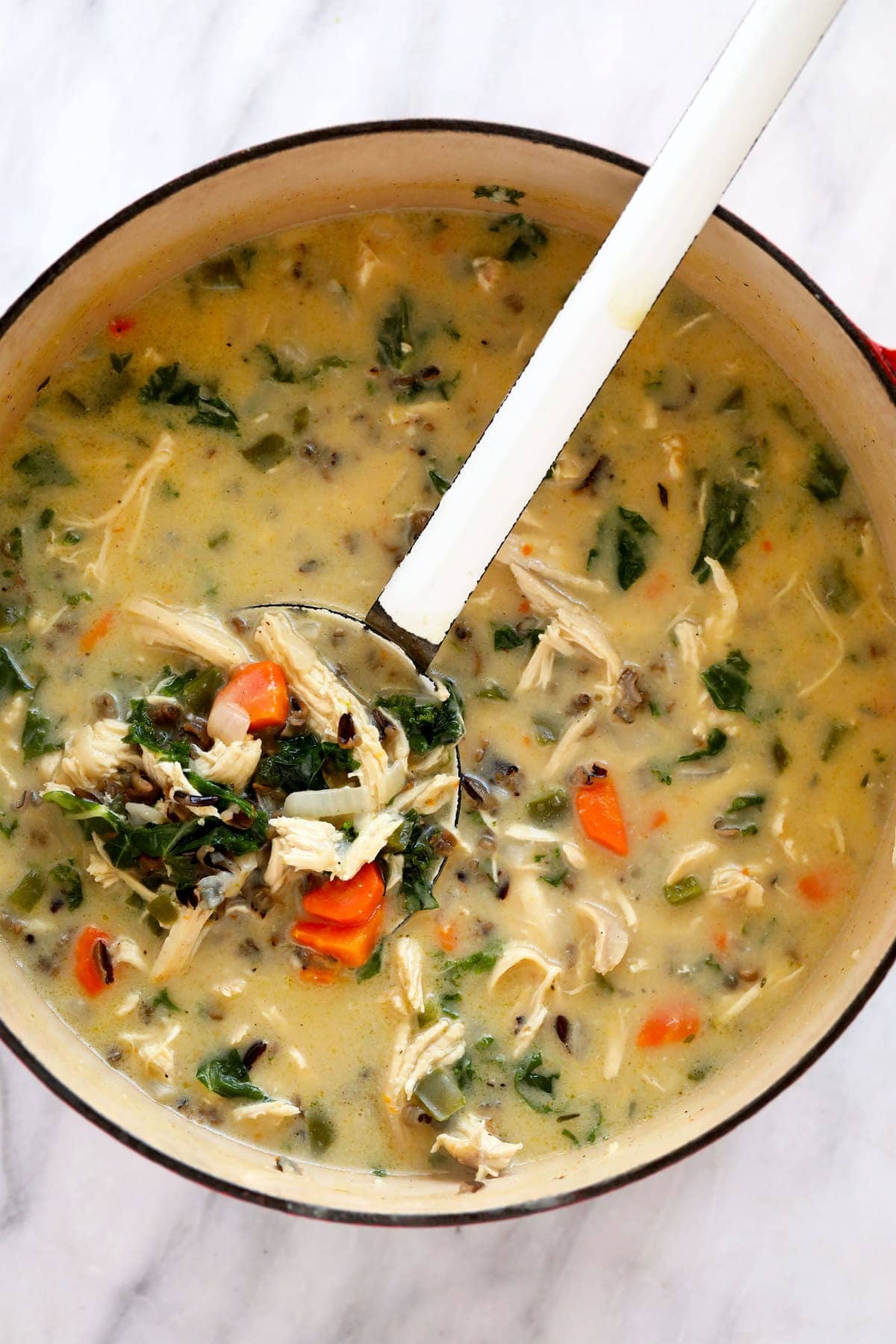 How to Store Wild Rice Soup
Got leftovers? Here are a few storage tips to follow to make sure your soup lasts for as long as possible!
Refrigerator: Transfer the soup into a glass container and seal tightly. Refrigerate for up to 5 days.
How to Freeze Slow Chicken Wild Rice Soup
Let your soup cool completely before transferring into a freezer-safe gallon-size bag or Tupperware.
Seal and then place in the freezer.
Will last for up to 3 months.
To reheat, let thaw on the counter and then transfer into a large pot on the stove or even reheat in your slow cooker.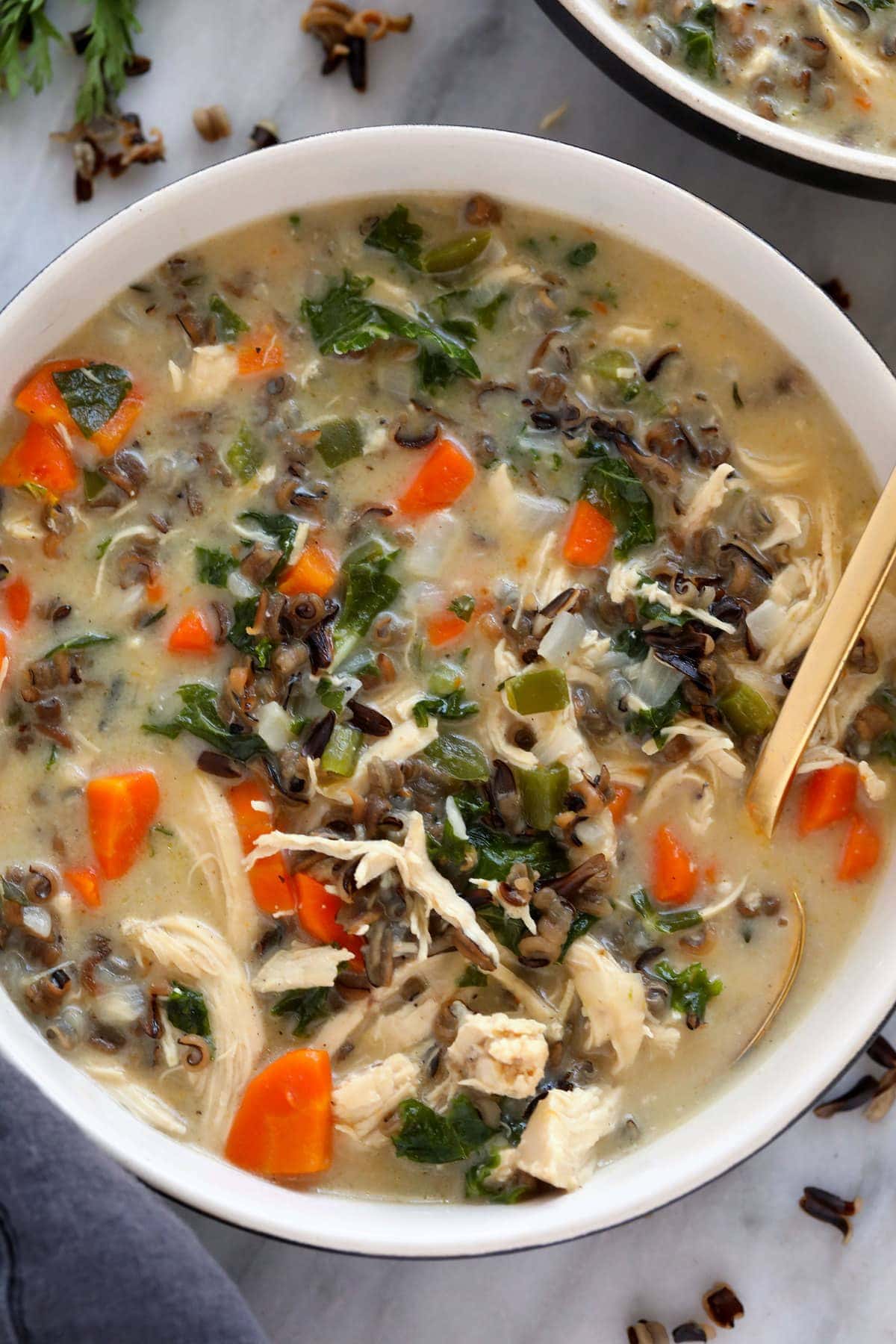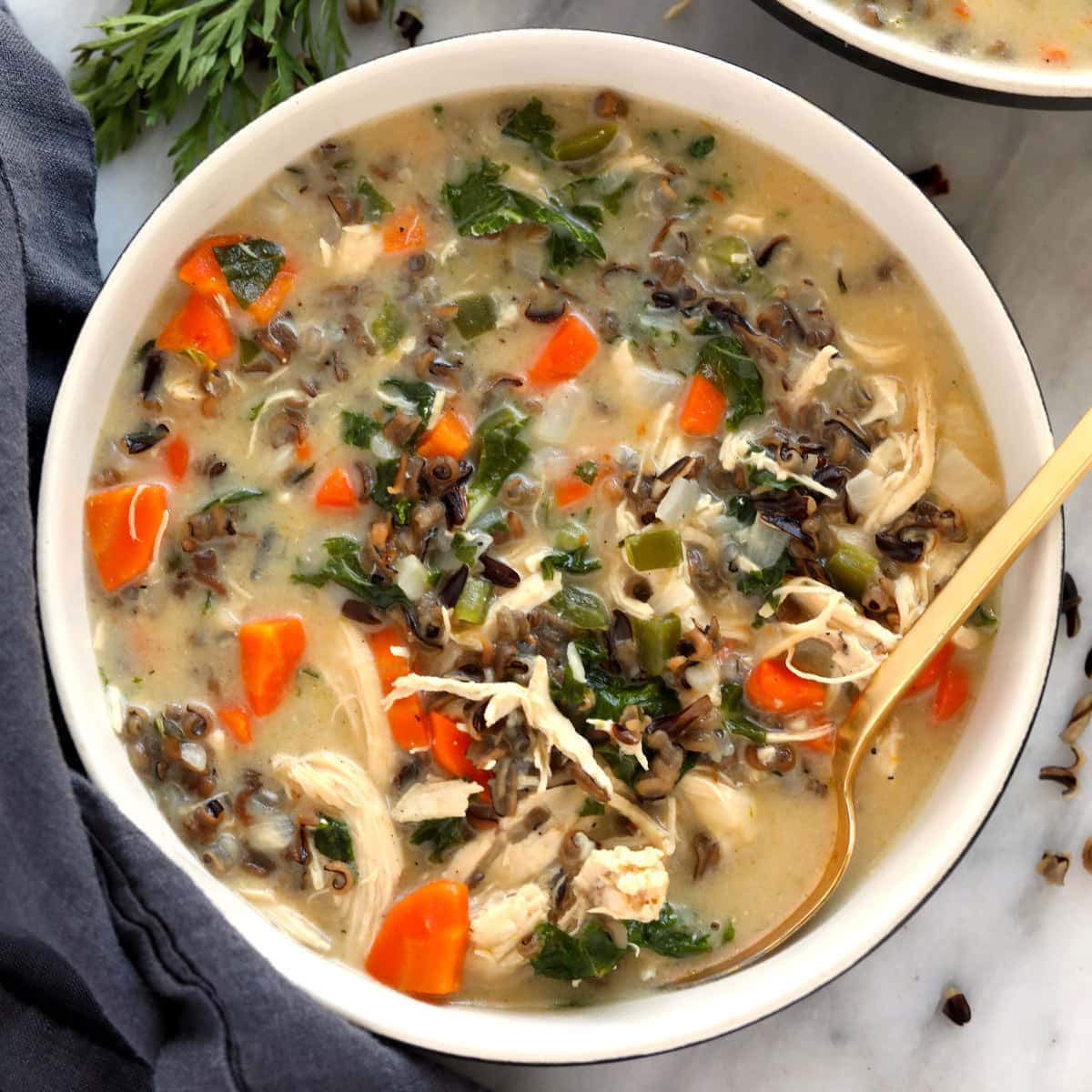 Chicken Wild Rice Soup
Try our creamy chicken and wild rice soup recipe for a hearty, creamy soup that's loaded with veggies, wild rice and chicken breast.
Prep:25 minutes
Cook:45 minutes
Total:1 hour 10 minutes
Ingredients
1-

lb.

boneless

skinless chicken breast

1

teaspoon

salt

separated

1/2

teaspoon

ground pepper

separated

2

tablespoons

olive oil

1

large white onion

minced

1

large carrot

cut into half-moons (~1 cup chopped)

1

large green pepper

diced

2

large garlic cloves

minced

8-10

sprigs fresh thyme

tied into a bundle

4

cups

chicken broth

2

cups

chopped kale

3

cups

cooked wild rice

~1.5 cups, uncooked*

1

tablespoon

Worcestershire sauce

1/2

cup

full-fat Greek yogurt
Instructions 
Begin by seasoning the chicken breasts with 1/8 teaspoon salt and 1/8 teaspoon pepper.

Then, heat a large dutch oven or stockpot over medium/high heat. Add one tablespoon olive oil. 

When the olive oil is fragrant, add the chicken breast to the pot. Sear the chicken breast for 2 minutes on each side. Remove from the pot (you don't want the chicken to be fully cooked). 

Add another tablespoon of olive oil to the pot and add the onion, carrot, and 1/4 teaspoon salt and sauté for 4-5 minutes. 

Add the green pepper, garlic, and remaining salt and pepper to the pot and saute for another 3 minutes. 

Finally, add chicken breast, fresh thyme bundle, and broth to the pot. Be sure the chicken breast is submerged in the broth. Bring to a boil. 

Once the boiling, cover the pot and turn the heat to low, and let the soup simmer for 10 minutes. 

While the soup is simmering, prepare the roux. In a separate medium saucepan, heat 1/4 cup olive oil over medium/high heat. 

When the olive oil is fragrant add the flour to the saucepan and whisk the ingredients together until a paste forms. 

Slowly whisk the milk into the mixture, stirring consistently until the milk thickens. This usually takes 4-6 minutes.

Remove from heat and whisk the garlic powder, salt, and pepper into the roux. 

Once the soup has simmered for 10 minutes, remove the chicken from the pot and shred the chicken. Set aside. 

Place the kale, cooked wild rice, and Worcestershire sauce into the pot and stir until the kale wilts. 

Then, add the Greek yogurt and the roux to the pot and mix until combined. 

Add the shredded chicken to the soup, mix, bring to a simmer so all ingredients are warm. 

Serve and enjoy! 
Tips & Notes
When adding the Greek yogurt, make sure that your soup is not boiling. Also, full-fat Greek yogurt is important too. If you do these two things, your yogurt will not curdle in the soup.
Nutrition facts
Calories: 352kcal Carbohydrates: 26g Protein: 28g Fat: 13g Fiber: 3g Sugar: 6g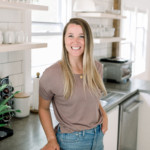 Emily spent the first 10 years of her career in marketing and advertising roles and started side-hustling with Fit Foodie Finds in Fall of 2015. Em lives in Minneapolis with her husband and son, and manages FFF editorial operations as well as all things sponsorships and brand collaborations.