Use this grilled chicken marinade to infuse your grilled chicken with juicy, delicious flavors. This is seriously the most delicious grilled chicken marinade recipe!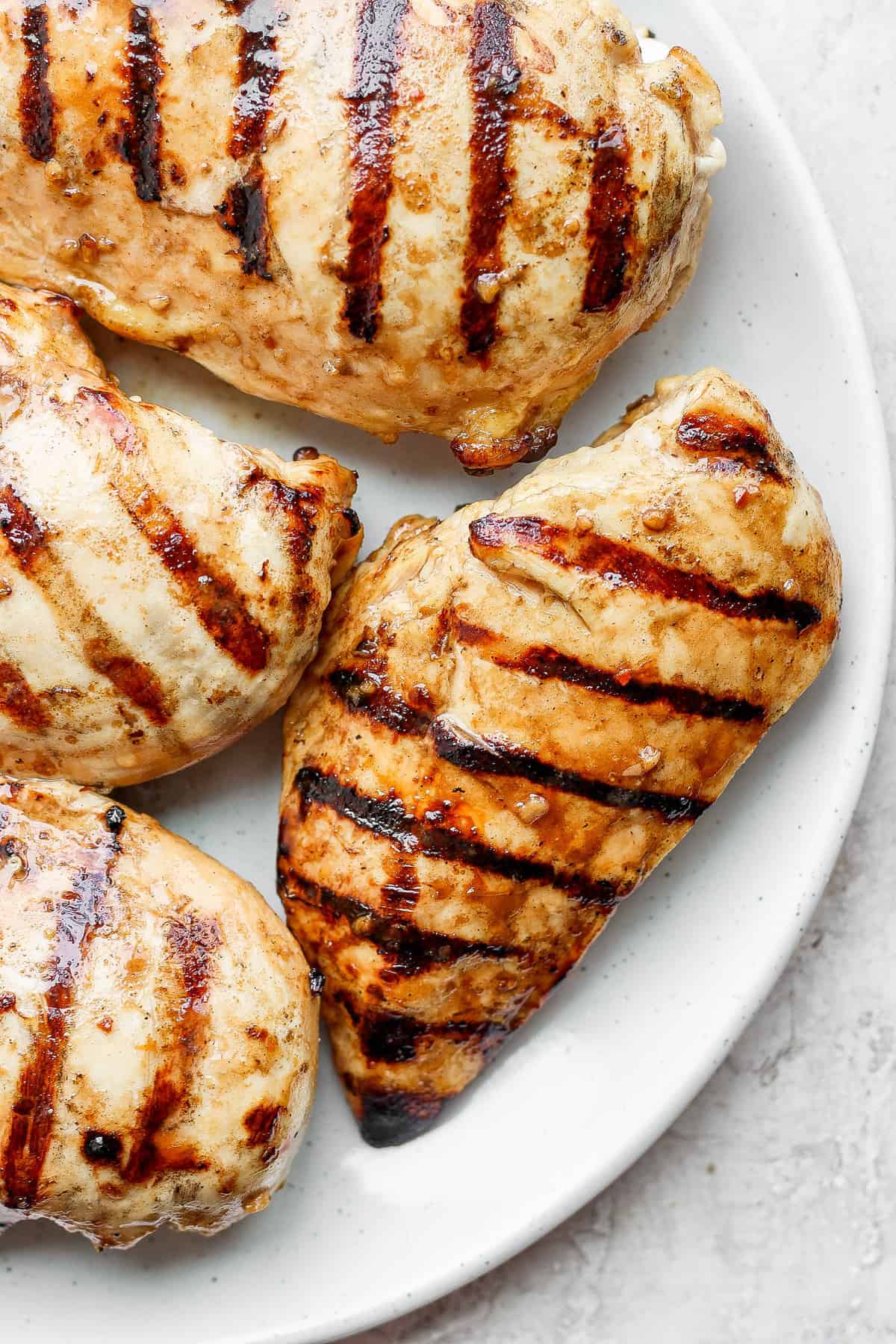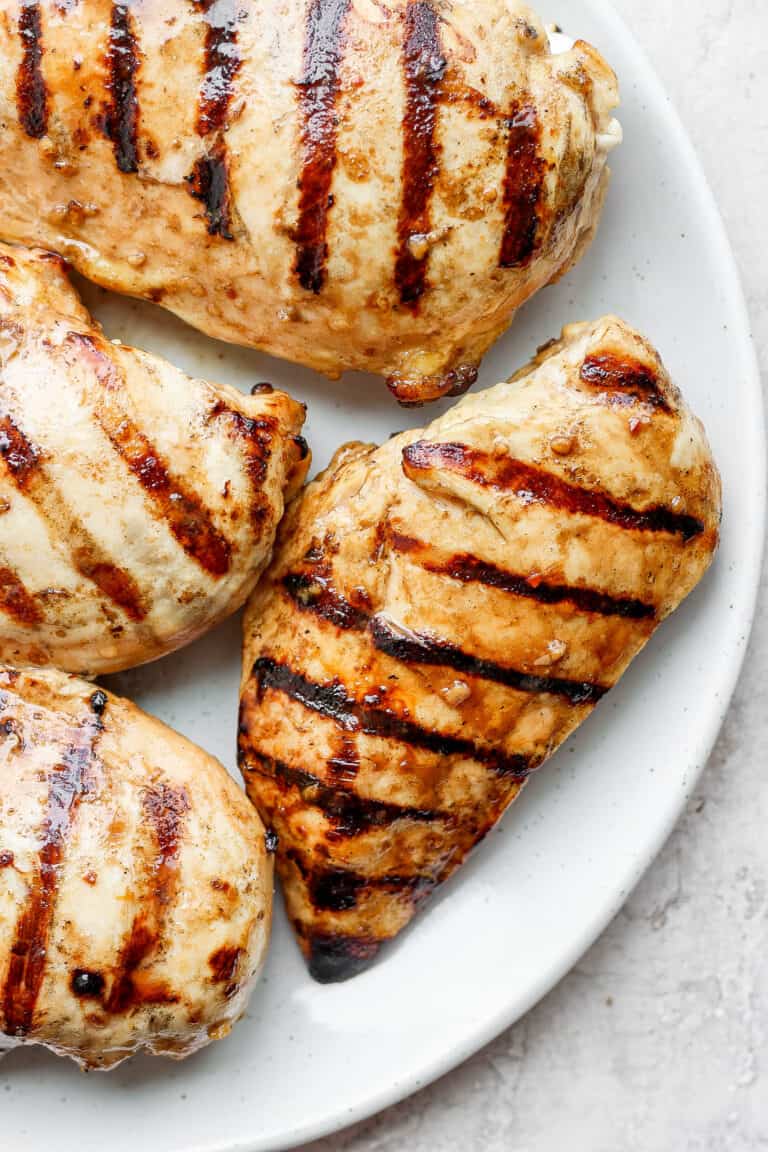 Seriously the BEST Grilled Chicken Marinade
Say hello to the tastiest grilled chicken marinade you'll ever try! It's made with a few of our favorite things: balsamic vinegar, Worcestershire sauce, lemon juice, and garlic to name a few.
If you're big into grilling like us, you know that having good marinades on hand is clutch because they infuse your meat with juicy flavors. Our steak marinade and pork tenderloin marinade are both ones to keep in your back pocket!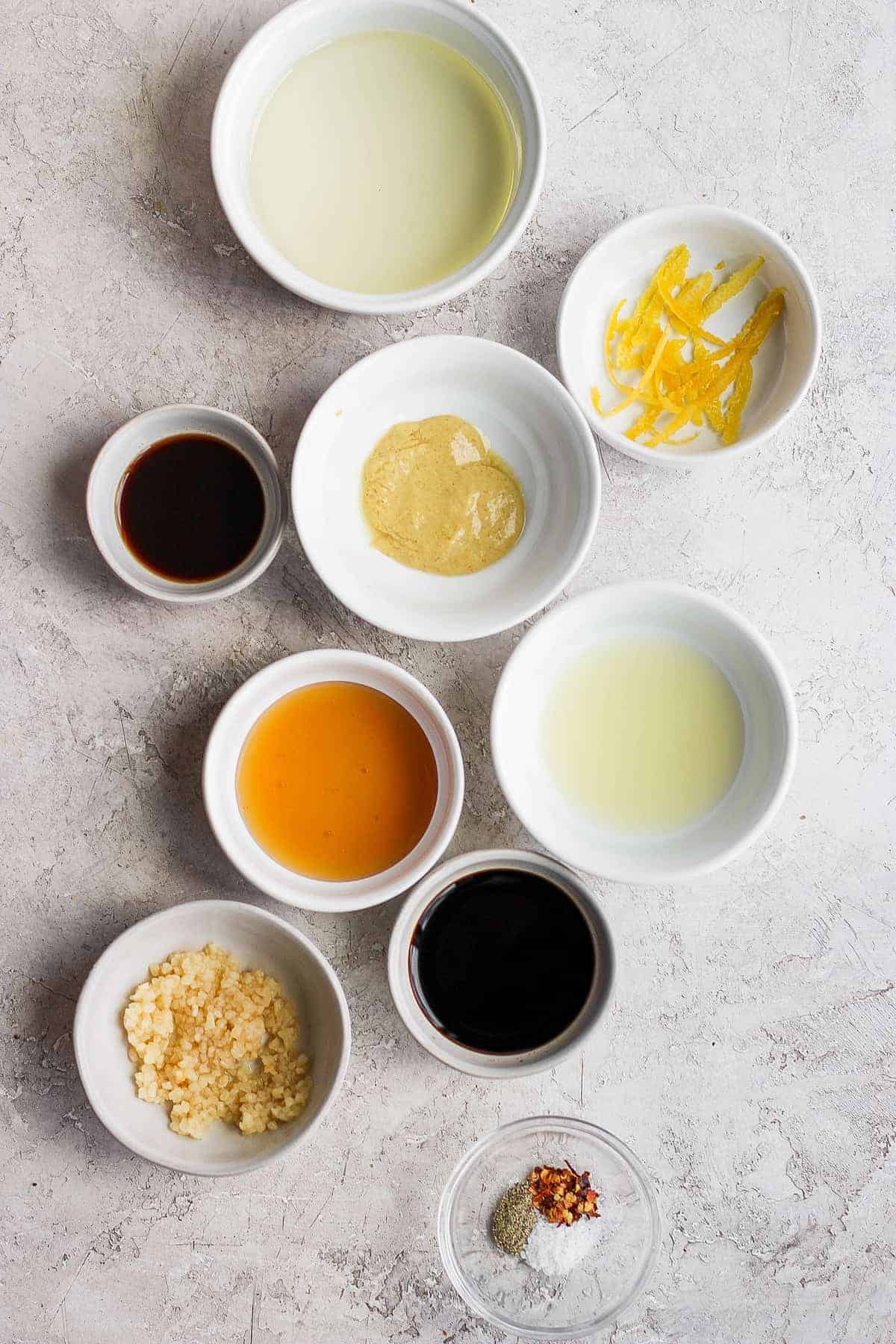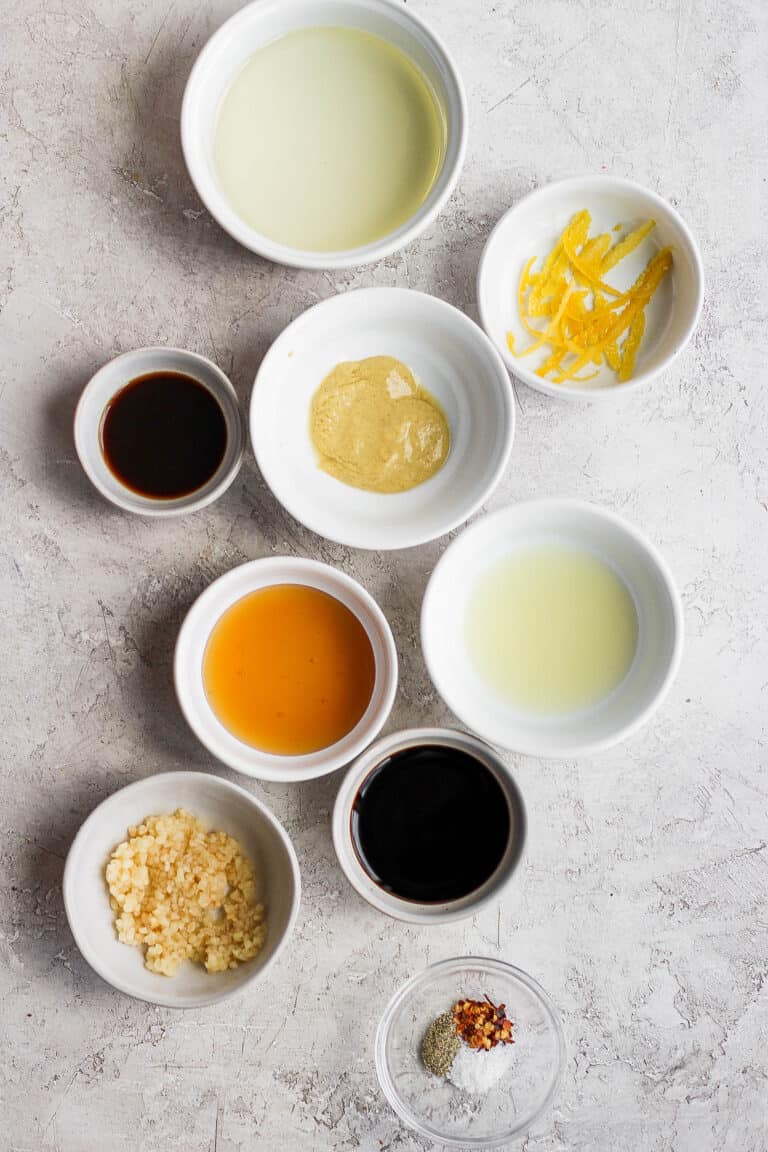 What You Need
Alright, let's chat about what this chicken marinade is made from. The flavors are savory and a bit tangy, perfect for any cut of chicken!
balsamic vinegar 
olive oil 
Worcestershire
honey
dijon mustard 
lemon juice 
lemon zest 
minced garlic 
red pepper flakes 
salt and pepper
Cuts of Chicken to Use for Grilling
Good news! You can use pretty much any cut of chicken for this grilled chicken marinade. Use around 2-lbs. of the following: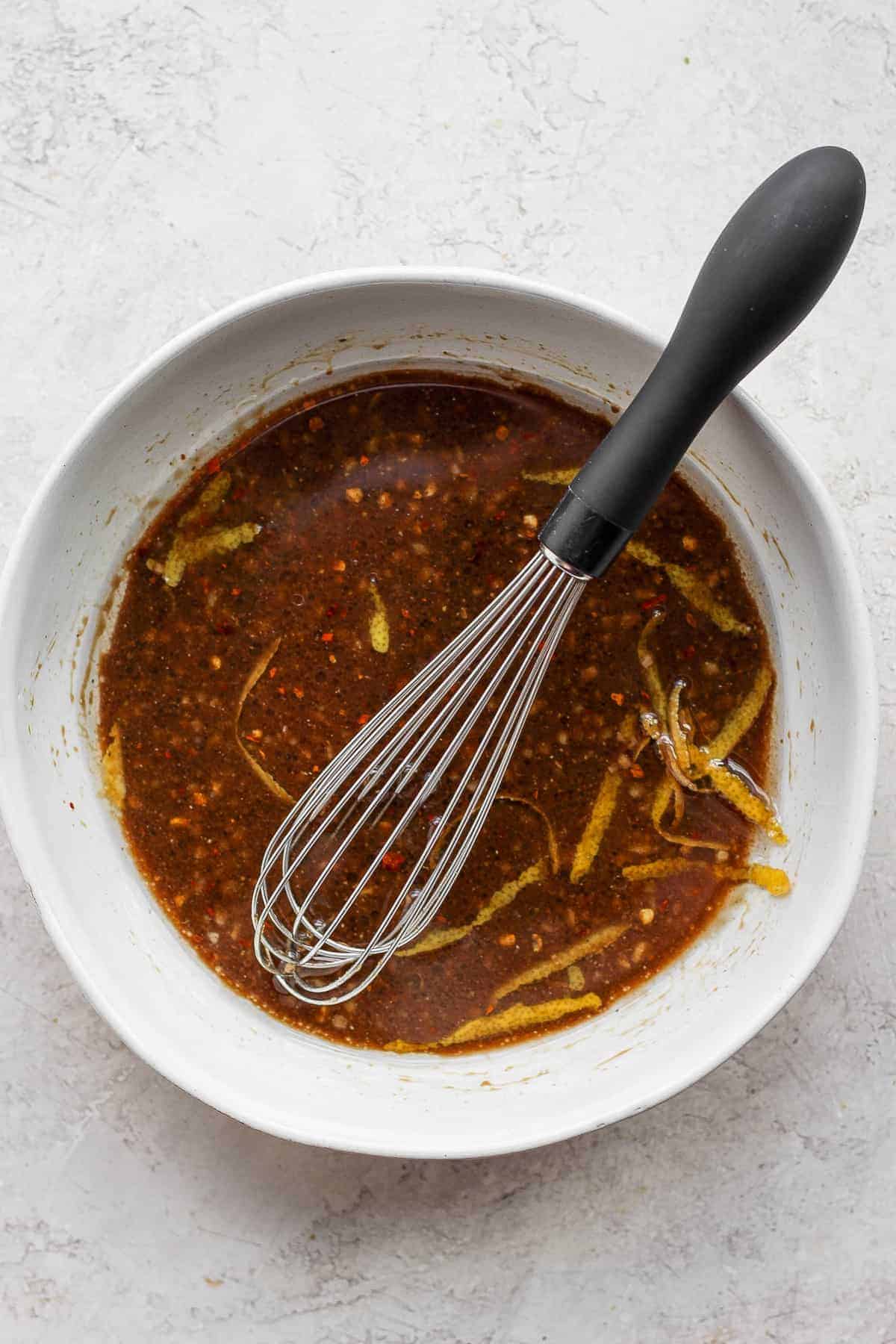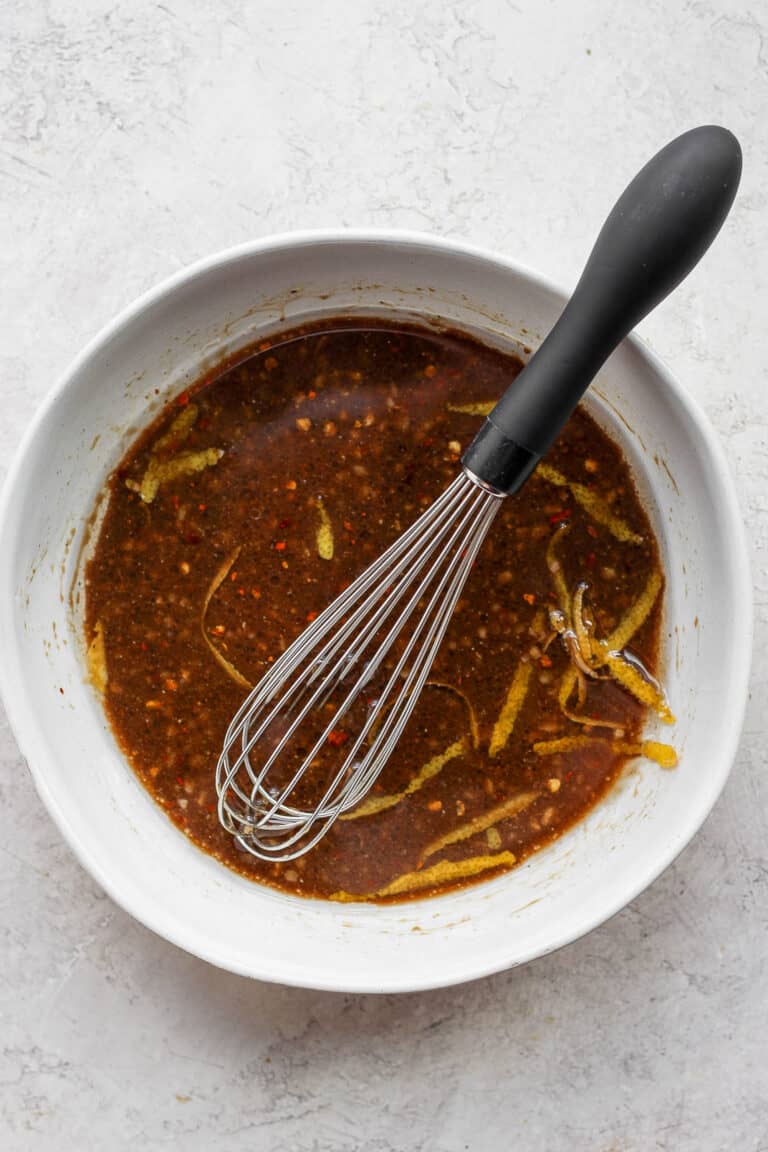 How to Marinate Chicken Breast for Grilling
Making this chicken marinade is easy and can be done in less than 5 minutes.
Mix: measure out all of your ingredients and place them into a medium bowl. Whisk together to combine.
Transfer ingredients: transfer marinade into a gallon-size plastic or baking dish and submerge the chicken. Make sure it's all covered in the marinade.
Marinate: marinate for around 12-18 hours for best results. If you're short on time, we suggest no less than 2 hours.
How long should I marinate grilled chicken?
We recommend marinating your chicken for 12-18 hours for the best results. If you're short on time, we recommend no less than 2 hours. The longer you marinate your chicken, the more flavorful it will be.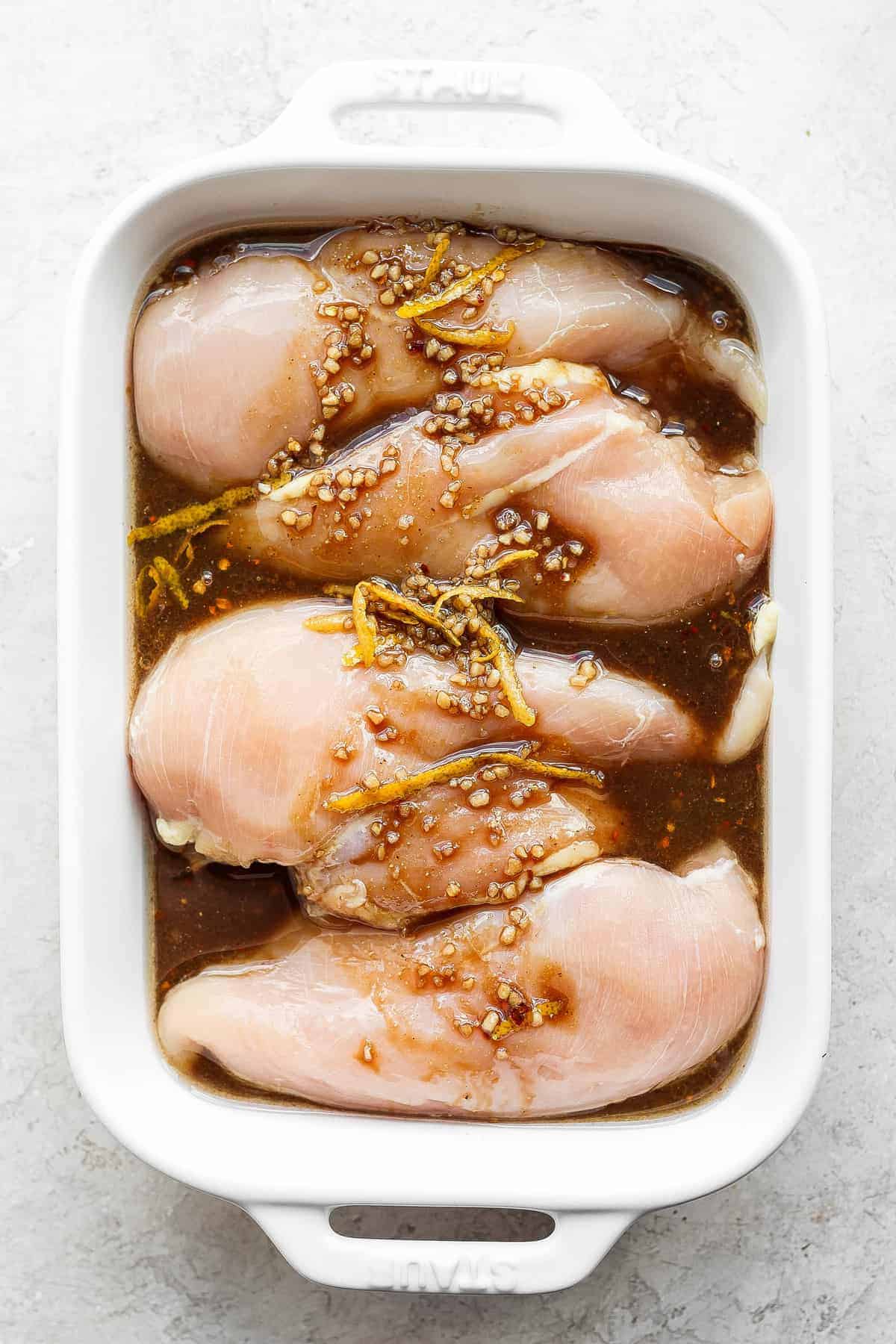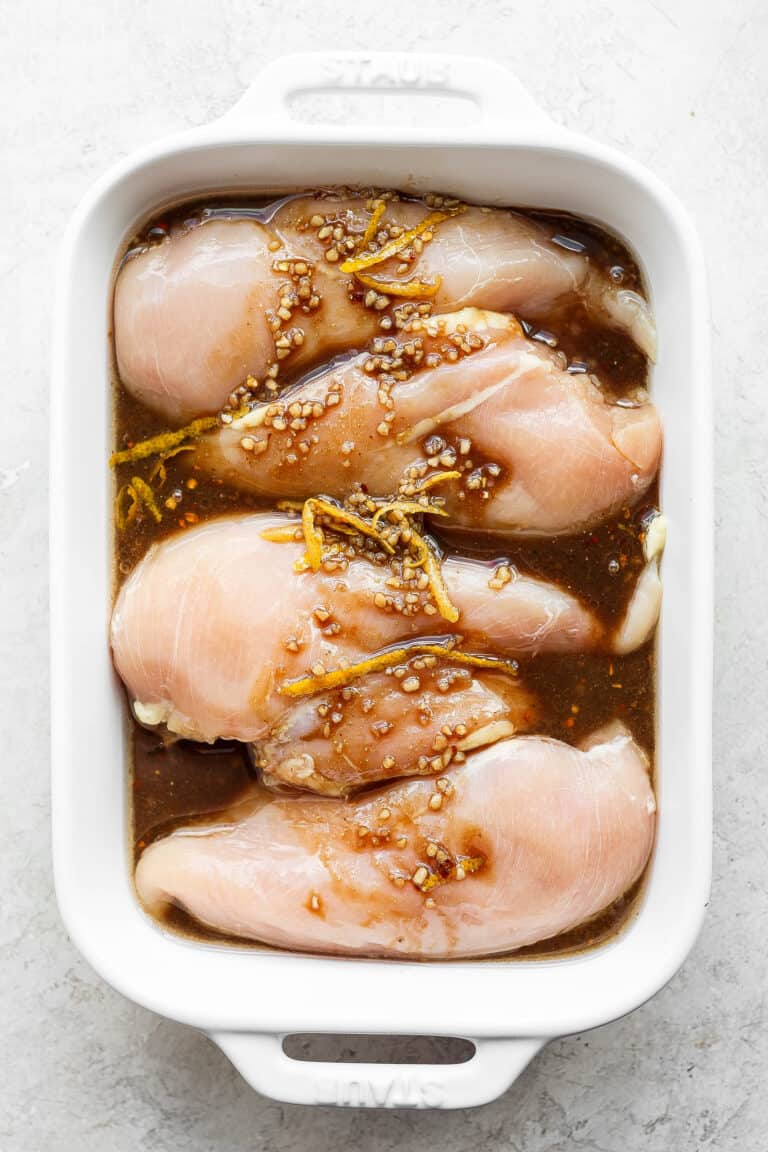 How to Grill Marinated Chicken
Once your chicken has marinated for 12-18 hours, it's time to grill it! We have a thorough guide on how to grill chicken here, but here's a quick refresher.
Remove Moisture: First things first, remove your chicken from the package and then use a paper towel to blot as much moisture out of it as you can.
Flavor: Next, use this grilled chicken marinade recipe to marinate your chicken for 12-18 hours.
Grill: Preheat your grill (gas or charcoal) to around 400ºF. We know that grill temps fluctuate, so don't freak out if it isn't exact! We've found that 400ºF is the perfect temp for grilled chicken. Hot enough to get you gorgeous grill marks, but not too hot to dry out your chicken. Grill your chicken for around 7-8 minutes over direct heat, flip, and grill for 8-10 more minutes. PS: this is for a 6 oz. chicken breast!
Internal Temp: You know your chicken is completely cooked once it reaches an internal temperature of 165ºF. We use a meat thermometer for this, that way you don't take any risks in eating raw chicken. You can learn more about cooking here from this great article by the USDA.
Let Rest: What is rest time? After you remove the chicken from the grill and it sits, it will continue to cook to the final temperature. We recommend letting your chicken rest for at least 5 minutes so that you can ensure it reaches at least 165ºF to destroy any bacteria.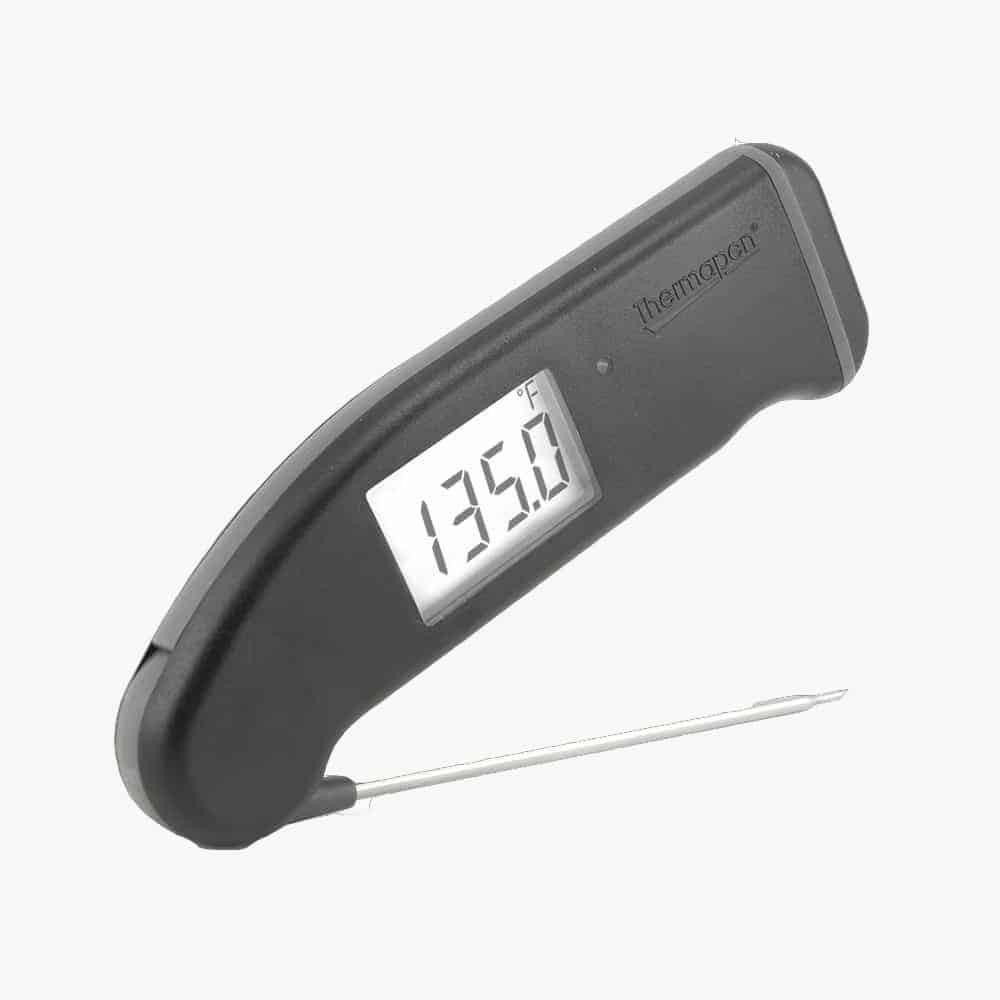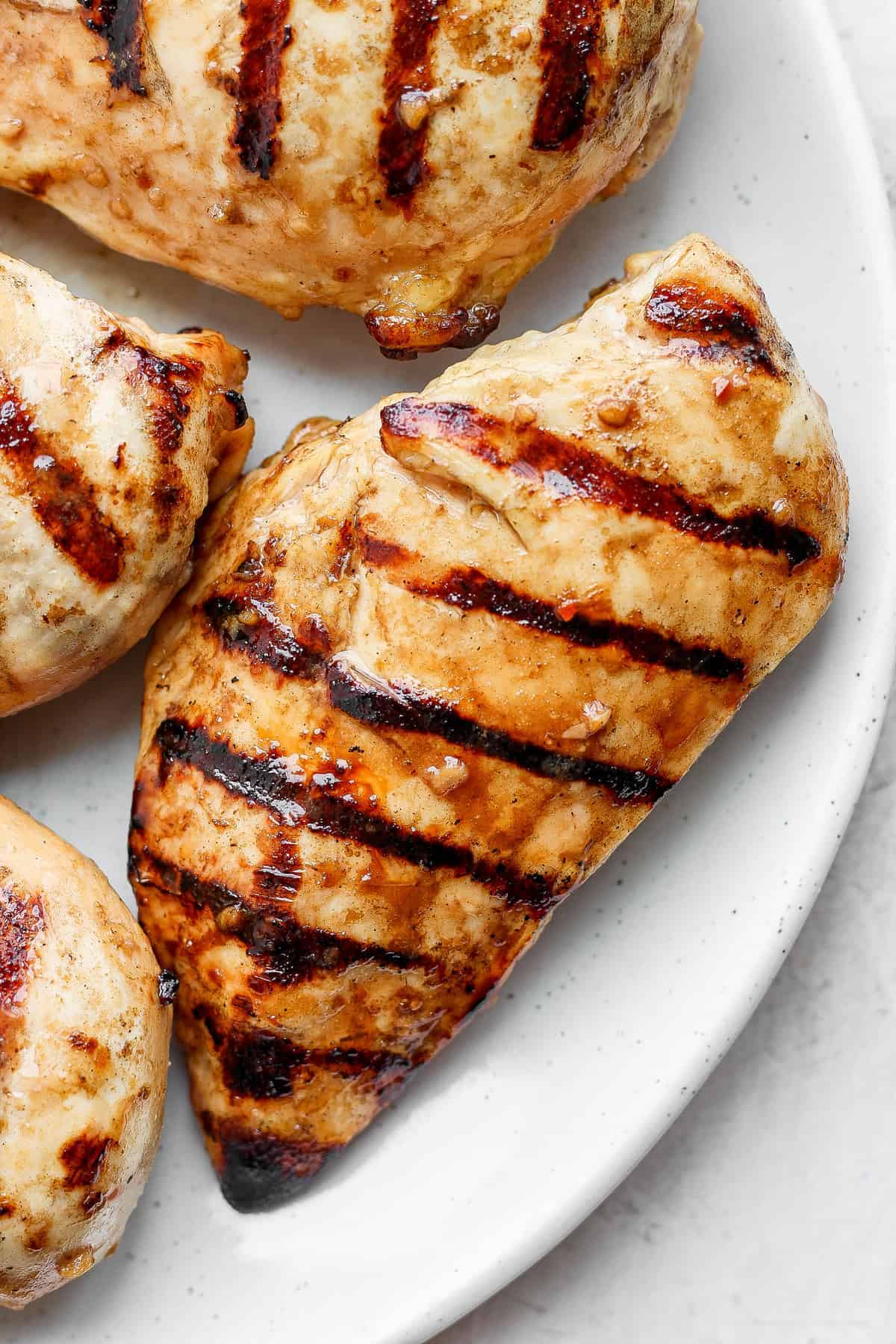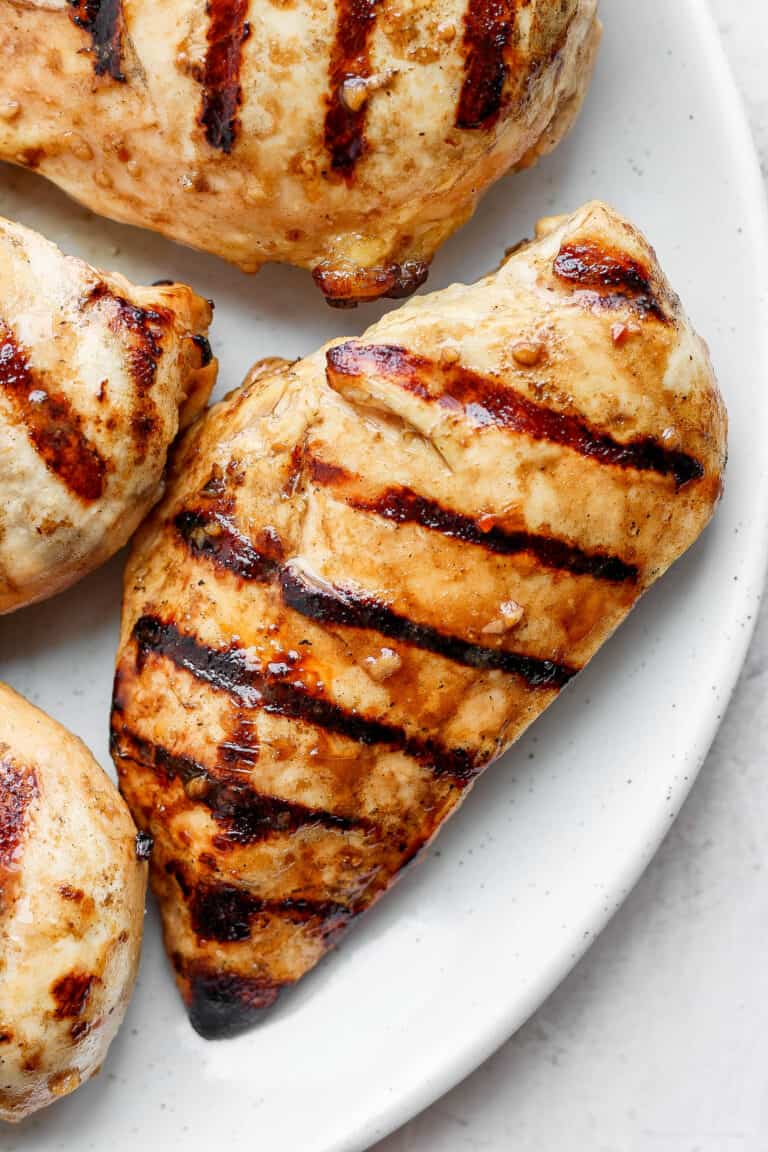 1.5 – 2

lbs.

boneless, skinless chicken breast

any cut of chicken works

1/4

cup

balsamic vinegar

2

tablespoon

olive oil

2

tablespoon

Worcestershire

2

tablespoon

honey

1

tablespoon

dijon mustard

1/4

cup

lemon juice

1

teaspoon

lemon zest

1.5

tablespoons

minced garlic

⅛

teaspoon

red pepper flakes

1/4

teaspoon

salt

1/4

teaspoon

black pepper
Place balsamic vinegar, olive oil, Worcestershire, honey, dijon, lemon juice, lemon zest, garlic, red pepper flakes, salt, and pepper into a medium bowl.

Use a whisk to mix everything together until combined.

Transfer grilled chicken marinade into a large baking dish or gallon-size bag and then add chicken. Submerge the chicken into the marinade and make sure it's covered in marinade.

Place into the fridge to marinate for 12-18 hours for best results (no less than 2 hours).
Nutrition information is for just the marinade.
Calories: 77kcal Carbohydrates: 8g Protein: 0g Fat: 5g Fiber: 0g Sugar: 8g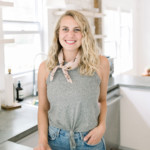 Lee is the founder of Fit Foodie Finds and based in Minneapolis, MN. She started this website in 2010 as a way to share her love for real food and wellness.