Have you ever stared at your refrigerator, wondering what to cook after a long day? It can feel like cooking a healthy meal will take every ounce of the energy you have left. 
We have good news! Meal prepping can help you avoid decision paralysis and give you a fridge full of healthy meals, all while spending less time in the kitchen.
We know even seasoned meal preppers grow tired of the same old recipes week after week, so our mission is to provide you healthy meal prep ideas for the week and give you more time to do the things you love. 
These recipes are tried and tested by all of us and our families, meaning they're perfect for bigs and littles! We practice what we preach and can say that our favorite meal prep picks are the ones we personally make at home time and time again.
10 Healthy Meal Prep Recipes for Breakfast
Breakfast is the most important meal of the day. It's also the easiest meal to skip, but if you try breakfast meal prep, you'll always have something to get your day started right.
What are some meal prep ideas? Here are some great meal prep ideas for breakfast:
5 Grab and Go Lunches for the Week
It's easy to rely on fast food or pricey sandwiches for lunch. Depending on your situation, you may not have time to make a healthy lunch or a place to heat up leftovers. That's why we have some lunch ideas to make it easier, like packing a grab-and-go salad in a mason jar.
25 Healthy Meal Prep Recipes for Dinner
Coming home after work, soccer practice, or the gym doesn't leave much time for chopping, cooking, and eating your meal. Meal prep really helps save time at night so you can focus on spending time with your family and doing what you love. 
What are the best recipes for meal prep? The best recipes for meal prep are the ones you can prepare in bulk and that you enjoy eating. Here are some of our favorites:
BONUS! 5 Meal Prep Snacks!
What Are the Benefits of Meal Prepping?
The benefits of meal prepping include saving time, eating more consciously (which typically means healthier overall), and saving money on eating out. We've found that meal prepping has even more benefits:
Saving time — Once the meals are prepared, you just need to reheat them, reducing the time spent on meal preparation and cooking during the week.
Saving money — Planning your meals in advance allows you to buy ingredients in bulk, which can often be cheaper. It also helps reduce impulse purchases and eating out, which can be more expensive than home-cooked meals.
Promotes healthy eating — Easy-to-grab-and-eat meals eliminates many of the reasons people end up eating fast food or grabbing unhealthy snacks. You also choose and control the amount of the ingredients in each packaged serving, making it easier to maintain a balanced diet.
Reduces stress — Busy mornings getting the kids to school and off to work means scrambling to feed everyone something wholesome and nutritious before they head out the door. By having your meals planned and prepped in advance, you eliminate the daily burden of decision-making and stressing about food.
Less food waste — When you only purchase the groceries you need for the meals you're prepping for the weeknight, you're less likely to have excess food sitting in your fridge, and this can significantly reduce food waste.
Gives more variety — You can plan different meals for different days. When you take a day to make meals, pick out different cuisines like Greek or Italian for Monday and Wednesday, Korean for Tuesday, and yummy comfort food on Friday. This can prevent you from falling into a rut of making a big batch of the same chicken meal prep and getting bored eating the same things repeatedly.
Improves portion control — Meal prepping involves portioning out your meals ahead of time. This is beneficial for weight management, watching sodium and sugar intake, or sticking to a low-carb eating plan. You'll be less likely to overeat the things you shouldn't if you've already set aside the right amount for each meal.
Tip!
Healthy Meal Prep Sets You Up For Success
What is the best way to start meal prepping? The best way to start meal prepping is to choose your meals and plan your menu. Check out our 7 Steps for Mastering Meal Planning. Create your menu and knock out your meal prep in just a few hours on the weekend or whichever day works best for you.
We also have a top 10 meal prepping tips guide to help get you started. You can grab your copy of our FREE Meal Prep Plan that includes tasty recipes, a done-for-you grocery list, a step-by-step prep checklist, a meal plan example, AND a printable template for your future meal prep planning!
Want something a little MORE? Grab our FREE 4-Week Healthy Meal Plan (with grocery list!) AND a workout challenge, because good nutrition and a workout routine go hand in hand.
Go-To Ingredients for Easy Healthy Meal Prep
There are certain foods and ingredients that just work better for meal prep.
 What are the best foods for meal prepping? The best foods for meal prepping retain their flavor and texture better than others when they are stored and reheated. Some of our go-tos include:
Chicken Breasts — They're lean, easy to cook on a sheet pan, and work well in stir-fries,  fajitas, and with most flavor profiles. 
Ground Meat — Ground beef, turkey, or chicken is easy to season and cook in big batches. It is great for lasagnas that can feed a family, or sometimes just simply adding some taco seasoning and chipotle powder is enough for delicious taco salads and burrito bowls.
Chickpeas — These legumes are so easy to throw into a Mediterranean chickpea salad with some feta or blend into hummus. They even work well in pasta salads with pesto.  Chickpeas store well and are ready to go right out of the can.
Black Beans — Like chickpeas, these beans are a go-to for easy meal prep recipes. They're an easy swap for ground meat if you are plant-based and hold their texture a little better than lentils. 
Quinoa — This grain is high in fiber, vitamins, and minerals. We like to use it in grain bowls and for making quinoa salads for lunches.
Brown Rice — Although the cook time is a little longer than for white rice, this grain is so nutrient dense that we think it is worth it! Using a rice cooker or pressure cooker lets you set it and forget it while you prep other ingredients.
Sweet Potatoes — This is an antioxidant-packed complex carbohydrate that takes longer for your body to digest, keeping you full longer. Sweet potatoes are higher in carbs, but a great low-carb swap for sweet potatoes is butternut squash!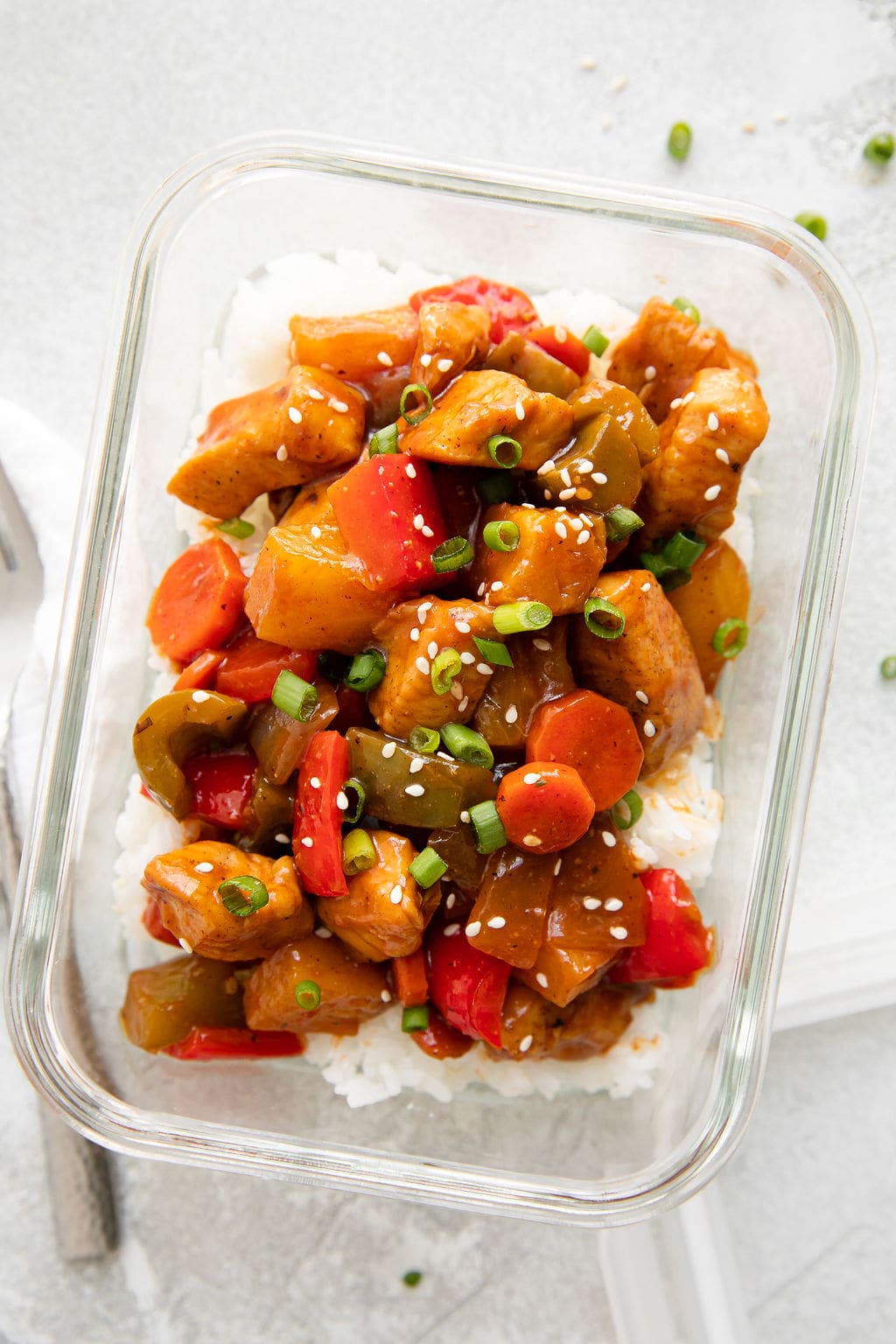 The Best Meal Prep Containers
Ok, so you're ready to start your prep. Is it OK to meal prep for 5 days? Depending on the ingredients used and your storage methods, it can be OK to meal prep for 5 days. The containers you use need to be airtight, or alternatively, you can freeze portions. 
Here are some of our favorite meal prep containers:
Frequently Asked Questions
What is the difference between meal prepping and meal planning?
Meal planning is strategizing and deciding your meals for the week, while meal prepping is the practical task of cooking and preparing those meals ahead of time for ease and convenience throughout the week. You can plan meals without prepping them in advance.
What is the best meal prep for weight loss?
The best meal prep for weight loss typically involves meals high in lean proteins, plenty of vegetables and fruits, and low in processed foods and added sugars.
How do I meal prep for the work week?
To meal prep for the work week, plan your meals or use one of our meal plan guides, then schedule your time to prep over the weekend. When you're off to work or just getting home, just grab and eat!
For ultimate success, we highly recommend reading the tips in the full blog post above. All photos and content are copyright protected. Please do not use our photos without prior written permission. If you wish to republish a recipe, please rewrite the recipe in your own unique words. Link back to the source recipe here on The Real Food Dietitians. Thank you!