This virgin margarita is so refreshing and easy to make. It's made with lime juice, agave nectar, a hint of orange juice, and a little bubbly water.
You'll seriously love this non alcoholic margarita recipe so much you won't even miss the tequila!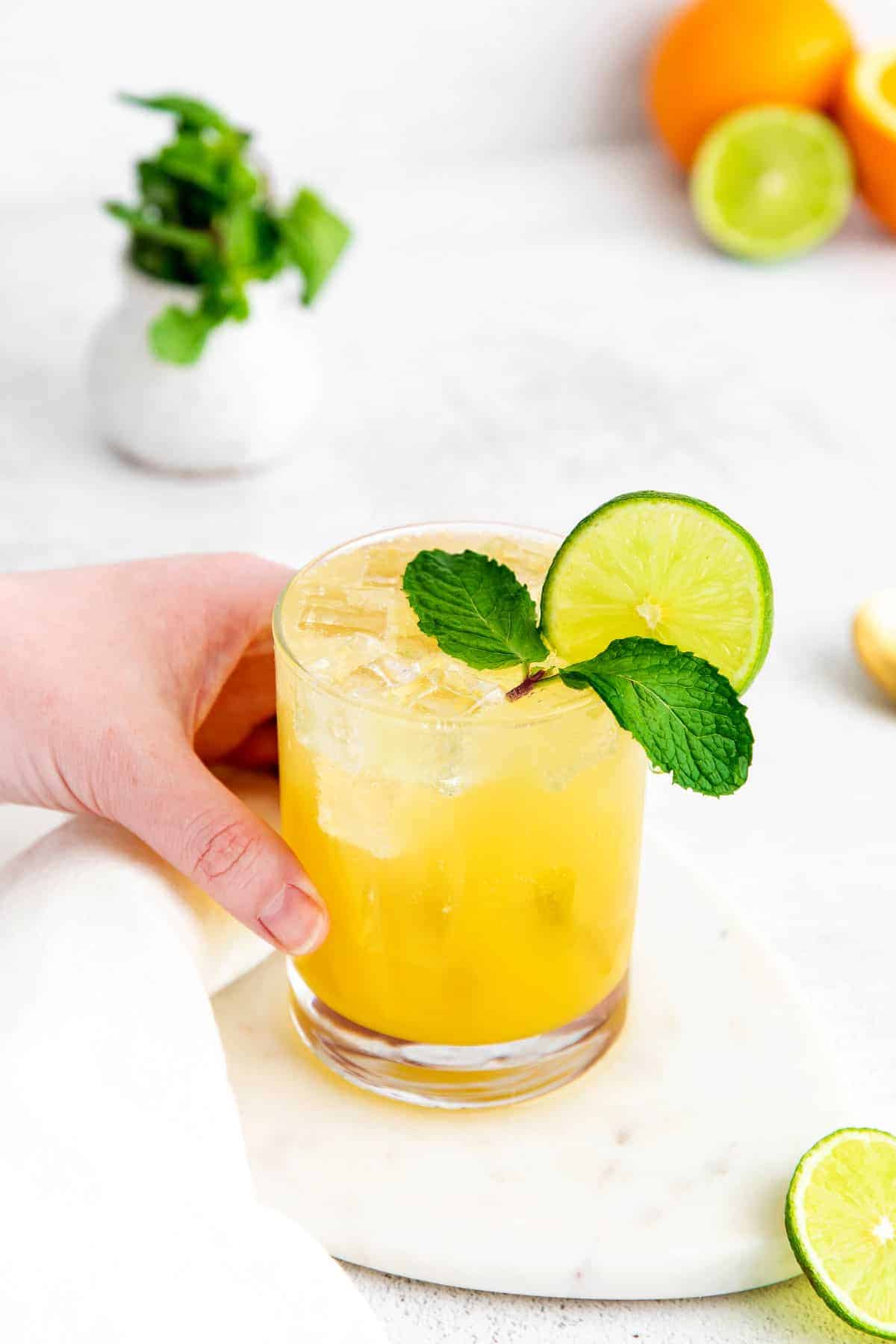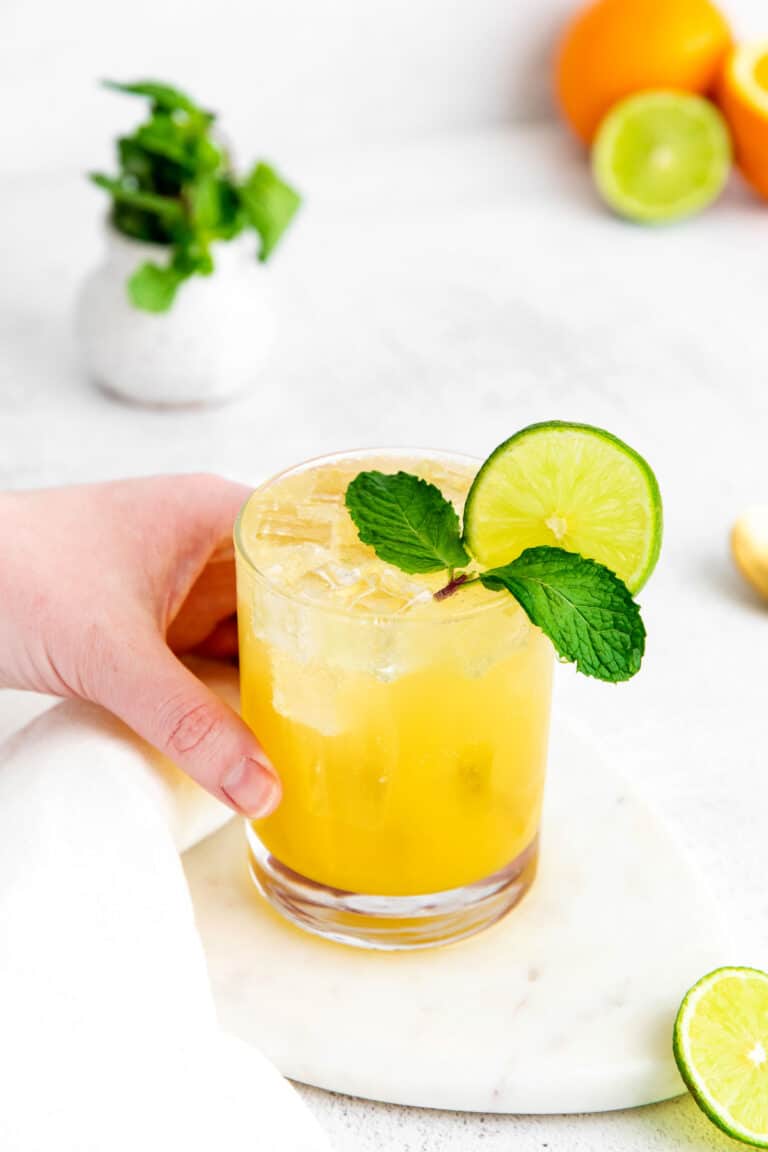 Best Virgin Margarita (Margarita Mocktail)
Looking for an easy virgin margarita recipe? You've come to the right place because in this post we're talking all things non alcoholic margaritas!
Sometimes you want the flavors of a margarita, but not the alcohol. I get it, I've been there. Since we're big fans of margaritas, we wanted to craft a virgin margarita that had all of the same characteristics of the real deal, but without the alcohol.
So, say hello to the most flavorful, fresh virgin margarita on the internet.
What is a virgin margarita? A virgin margarita AKA a non-alcoholic margarita is a classic margarita made without tequila and triple sec (alcohol).
Why Make This Virgin Margarita Recipe?
No alcohol: all of the delicious flavors of a real margarita, but without alcohol.
Refreshing: sip on this all day long, you won't get sick of it!
4-ingredients: all you need is lime juice, orange juice, agave nectar, and bubbly water!
So many variations: make it spicy, blend it, add grapefruit juice – the option are endless.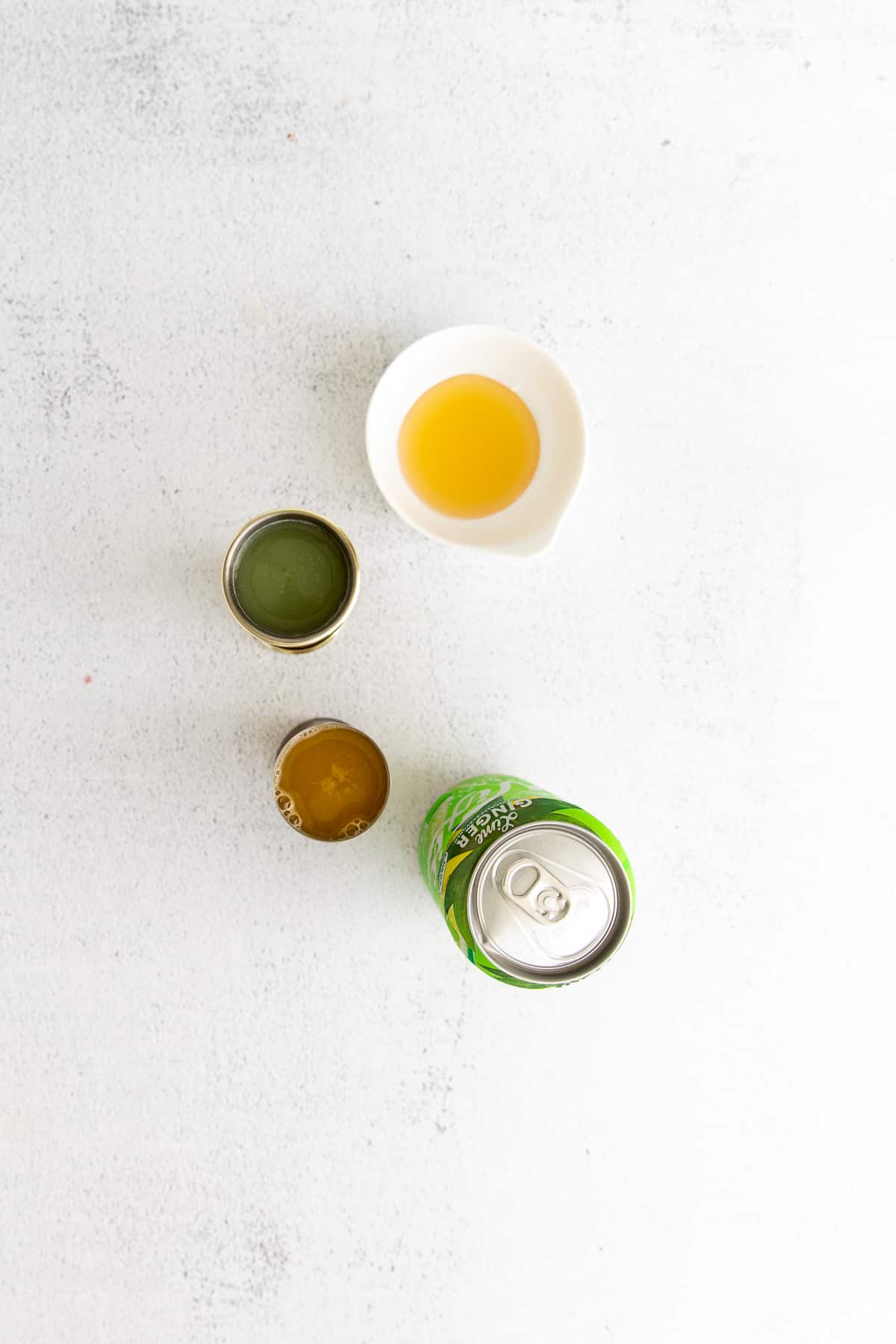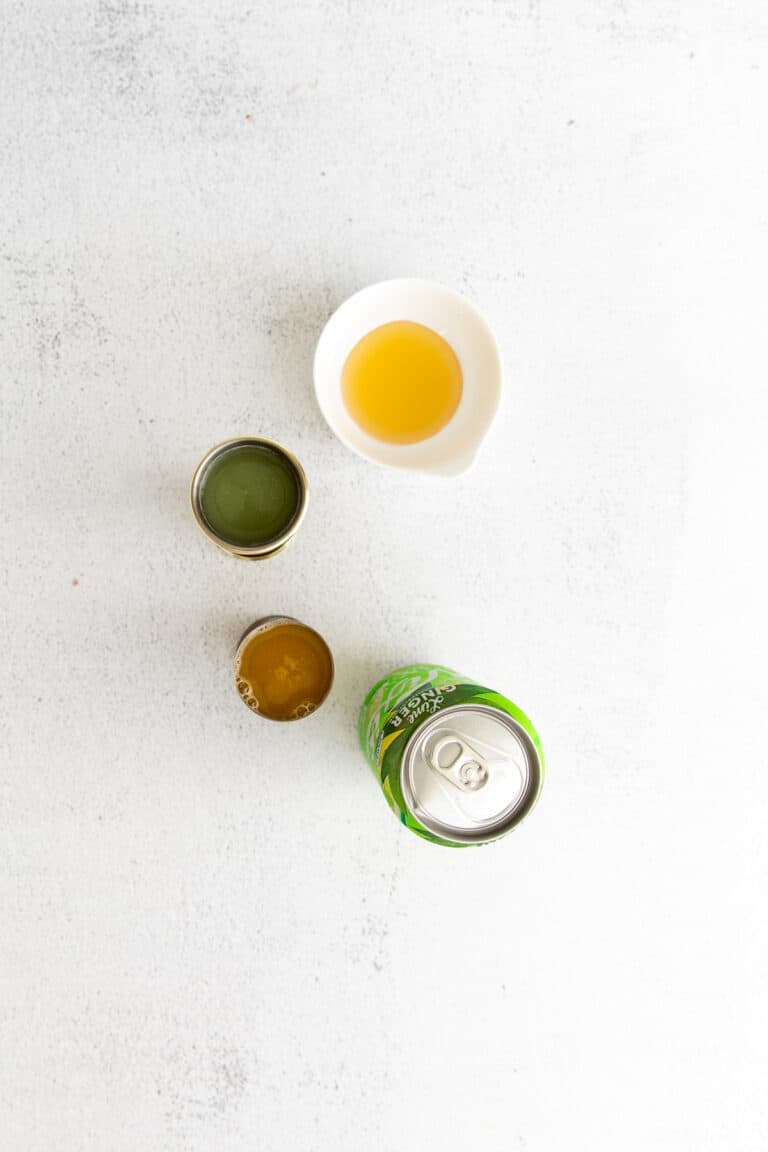 What You Need
Classic margarita flavors come from a combination of lime juice, tequila/agave, and orange liquor. For this virgin margarita, we're taking the same flavors, but making it non-alcoholic! PS: this is a homemade margarita mocktail recipe so there is no store-bought margarita mix or limeade involved. 
Lime juice: always use fresh lime juice! It's so much better than the pre-squeezed kind.
Agave Nectar: don't skip the agave nectar. Tequila and agave come from the same plant, so there are similar flavors. It also adds a hint of sweetness.
Orange Juice: a splash of orange juice is used in place of orange liquor. Orange juice also helps cut the sourness of lime juice.
Sparkling Water: top your virgin marg with some sparkling water! If you have club soda or tonic water you could use that too.
Recommended Kitchen Tools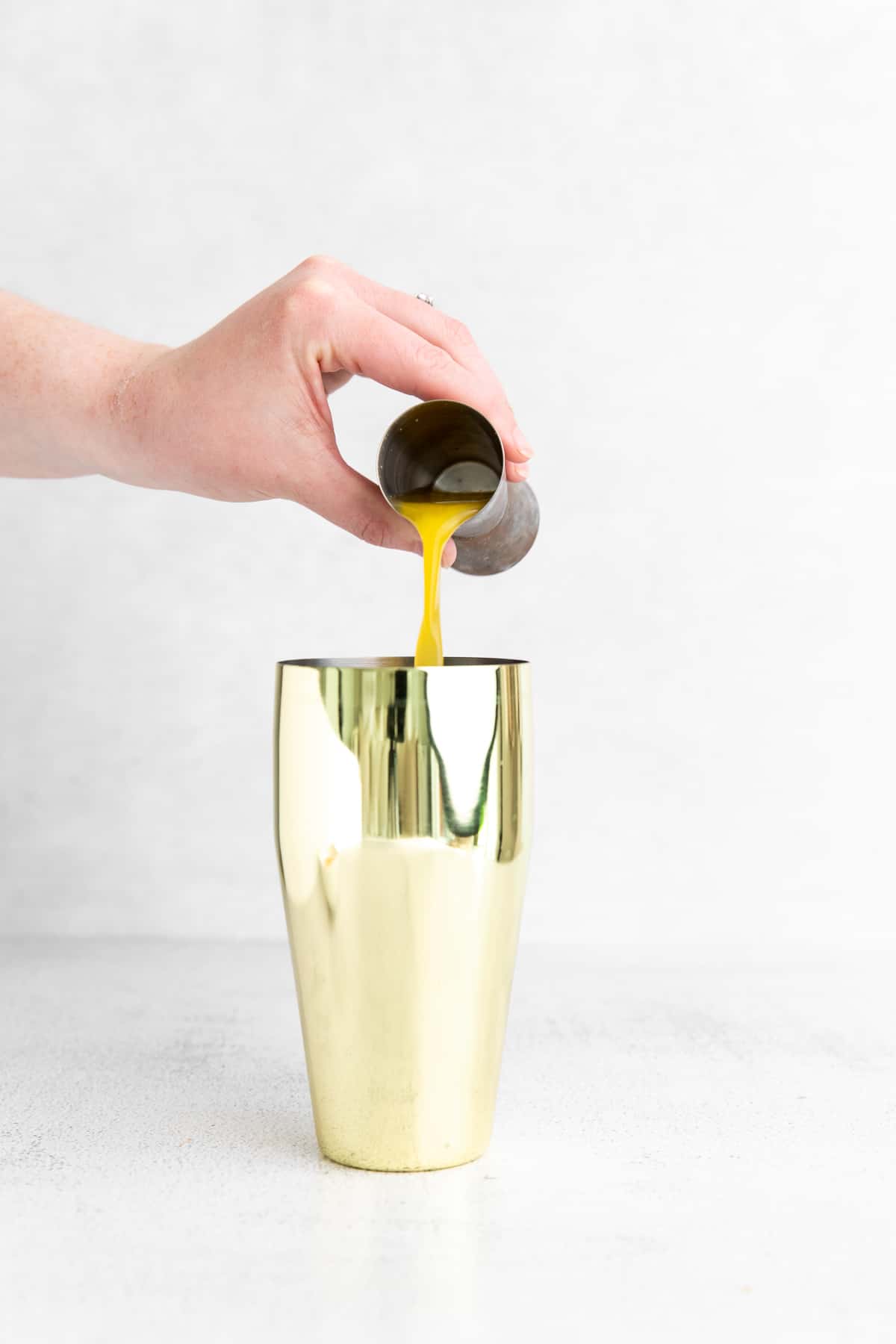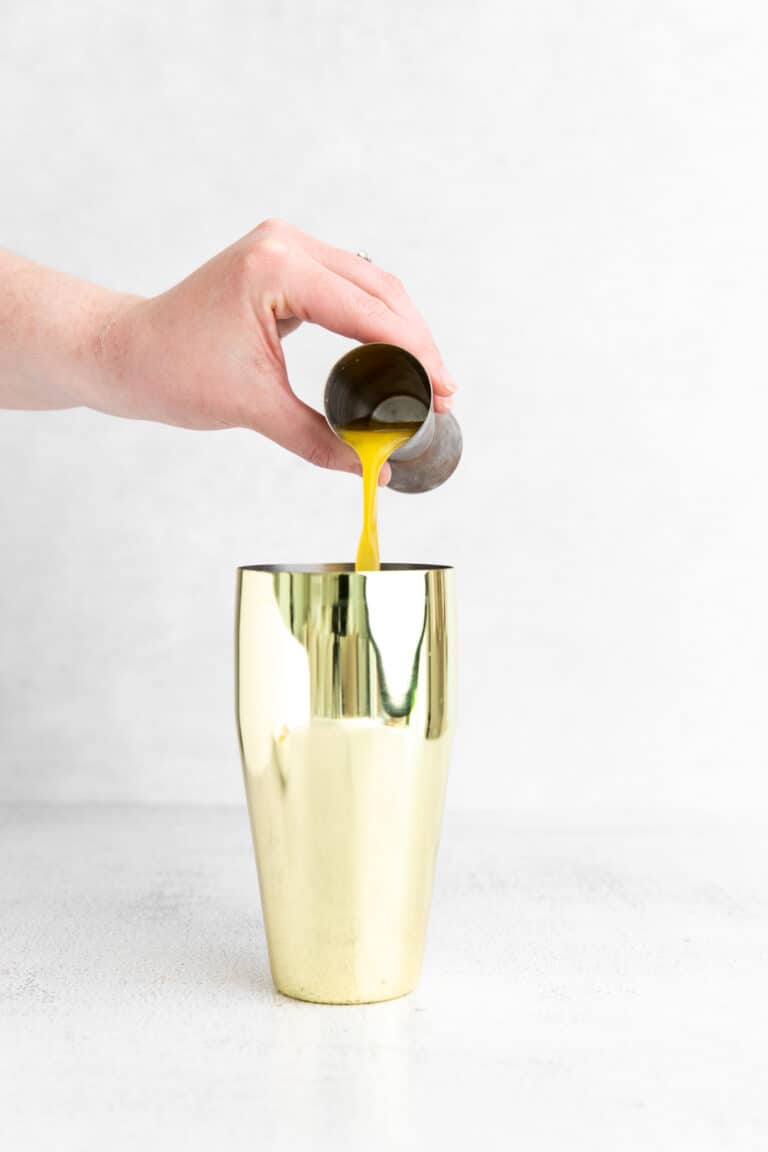 How to Make a Virgin Margarita
First, begin by using a citrus juicer to juice your limes. You need 2-oz.
Next, place a handful of ice in a cocktail shaker. Add lime juice, orange juice, and agave nectar.
Shake your marg for 20 seconds to combine. If you don't have a cocktail shaker, you can also use a stir stick to mix your margarita!
Pour virgin margarita into a glass full of ice. Top it with some sparkling water and garnish it with a fresh lime wedge.
Salt the rim: If you're hoping to get a classic margarita effect, a salted rim is the way to go. Run a lime wedge around the rim of your glass and then dip it in salt.
Make a pitcher of virgin margaritas!
Hoping to whip up a big batch of virgin margs? Here's a quick recipe to serve 6!
2/3 cup agave simple syrup (1/3 cup water + 1/3 cup agave nectar)
1.5 cups lime juice
1 cup orange juice
Ice, for serving
Sparkling water, for topping
Instructions: First, make agave simple syrup. Place agave nectar and water in a medium saucepan and heat over medium heat. Stir constantly until agave nectar dissolves. Remove from heat and chill. Next, fill a pitcher with 6 cups of ice. Then, add in lime juice, orange juice, and the agave simple syrup and mix to combine. Serve margaritas on ice topped with sparkling water. Garnish with a wedge of lime.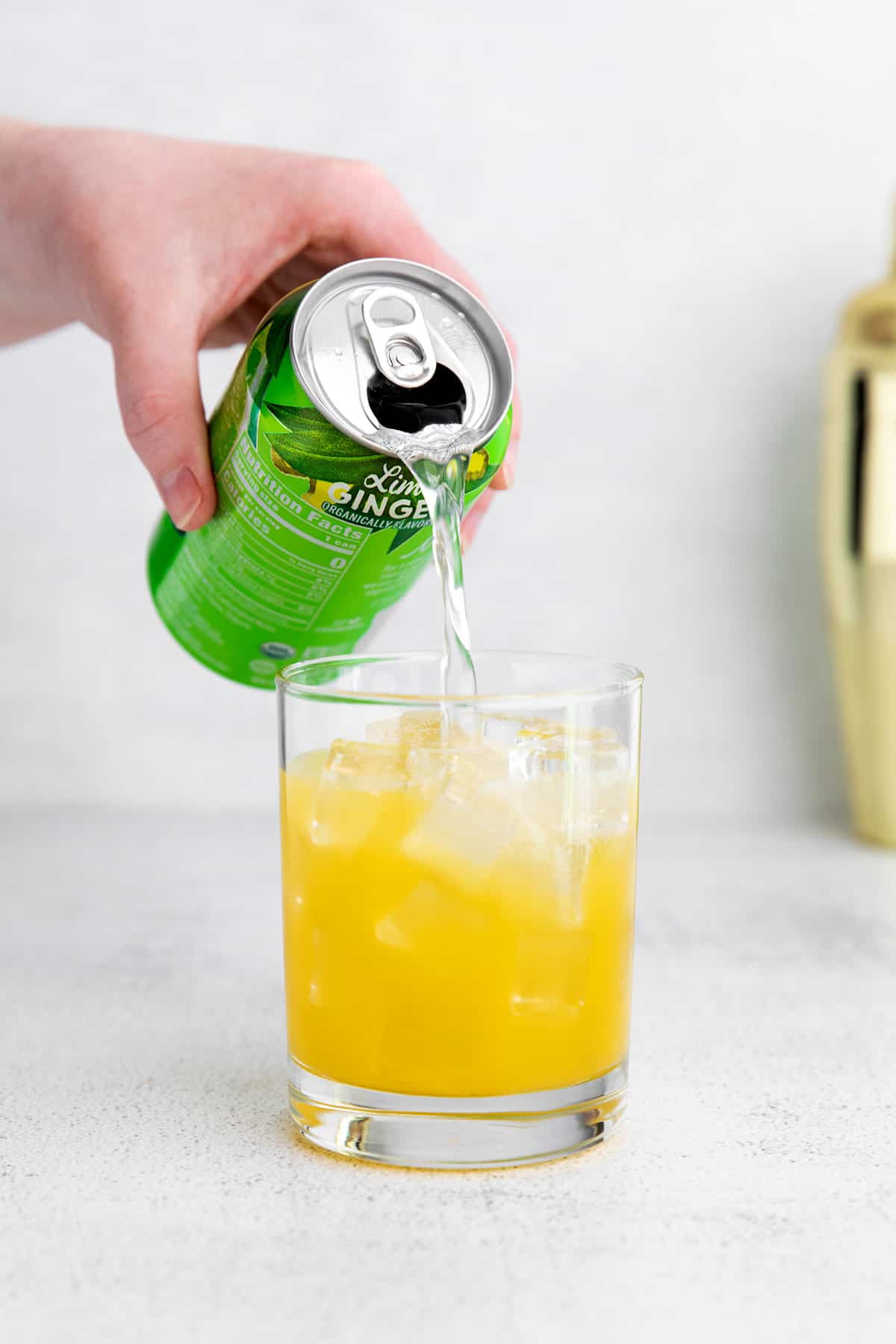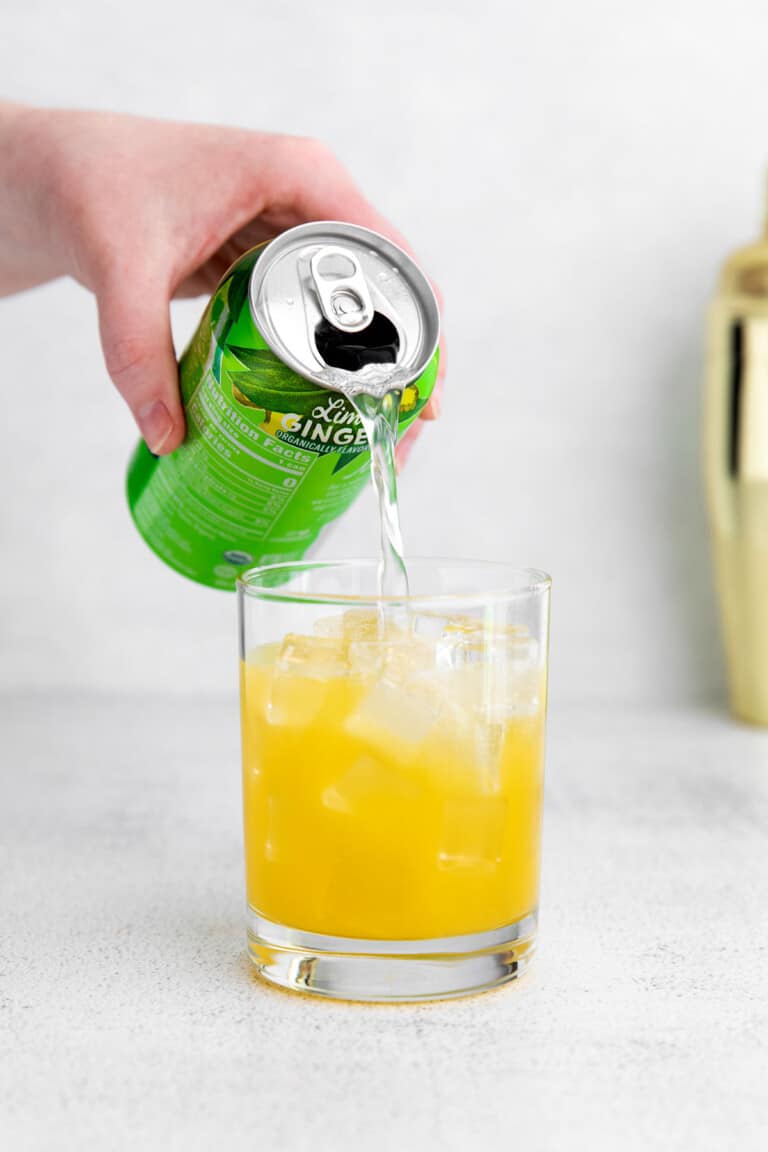 FAQ
What is a non-alcoholic substitute for tequila?
You can substitute sparkling water or club soda for tequila to make the margarita non-alcoholic.
How do you order a virgin margarita?
To order a virgin margarita, simply ask the bartender for a non-alcoholic margarita!
What is in a virgin margarita?
A virgin margarita is made with lime juice, agave, orange juice, and sparkling water or club soda.
Non Alcoholic Margarita Variations
Spicy: add a few thin slices of fresh jalapeño into your cocktail shaker. The more seeds that end up in the drink, the spicier it will be.
Grapefruit: Add in 1-oz. grapefruit juice for a twist!
Blended: Place all ingredients and a cup of ice into a high-speed blender. Blend on high until smooth. This is a super similar method to our frozen margarita.
Serving Suggestions
Make it a party and serve your virgin margarita recipe with a few of our favorite Mexican eats!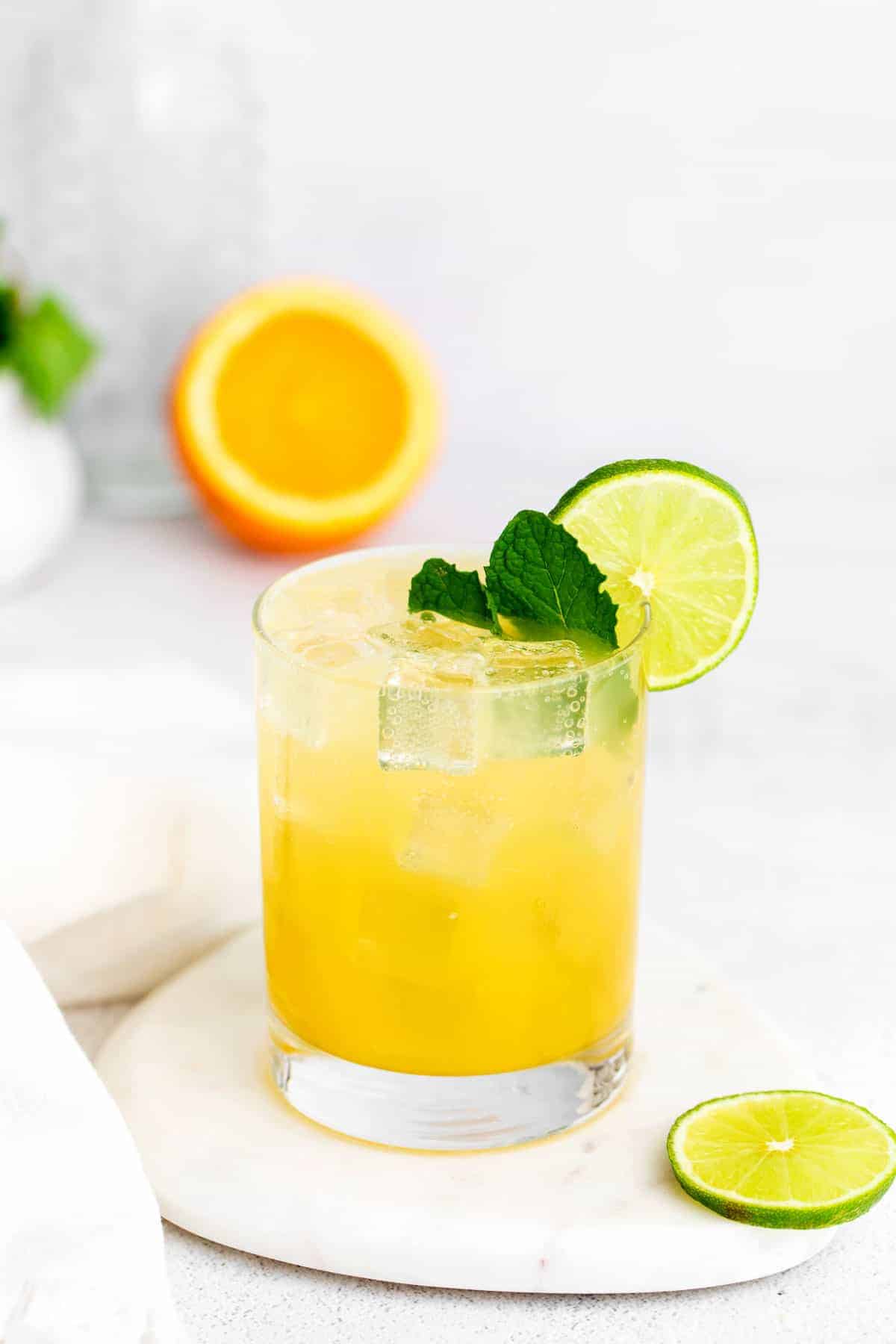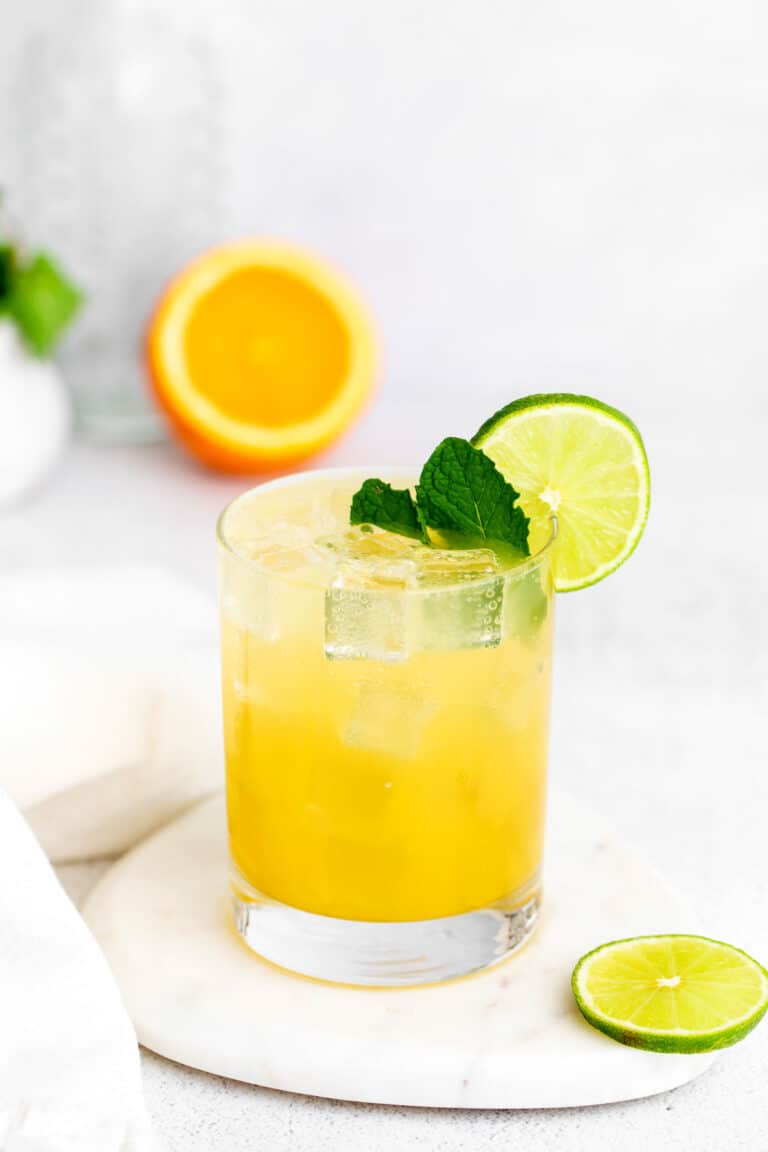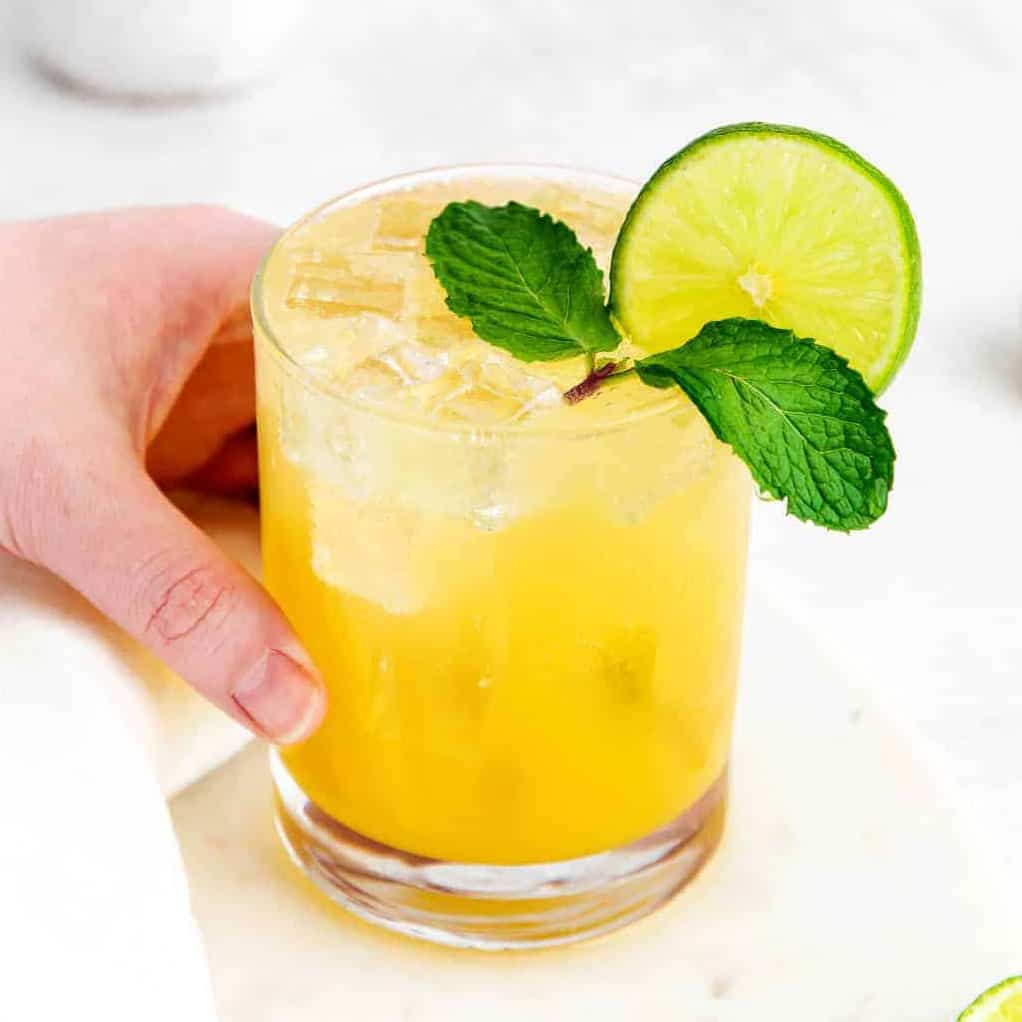 Virgin Margarita (Non-Alcoholic Margarita)
A refreshing virgin margarita recipe that's made with lime juice, orange juice, a little agave nectar, and sparkling water.
Prep: 5 minutesCook: 0 minutesTotal: 5 minutes
Fat 0 Carbs 24 Protein 1
Yield 1
Ingredients
2

-oz fresh lime juice

1.5

-oz orange juice

1 tablespoon

agave nectar, or more to taste*

Top with still or bubbly water

Ice, to taste
Instructions
First, juice your limes using a handheld juicer. 

Next add a handful of ice to a cocktail shaker and then add lime juice, orange juice, and agave. 

Place the top on the cocktail shaker and shake it for 15 seconds to mix everything.

Add a handful of ice to a glass and then pour the virgin margarita in the glass.

Top the margarita off with still or bubbly water and then garnish with lime wedges.
Tips & Notes
Agave nectar: option to swap agave nectar out for an agave simple syrup, honey simple syrup, or normal simple syrup. If you're making a pitcher of margaritas, we suggest a simple syrup over straight agave nectar. 
Nutrition Facts
Serving Size: 1 Calories: 93 Sugar: 19 Fat: 0 Carbohydrates: 24 Fiber: 0 Protein: 1
Author: Lee FunkeCategory: DrinkMethod: No-BakeCuisine: MexicanDiet: Gluten Free
Keywords: virgin margarita, non alcoholic margarita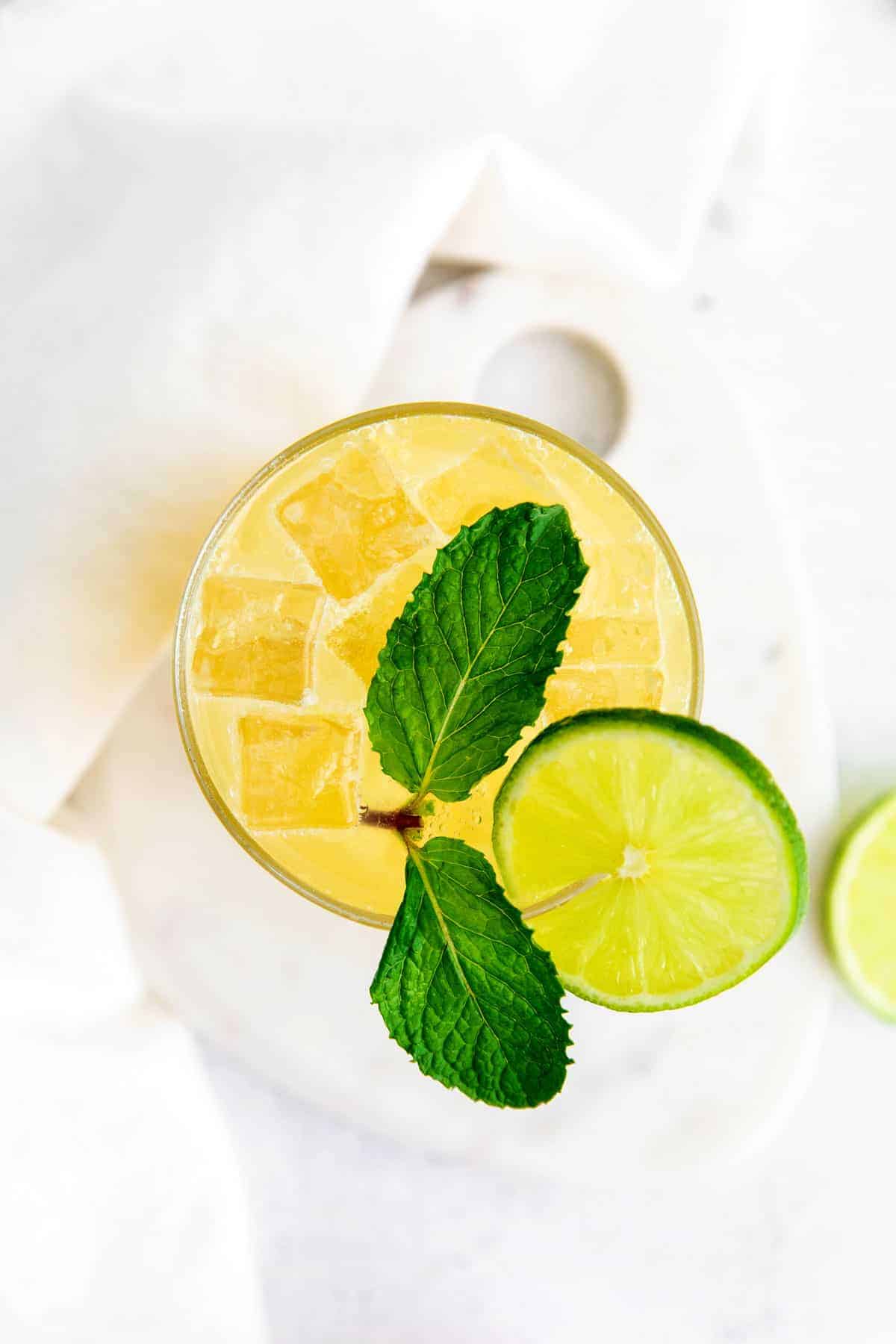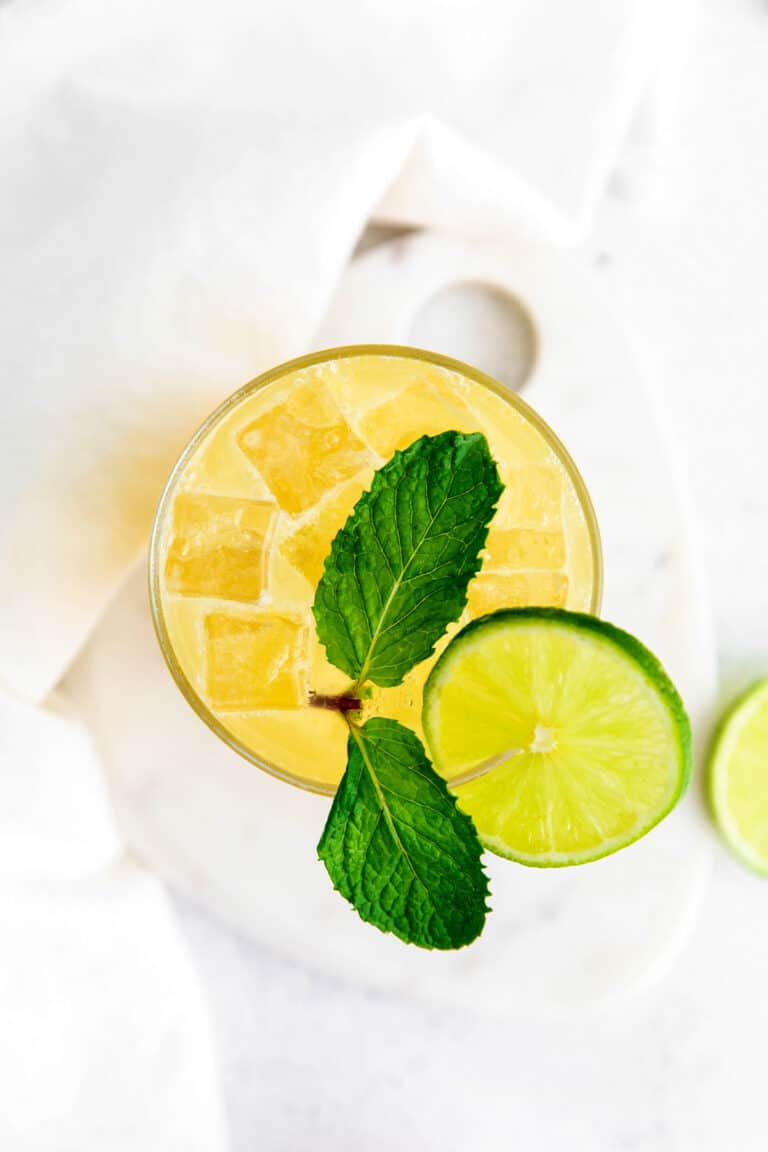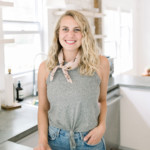 Lee is the founder of Fit Foodie Finds and based in Minneapolis, MN. She started this website in 2010 as a way to share her love for real food and wellness.